Prince Edward Island is one of the best places to visit for a weekend getaway from Nova Scotia. Known as Canada's food island it is popular for it's potatoes, oysters, lobster and so much more. It is especially famous for its ice cream and in particular Cows Ice Cream. The Cows brand has tons of delicious flavours of ice cream, funny cow meme themed shirts and other treats. However there are many other popular ice cream spots and dairy bars across the Prince Edward Island that are just as great and unique. I did the hard job and visited all of these ice cream shops in PEI this summer for you to find the very best. Here is a list of some of the very best spots for ice cream in Prince Edward Island.
NOTE: Many of these locations are seasonal. Check their opening hours before you go.
Cows Ice Cream
Cows ice cream in Prince Edward Island is delicious and offers so many different flavours to suit everyones tastes. They also make their own fresh waffle cones and the smell lures everyone in. There are six locations of Cows across the island with a seventh location on one of the Northumberland ferries that takes people between PEI and Nova Scotia.
For the ultimate Cows experience you should visit Cows Creamery in Charlottetown. This is their biggest location and has the largest merchandise selection. At the Creamery you can also watch a short video about the history of Cows, see how and where they make their famous t-shirts and you can even see their delicious Avonlea cheese aging. Their chocolate covered potato chips are also quite delicious.
Location: Cow's Creamery – 12 Milky Way, Charlottetown, PEI (see all other locations HERE)
Cherry On Top Creamery
The Cherry On Top Creamery is one of the coolest ice cream spots in Prince Edward Island. The creamery is located inside of an old fog horn building next to the Eastern Point Lighthouse on the east coast of the island. The creamery is owned and operated by Chef Rebecca Kozak who creates the best small batch, handmade ice cream on the island. While there may only be a few flavours available, they are fresh and delicious. Flavours rotate and they even offer a vegan option.
One of the most popular things to get at the Cherry On Top Creamery are the Freakshakes. There are three freakshakes available, S'mores, Unicorn and Cookie Monster or you can create your own. The Freakshakes are $10 and are massive, almost like a whole meal and very delicious. They are also quite instagramable. Everything is handmade by the chef including the roasted marshmallows on the s'mores shake.
Location: 404 Lighthouse Rd Elmira, PEI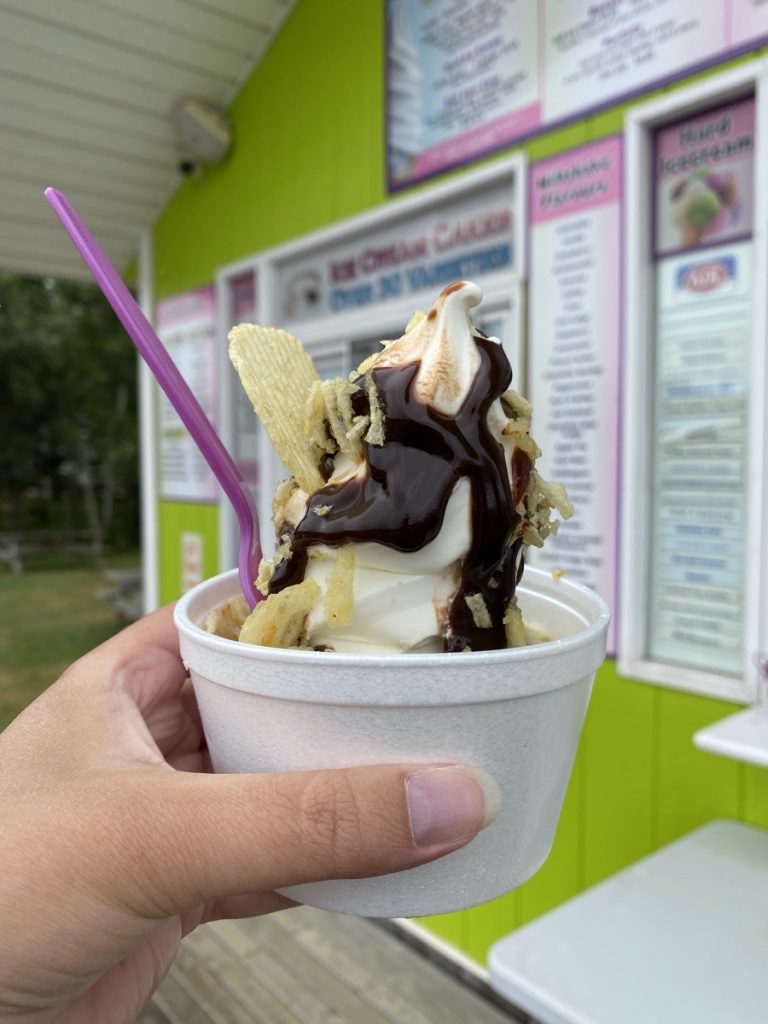 What's the Scoop
What's the Scoop is the only drive through dairy bar in eastern PEI. They have numerous kinds of ice cream available with 20 hard ice cream flavours and various soft serve treats. They have milkshakes, banana splits, parfaits and even a rhubarb crisp sundae. One of the most unique and PEI of things offered is the chocolate sundae topped with potato chips. The mix of salty and sweet on the smooth creamy vanilla soft serve is a real treat.
Location: 7 MacDonald Rd, Brudenell PEI
Frosty Treat Dairy Bar
There are a couple Frosty Treat Dairy Bars in Prince Edward Island. Aside from desserts they also have burgers, fries and other bites to eat. Their frozen treats can be unique as well. They serve everything from deep fried mars bars to peanut bacon sundaes, and handmade ice cream sandwiches. One of the more interesting desserts is the iceberg. A mix of soft serve and slushy of your choosing. Be warned however while delicious this can lead to MEGA brain freeze.
Location: 109 Victoria St West, Kensington, PEI
Elmsdale Corner Gas
Elmsdale Corner Gas is a gas station located on the west coast of Prince Edward Island. Aside from gas they have your typical convenient store food and amenities but also offer a small dairy bar, and cooked food menu with pizza, burgers, and sandwiches, etc. At the front of the store there is also a deep freeze full of handmade on site ice cream treats. Their most popular ice cream treat being the cookie ice cream sandwiches. There are several flavours available including an option that is dipped in salted caramel. They are available in normal cookie size and humongous cookie size. Get there earlier in the day the better before they sell out as they are quite popular.
Location: PE-2 Elmsdale, Alberton, PE
Richmond Dairy Bar
The Richmond Dairy Bar is a popular take out food spot and has great desserts as well. You can create your own flurries with tons of topping options like gummy bears, smarties and even salted caramel truffles. They also have an extensive milkshake menu featuring regular flavours as well as marshmallow, hot caramel, maple, cherry and coconut milk shake options. For sundaes you can get chocolate, strawberry, but also amazing flavours like Hawaiian, apple cinnamon, and even maple walnut.
Location: 31376 Western Rd, Wellington, PE
Holman's Ice Cream Parlour
Holman's Ice Cream Parlour in Summerside, PEI is a top dessert destination in the province and is located in a beautiful historic home that dates back to 1854. They are known for their gourmet ice cream flavours that change seasonally. A popular flavour is the pumpkin pie ice cream. They also offer fun treat like cookie ice cream sandwiches, sundaes, floats and milkshakes. One of their most unique offerings however is the spaghetti ice cream sundae that looks like a plate of spaghetti and meatballs. Made of vanilla ice cream that looks like noodles, a strawberry sauce and ferrero rochers for the meatballs on top.
Location: 286 Fitzroy Street Summerside, PEI
Truckin' Roll Ice cream
There are two locations of Truckin' Roll Ice Cream in PEI, one in Charlottetown by the Province House National Historic Site and the other at Richard's in Victoria by the Sea. Truckin' Roll Ice Cream specializes in unique gourmet hand rolled ice cream treats and claim to serve up the freshest ice cream on the island. The ice cream flavours are made with locally sourced ingredients and change often. Truckin' Roll offers everything from mint chocolate to Purple Haze (blueberry and early grey). Sometimes they also serve up different flavours of ice cream with cool names like John Caramellencorn (sweet corn, sea salt and caramel) and Cherry Seinfeld (Black Forest cake and Point Prim Cherries). They also often serve popsicles with interesting flavours like Blackberry Basil. Truckin' Roll also offers single serving glass jars of ice cream to go for those on the run.
Location: At the corner of Church and Grafton Streets in Charlottetown, PEI
---
To learn more about some of Prince Edward Island's best ice cream spots watch this video!
---
Was your favourite Prince Edward Island ice cream shop on the list? Did I forget any? Share your favourites in the comments below!
---
If you liked this post Pin it and save it for later and your next Prince Edward Island adventure!