Nova Scotia is full of beautiful ocean coastlines, lakes, and tons of forests. In the summer months the beauty of the province and it's wilderness really are a campers dream. All across the province there are many campgrounds and parks to camp in as well as many free camping spots. Whether you are in an RV, tent or renting an oTENTik, here is a guide to the best places to go camping in Nova Scotia.
The Best Campgrounds in Nova Scotia
Kejimkujik National Park
Kejimkujik National Park and Historic Site, also known to locals as Keji, is one of the most popular and loved campgrounds in Nova Scotia. Jeremy's Bay Campground inside of Keji offers sites not only where you can pitch your own tent but they also have oTENTik tents, Ôasis teardrop pods, and other accommodation options that you can rent. There are various facilities available like toilets, showers, dishwashing stations and even limited wifi options.
Kejimkujik is the ideal place to camp because it has so much to offer. There are beautiful hiking trails, a lake to canoe on, a river with multiple waterfalls, beaches and more. If you want to go even more offline while camping then also look into the 46 back country campsites that are available at Keji. Over 80% of the national park is only accessible by canoe or hiking and camping in the back country is completely off the grid and a unique experience. The back country sites are accessed by trails and portages so you don't disturb the wilderness. The Keji backcountry sites all have picnic tables, bear cables, a firebox and firewood available.
Kejimkujik National Park is also known as a dark sky reserve due to the limited light pollution in the area. This makes it the best place for star gazing in all of Nova Scotia. Keji is also the only national park in Canada to also be a national historic site. The inland park covers 404km and aside from being filled with beautiful nature, campsites and hiking trails you can learn about the Mi'kmaq who first lived in Nova Scotia for 10,000 years. You can also take tours to learn about Mi'kmaq petroglyphs found in the park and in the summer months you can even see master Mi'kmaw craftsman Todd Labrador building a traditional birch bark canoe.
Reservations for the 2021 season open April 23, 2021. Reserve online with Parks Canada.
Address: 3005 Kejimkujik Main Parkway, Caledonia, NS
Thomas Raddall Provincial Park
Located across the bay from the Kejimkujik National Park Seaside location this is the ideal place to camp if you are wanting to explore the area as the Seaside park is only for day use. On site there are 69 unserviced camping sites and 13 walk-in campsites. There are limited wifi options offered, toilets, showers, dish washing stations and multiple water taps available as well as a picnic area.
The park also offers multi use trails for hiking and biking, a playground and a near by unsupervised beach.
Open May 21st to October 11th, 2021. Book online HERE. Bookings begin April 6, 2021.
Address: 100 Core Loop, Port Joli, NS
Hubbards Beach Campground and Cottages
Hubbards, Nova Scotia is a great small community to explore on the South Shore of Nova Scotia. If you aren't interested in staying in a B&B then you should definitely check out the Hubbards Beach Campground and Cottages. Conveniently located right at Hubbards beach, your site or cottage rental includes free access to the beach. The campground is also located next to the Shore Club which is a live music venue and also one of the best places to get a lobster dinner in Nova Scotia.
The Hubbard's Beach Campground and Cottages is great for RVs and motorhomes or tents with all sites being fully serviced. They offer transient sites but also sites that you can book yearly. On site there is also an arcade, laundromat, and canteen. There are also lots of amenities nearby by in walking distance or a few minutes drive down the road.
The Hubbards Campground also has several rustic cottages, all built before the 1960's, that have lots of charm available for rent.
To book a site at the Hubbard's Campground and Cottages visit their site HERE.
Address: 226 Shore Club Rd RR 2, Hubbards, NS
King Neptune Campground
The King Neptune Campground is the closest campground to Peggy's Cove, Nova Scotia located just 5km down the road. The campground is family run for the past 60 years and is located on the Peggy's Cove road, along St. Margaret's Bay in Yankee Cove. There are 65 camping sites and 45 serviced sites available as well as a playground, toilets, coin operated hot showers, picnic tables, fire pits and more.
The King Neptune Campground is located right along the ocean shore so you can go swimming by day and fall asleep to the sounds of the waves by night. Also just a quick walk from the campground is Ryer's Lobster pound with some of the freshest lobster available for sale. They can even cook it for you right there on the spot that you can then take back and enjoy by the fire pit.
Reservations are available now by emailing kingneptunecampground@gmail.com, with the campground opening on May 22, 2021. Rates are available by night, week or month. If you book for six nights you get your 7th night free.
Address: 8536 Peggys Cove Rd, Indian Harbour, NS
Shubie Campground
The Shubie Campground is the closest campground to downtown Halifax and you can easily get there by car or public transportation. Saying that however you might be able to hear the nearby highway at night time. The campground is located at Shubie Park which has over 75 acres of nature to explore. There are over 100 campsites available to rent for tents, RVs and motorhomes.
Rates vary for the Shubie Campground and can be found HERE.
Address: 30 John Brenton Dr, Dartmouth, NS
Cape Chignecto Provincial Park
Located in Advocate Harbour, Nova Scotia Cape Chignecto Provincial Park is one of the most beautiful places to camp in Nova Scotia. The park juts out into the Bay of Fundy with the worlds highest tides flowing by its 185metre sea cliffs each day. There are eight great hiking trails in the park including one that leads you to the iconic Three Sisters sea stacks that are not to be missed.
On site there are 92 campsites that are all walk in with 12 of them being accessible only by kayak. The kayak sites are located in Seal Cove and Refugee Cove. There are also three cabins and one bunkhouse available to rent. The rest of the campsites are a mix of walk-in and backcountry campsites where you need to hike in. The backcountry sites (Mill Brook, Refugee Cove, Little Bald Rock, Big Bald Rock Brook, Keyhole Brook, and Eatonville) are a bit more physically challenging to get to so be prepared. The New Yarmouth site however is an easy walk-in campsite.
For the extreme hikers the park also offers a 55km coastal loop trail of the whole park which is rated as difficult. It is also recommend that you camp for 3 nights in the park to complete this hike. Day one hike from the Red Rock visitor centre to Refugee Cove (13.7km). Day two hike from Refugee Cove to Big Bald Rock (9km) or continue onto Seal Cove (another 9km). On day three hike Seal Cove to Eatonville (5.7km) and on the final day Eatonville back to the visitor centre (15.5km).
Note: Due to it's steep cliffs and proximity to the high tides, land is constantly eroding. Stay back from cliff edges and only approach them at designated viewing areas.
Visit the Nova Scotia provincial camping site now to book! HERE
Address: 1108 W Advocate Rd, Advocate Harbour, NS
Yogi Bear's Jellystone Park™ Camp Resort
How can you resist a Yogi Bear's campground? You literally can't. The Yogi Bear's Jellystone Park™ Camp Resort is located in Kingston, Nova Scotia and is the perfect campground especially if you have kids. Aside from the regular expected amenities the camping resort also features mini golf, a heated pool, an arcade, and the kids corral playground. There is also a performance stage, lots of options for sports, and activities, a rec hall, and a concessions stand.
There are 141 RV, motorhome and tent sites available at Yogi Bear's campground as well as 14 cabins for rent. If you are lucky you might even get to meet Yogi Bear himself and you can even invite him to your birthday party! This is definitely the best family friendly campground in all of Nova Scotia.
Prices vary depending on many factors. Bookings for the 2021 season begin May 14th, 2021. Learn more HERE.
Address: 43 Boo Boo Blvd, Kingston, NS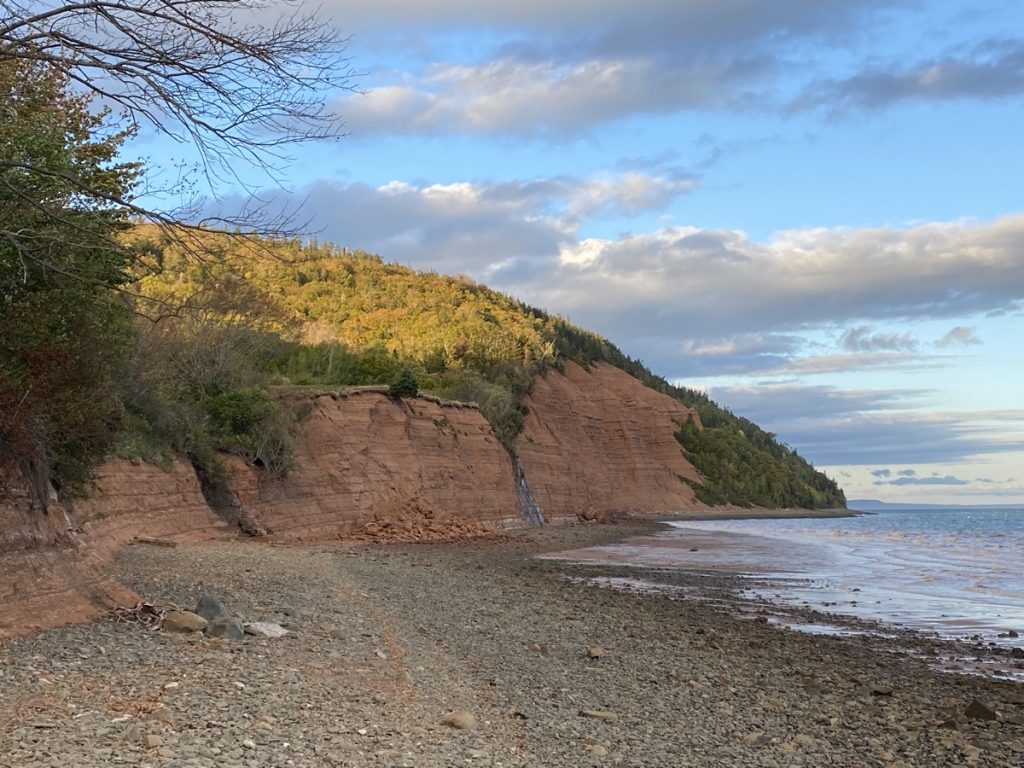 Blomidon Provincial Park and Campground
The Blomidon Provincial Park and Campground is located in the stunning Annapolis Valley looking out onto the Bay of Fundy on the Minas Basin. The park is located amongst stunning nature and is also nearby to Cape Split, great for hiking, Grand Pre National Park, the Blomidon Look-off over the valley, and not too far from the best wineries in Nova Scotia.
On site there are lots of open wooded campsites, and several interconnected hiking trails stretching 13.5km including the Jodrey trail. At low tide there is also easy access to the beach along part of the Bay of Fundy. It truly is a beautiful spot. Gorgeous all summer long, fall in the Annapolis valley however can be one of the best times to visit. During harvest season you can enjoy the changing leaves, go apple and pumpkin picking, go through corn mazes, enjoy delicious hot apple cider and more.
The Blomidon Provincial Park and Campground has 76 unserviced sites available with parking, picnic tables and campfire grills. Limited wifi available near the park office. Book online HERE.
Address: 3138 Pereau Rd, Canning, NS
Dollar Lake Provincial Park
If you prefer more of a lake camping experience then the ocean, you should definitely check out camping at the Dollar Lake Provincial Park in Nova Scotia. On site there are 97 unserviced campsites all located pretty close to the freshwater beach on the lake. The beach has lifeguards on duty in July and August, there is also a boat launch available and it is a good spot for fishing. Around the campground and lake there are also hiking trails, paddle boat rentals and great places for picnics.
The Dollar Lake Provincial Park campground is located about 40minutes from downtown Halifax and less than 20minutes to the airport. Located in Musquodoboit Valley it is open from June to October. Book online HERE.
Address: 5265 Old Guysborough Rd, Wyses Corner, NS
Rissers Beach
Rissers Beach is another great Nova Scotian provincial park that offers camping for tents and RVs. At the beach there are a couple campground areas called Little Rissers on the ocean side and North Rissers on the other side of the road in a more wooded area. In total there are 68 unserviced campsites, 19 serviced and 6 walk-in campsites.
Along Rissers Beach there are protected sand dunes and because of that boardwalks have been built overtop of them to protect them. The boardwalk is great for a stroll and there are four short hiking trails in the park as well. The beach is white sand and quite flat with lifeguards on duty in July and August.
The Rissers Beach Campground is located 24 minutes outside of Bridgewater at the mouth of the Petit Riviere river. Even closer is the LaHave Bakery known for it's baked goods and great sandwiches for lunch. Next to the bakery is also the the Lahave cable ferry that has been operating since 1832. A nice bit of quirky Nova Scotian history to enjoy for $7 one way per car for a 5minute trip across the river. It can save you a lot of time then driving around to the bridge however.
The campground is open May 21st to Oct 11, 2021. To book your stay at the Rissers Beach Campground click HERE.
Address: 5496 NS-331, Petite Rivière Bridge, NS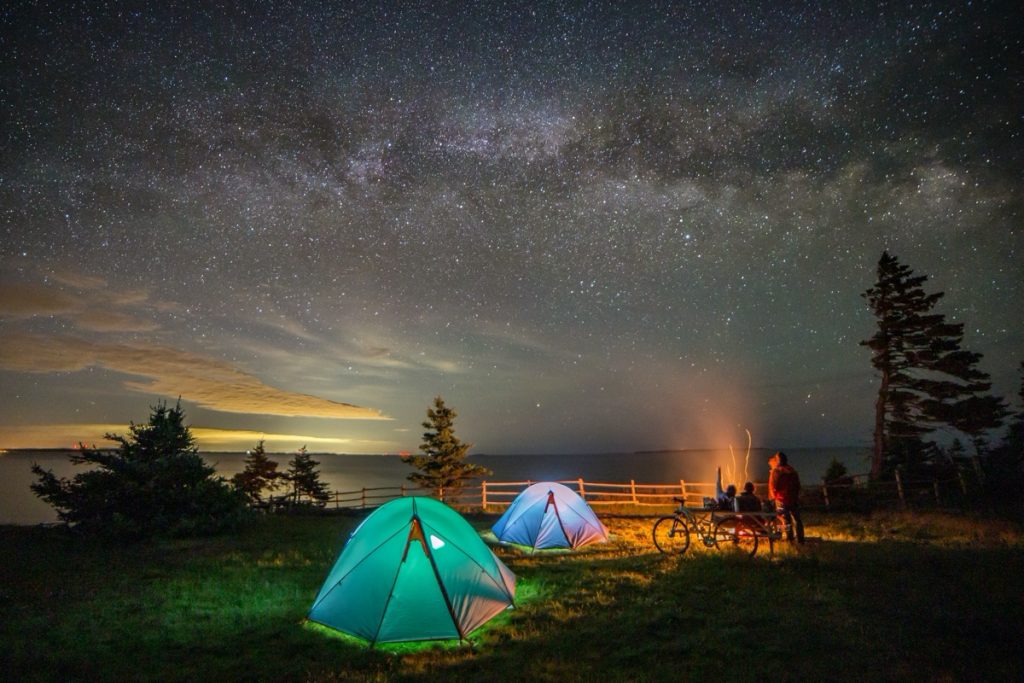 Ovens Park Campgrounds
The Ovens Park Campgrounds on the South Shore of Nova Scotia has 75 camping sites available (25 woodland and 50 sheltered / open ocean sites). This is yet another gorgeous seaside Nova Scotian campground however it has the added bonus of it being located next to the famous Ovens sea caves and cliffs. Take a self guided walking tour and walk the trails to explore the seaside nature trail and it's famous sea caves. (Guided tours will be offered again in future.) Or take a kayak tour and visit the caves by sea.
The area and 130 acre park reserve was also once famous for gold and was home to a gold rush in 1861. Today you can rent gold pans at the park and search the beach for what gold remains. There is also a museum on site that tells of the areas history and its gold mining past.
The Ovens campground is privately owned and has an opening date of May 21st, 2021. They are currently only taking bookings from Nova Scotian residents. For rates and to book now click HERE.
Note: The pool, museum, and animal farm will remained closed this year 2021. However the playground will be open and accessible.
Address: 326 Ovens Rd, Riverport, NS
Murphy's Camping on the Ocean
Murphy's Camping on the Ocean is such a friendly and fun spot and is the kayakers dream. Offering both RV & tent sites along the ocean, it is pet friendly as well. Murphy's has beautiful scenery with tons to do. They offer communal campfires, mussel boils, kayak rentals, and a playground on site for any family visits. There are also boat tours offered around the 100+ beautiful nearby islands with breathtaking views and lots of wildlife to be seen. For the adventurous they will even drop you off on one of the many wild islands to explore.
A great thing about this campground is that the camp sites are some what spread out and some are even more secluded than others. Murphy's Camping on the Ocean campground offers 25 unserviced tent sites and 20 serviced RV sites as well as 3 seasonal sites and 4 rental units. 1% of their sales annually go to non-profits such as Nature Trust.
Murphy's Camping On the Ocean opens from May 15th to October 15th, 2021. You can book your stay up to a year in advance. Book online HERE.
Address: 308 Murphys Rd, Tangier, NS
Meat Cove Campground
A lot of people visiting Cape Breton either camp on the Cabot Trail at one of the 7 Parks Canada sites or do free camping. However there are also a bunch typical campgrounds available around the Cabot Trail and throughout the rest of Cape Breton as well. The Meat Cove Campground is one of the most popular and is located in Nova Scotia's most Northern community halfway around the Cabot Trail.
The campground offers free wifi and hot showers. They are located on a cliff overlooking the ocean with access to a great beach. There are also a lot of great hiking trails in the area. You can also rent sea kayaks and if you are lucky you might just see a whale or two. Be sure to visit the Chowder Hut Restaurant for some delicious chowder, lobster rolls, scallops, mussels and more.
The Meat Cove Campground opens June 1st, 2021 and has 30 unserviced tent sites that are first come first serve. There are also 4 cabins available to rent and you can start booking them as of May 1st, 2021. For more information visit their site HERE.
Address: 2479 Meat Cove Rd, Capstick, NS
Valley Sky Luxury Camping
If roughing it and camping in a tiny tent with shared public outhouses isn't your thing, then you definitely need to try Glamping in Nova Scotia. Glamping is kind of like camping but with many added luxuries from home included. Valley Sky Luxury Camping has just opened their first Geodesic Dome in the Annapolis Valley in April 2021. By the end of May they plan to have their second dome open and eventually they plan on having 8-10 domes spread out across their 32 acre property.
Each glamping dome at Valley Sky has every amenity you could ask for. From a small kitchenette with a two burner stove, to a mini fridge, sink, microwave, and coffee and tea station as well as a dining table for four, a propane stove, a heat pump, nice chairs to recline in and a full sized private bathroom with a toilet, and shower. Dome one also has two Queen sized beds, one on the main floor and one in the loft over the bathroom. The ceiling cover on the dome also opens up so the people sleeping in the loft can sleep under the stars.
Outside on the deck there are also nice chairs to sit in and enjoy the view, a BBQ and fire table to use with marshmallow sticks included as well as a lovely hot tub. Another added bonus is that they are located just a 15-20min walk down the road from Luckett's Vineyard. They are also not too far from downtown Wolfville and a bunch of other great local vineyards and wineries.
The glamping domes at Valley Sky Luxury camping will be open all year and you can book online HERE. Many dates are taken right now, but when the second dome opens at the end of May more dates will be available. Join their newsletter for updates!
Address: 850 Grand Pré Rd, Wolfville, NS (located just past Luckett's Vineyard off of exit 10 from the 101. Don't let Google tell you exit 8!).
Where can I camp for free in Nova Scotia?
There are many places to camp for free in Nova Scotia as well. However if this is something you chose to do always be respectful, safe and get permission from land owners. Also be prepared as none of these sites will have amenities and follow the take out what you take in rule leaving no trace and keeping our wild areas wild. Camping in Nova Scotia is one of the best ways to experience the province no matter how you do it.
Camping on crown land is also permitted in Nova Scotia. You can stay in anyone spot for up to 21 days however you are not allowed to post any permanent structures. Fireboxes or the use of old fire-pits are preferred however creating new fire rings are allowed if needed.
Here is the best list of free camping sites in Nova Scotia:
Tidney River Wilderness Area
Bowers Meadows Wilderness Area
Tusket Islands Wilderness Area
Raven Head Wilderness Area
Kelley River Wilderness Area
Terence Bay Wilderness Area
Walton River Wilderness Area
Eastern Shore Wilderness Area
Gabarus Wilderness Area
Learn more HERE.
What to Pack for Camping in Nova Scotia
For camping in Nova Scotia, you need to bring all of the supplies to camp that you would have elsewhere but also consider our ever changing weather. These are the ideal camping supplies for camping in Nova Scotia:
Sleeping bags and pillows, cooler for water, drinks, ice and food, cooking gear, plates, cups and cutlery, napkins, garbage and recycling bags, insect repellant, sunscreen, and flashlights. You might also want to consider extra phone batteries and chargers as well as extra layers for cool nights. Also don't forget your tent!
Don't bring firewood with you, always buy it local or from the campgrounds to avoid transporting insects and diseases. Leave what firewood you don't use behind for the next camper.
If you are looking for great camping gear and camping experts to talk with while in Nova Scotia be sure to visit the Trail Shop.
If you are interested in camping but haven't ever tried it Parks Canada also offers a lot of great information for first time campers. Check out their Learn to Camp program HERE.
Extra Camping Info
There are over 120 Nova Scotia Provincial Parks in the province, and 20 of them have campgrounds available to the public that are managed by the Department of Lands and Forestry. Reservations can be made for a maximum of 14 nights. 6 people max at each site. Group bookings can be made starting May 1st at 12 of the provincial parks. Find a detailed guide about the Nova Scotia Provincial Parks HERE.
Where is your favourite place to camp in Nova Scotia?
Thanks to OutdoorsyJenn for contributing to this piece!
---
Liked this post? Pin it for later to plan your Camping trip in Nova Scotia