The CAT ferry is an international high speed ferry that travels from Yarmouth, Nova Scotia to Bar Harbor, Maine and back again. The ferry operates annually from May to October. Whether you are looking for a quick shopping trip to the US from Nova Scotia or you are wanting to eat some lobster rolls in Nova Scotia and enjoy a quick trip to eastern Canada then this is the best way to travel. The CAT Ferry from Nova Scotia to Maine only takes 3.5hours and is quite the adventure.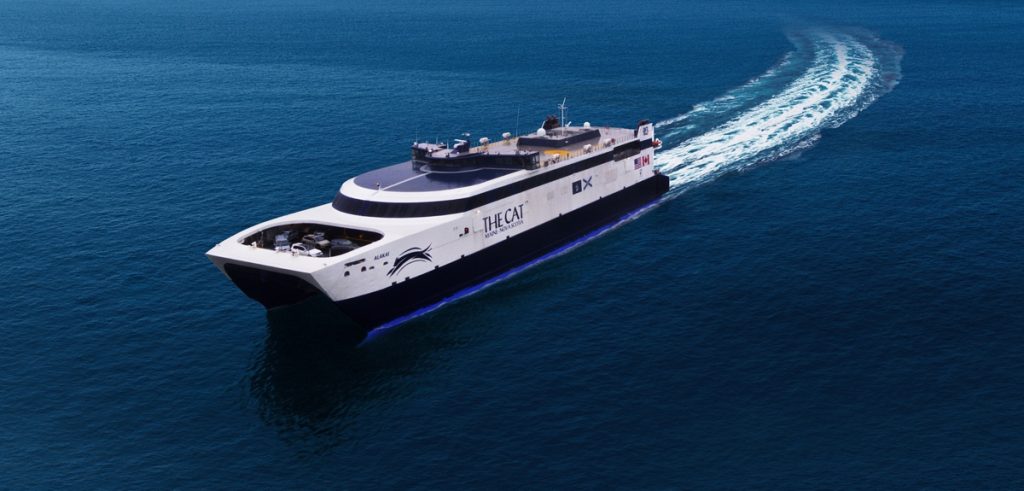 Why should you take The CAT ferry?
Halifax, Nova Scotia to Bar Harbor, Maine is only an eight hour drive, so why should you take The CAT ferry? The obvious answer here is that the ferry from Yarmouth, Nova Scotia to Bar Harbour, Maine only takes 3.5 hours. Add on the 3 hours driving from Halifax to Yarmouth and you are still saving time by taking the ferry. Reason number two, to save on fuel. Reason number three because you can stretch your legs, nap, eat, shop, etc. all on board while on the move. Bonus you get to take your car with you of course so it's still a fun road trip. Taking the CAT saves you from putting at least 700km on your car one way so less wear and tear on your vehicle too.
Taking The CAT ferry from Nova Scotia to Maine is also ideal for family travel. Kids would much rather enjoy the play area, look for whales and dolphins, or watch movies then being stuck in the back seat for hours on end.
How much does it cost to ride The CAT Ferry from Yarmouth to Maine?
The fares vary for The CAT Ferry depending on if you are walking on, or what kind and size of vehicle you are driving and of course your age. For a round trip fare for an adult (14-59) the cost is $210 per person plus $199 per vehicle. Youth (7-13) fares are $125 round trip and seniors (60+) are $200. Kids aged six and under ride The CAT Ferry for free. For more information on fares check out their information page HERE.
The CAT ferry also offers a "Walk-on Atlantic Adventure" ticket that gives you a discounted rate for a 72 hour round trip. Prices start at $175 for adults.
Amenities Onboard
During your 3.5hour ferry ride from Nova Scotia to Bar Harbor there are several things that you can do to keep you entertained. Onboard The CAT Ferry there are three places to eat, a movie area, a play area for kids and a gift shop. On select dates there will also be live music. There are various places to sit from airplane like seats to cafe seating, booths and even large oversized chairs which make a great place for a nap. While cruising on The CAT Ferry don't forget to enjoy the view. You might spot a dolphin or whale or two!
There is no wifi onboard The CAT Ferry as it travels in international waters. However guests can access the business centre with computers for use for 20 minutes at a time. If you get bored easily it might be a great idea to download a few Netflix or Prime shows prior to boarding to watch on your trip. The ship also has family style games available onboard free to use. Or you could travel with a deck of cards or other table games of your own.
What is The CAT Ferry's schedule?
The CAT Ferry from Maine to Nova Scotia takes approximately 3.5 hours. The ferry departs from Nova Scotia at 9:30am and arrives in Bar Harbor, Maine around 1pm. For a return trip the ferry departs Bar Harbor, Maine at 3pm and returns to Yarmouth, Nova Scotia around 6:30pm. When departing guests must arrive 90min to 1hour before departure time for boarding.
Due to the early morning departure time from Yarmouth to Bar Harbor it is recommended that guests spend the night before departure in Yarmouth. A great Yarmouth hotel recommendation is the Rodd Grand Yarmouth just a 2min drive from The CAT ferry terminal.
Is The CAT ferry pet friendly?
Yes The CAT ferry is pet friendly however all dogs and cats must remain in your vehicle or in a kennel on the vehicle deck. You are not able to visit your pet during the crossing. Certain pets also require specific documents and vaccines by each country's border rules. Visit The CAT Ferry FAQ page for more information.
The CAT Ferry FACTS
The CAT Ferry from Maine to Nova Scotia can hold 800 guests and 200 cars. The boat is 349 feet long and travels at 65 kms an hour or 35 knots. The ferry did not operate in the summer of 2019 due to ferry terminal construction in Bar Harbor. Then the covid-19 pandemic shut down the ferry service for summer 2020 and 2021. The summer of 2022 was the first time The CAT ferry was able to operate between Maine and and Nova Scotia in 3 years.
The CAT, officially known as HST-2 originally acted as a catamaran ferry service between Oahu and Maui in Hawaii. The boat was later bought by the US Navy and is now on a multiyear charter to Bay Ferries Limited based in Prince Edward Island. Bay Ferries also operates two other ferries to Nova Scotia. The Fundy Rose Ferry between Digby, NS and Saint John, New Brunswick and two ferries between Caribou, NS and Wood Islands, PEI.
Tips for taking The CAT Ferry
Don't forget you need to take your passport! You will be passing through customs when you arrive at each port. If you are traveling from Bar Harbor to Yarmouth you will also need to fill out a customs declaration card. (NEXUS is not currently available on this route.)
Once onboard the ferry you are not allowed to stay in your vehicle or return to it during the voyage. Be sure to bring essentials with you like your wallet, phone and chargers. You might also want to have a sweater or blanket handy just in case you find the boat chilly. If you aren't the best with boats you will also want to consider bringing gravol/dramamine or ginger chews and other seasickness aids for the trip just in case.
All covid mandates have been lifted in Nova Scotia. Always travel with a mask and use hand sanitizer frequently.
---