Glamping, which is a combination of the words "Glamorous" and "Camping" has been a thing for decades however the term itself first became popular in 2010. Then in 2015 the word glamping was officially added to the Oxford dictionary. I think my first experience glamping was in a $2,000 USD a night safari tent in South Africa back in 2012. It was a large tent with it's own bathroom, an all you can drink mini fridge, huge bed and more. It also came with a butler that would walk with you when you left the tent incase a baboon tried to attack you.
Needless to say glamping in Nova Scotia is a bit different than that experience, however it is still quite wonderful. The majority of places to go glamping in Nova Scotia offer unique geodesic domes with moon roofs so you can sleep under the stars. You can also find several yurts around the province and a few of the Parks Canada properties have some unique oTENTiks and places to stay in. Geodesic dome camping in Nova Scotia has become increasingly popular in recent years with more destinations opening all the time.
I have created a list of some of the very best places to go glamping in Nova Scotia. For when you want to camp but also want to have some comforts from home like a proper toilet, shower and cozy bed. Here is the ultimate guide for glamping in Nova Scotia.
Valley Sky Luxury Camping
Located in the Annapolis Valley in Wolfville, Nova Scotia just down the road from Luckett's Vineyard, Valley Sky Luxury Camping opened their first geodesic dome in April 2021. They now have two domes and an accessible mini cabin for glamping with a plan to have at least 10 total in future.
The luxury domes are located on a wooded property and each have an outdoor deck with a comfortable seating area, fire table, BBQ and hot tub. Inside the domes have a mini kitchenette with a two stove burner, microwave, mini-fridge, sink and tea and coffee station. There is a small dining table that seats four and a couple comfy chairs. They also have two Queen sized beds in the glamping dome. One on the main floor and one up a small ladder in a loft above the bathroom. The loft bed has a perfect view of the stars at night when the moonroof is open.
In the middle of the dome there is a full sized bathroom as well with a sink, shower and toilet. They also provide guests with slippers and comfy robes to enjoy. The dome is heated by heat pump and a propane stove. The Valley Sky Luxury Camping domes are about a 20minute walk to Luckett's Vineyard or a quick drive to downtown Wolfville. They are the ideal glamping accommodation option for exploring the Annapolis Valley. There is nothing like jumping into your own private hot tub after a day of wine tours and delicious food.
In winter 2023 they opened their third accommodation on property the Mini Orchard Cabin. This is a fully accessible cabin with ramp and automatic door for entry. All doorways are wide enough for wheel chairs and the bathroom is fully accessible. The sinks and dining table are wheelchair height, and the the bed is accommodating for a lift if needed. It is a gorgeous property to stay in whether accessibility options are needed or not.
To learn more about the Valley Sky Luxury Camping domes and to book a stay year round visit their site HERE.
Watch my youtube review HERE.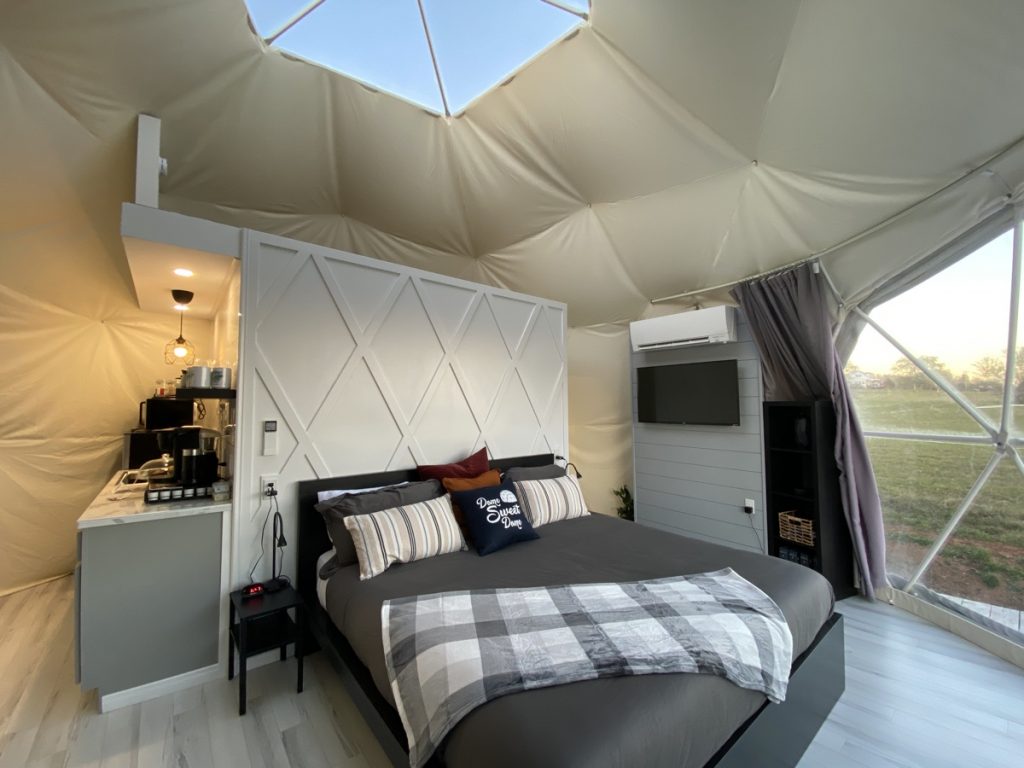 Port Wade Glamping Domes
The Port Wade Glamping Domes are located in Port Wade, near Granville Ferry, Nova Scotia. About a 20 minute drive from downtown Annapolis Royal. Their first geodesic dome opened in the fall of 2021 and a second one is opening soon. These domes don't currently have hot tubs but are located just across the street from the Annapolis Basin and nearby beaches.
The large dome window looks out onto Granville road however it is a quiet area with not much traffic. Outside the dome has a yard area and some seating around a fire table on the deck and a fabulous BBQ for all of your cooking needs. Inside there is a small kitchenette with fridge, sink, microwave and a coffee and tea station. The owners also leave guests some delicious homemade baked goods as a treat. There is a small two person cafe table, a couch that pulls out into a queen bed, a tv and a full sized queen bed. One of the best parts of the dome however is the amazon Alexa system that you can ask questions but also control the dome lights with.
The domes have wifi and there are games available to play. There is also a moon roof for a great view of the stars from bed. This dome additionally has a full sized bathroom that is gorgeous with a shower, toilet, and sink. The also have the best smelling homemade soaps made by the owners. The dome is heated with a heat pump and is a cozy accommodation that is both dog and kid friendly.
To learn more about the Port Wade Glamping Domes visit their site HERE.
Whitepoint Beach Resort Glomes
The Whitepoint Beach Resort on the south shore of Nova Scotia already has a bunch of accommodation types so of course they have jumped on the Geodesic Dome wagon as well. Aside from hotel rooms, private cottages, and treehouses they now have four Glomes on property. Located lakeside between the main lodge and golf course, with the crash of the ocean waves not far in the distance. Calling the geodesic domes Glomes are their spin on Glamping Domes or globe shaped homes.
The Whitepoint Beach Resort Glomes appear to be a bit smaller than others but still have a full bathroom with shower, a kitchenette with mini fridge, microwave, toaster oven and one king sized bed. Outside there is a BBQ with a side burner available and private hottub. They of course also have the great benefits of everything the Whitepoint Beach Resort has to offer. Those include an indoor pool, restaurant and lounge, spa amenities, golf course and more. And you can't forget the adorable bunnies everywhere.
The Whitepoint domes are meant for an adult glamping getaway for two and you must be 19+ to book. Use them as a good excuse to leave the kids at home and enjoy a luxurious getaway on the water. For booking at Whitepoint Beach Resort Glome there is a minimum 2 night stay and maximum 2 guests. No pets allowed.
To learn more about the domes and to book them click HERE.
Oceanfront Treehouses at the White Point Beach Resort
Similar looking to a shipping container on the outside but a gorgeous and cozy getaway on the inside. The White Point Beach Resort treehouses are practically too nice to be even considered glamping. Each treehouse has it's own bar area with mini fridge, full bathroom with huge shower, propane fireplace, and heat pumps. The king sized bed in the middle of the room is the fluffiest and most comfortable thing that you have ever slept on. There are also a couple chairs to lounge in by the fire. Outside there is also a balcony to enjoy the calming sounds of the waves crashing just outside of the treehouse day and night.
Watch my video review of the Oceanfront Treehouses at the White Point Beach Resort HERE.
Sissiboo River Retreat: Glamping Staycation Adventures
The Sissiboo River Retreat is located in Weymouth, Nova Scotia overlooking the Sissiboo River. Currently they have three geodesic glamping domes that you can book with a fourth being completed in the near future. These domes are some of the more reasonably priced glamping domes in Nova Scotia starting at $200 a night.
The Sissiboo River Retreat glamping domes are various sizes each with their own unique features and varying sleeping arrangements. The Fireside Dome has two twin beds that can be turned into a King plus a cot. The Driftwood Dome has a King bed and a cosy Queen bed located in the loft, with gorgeous views at night through the moonroof.
Each dome has a kitchenette area with sink, mini fridge, microwave and coffee station and they include an outdoor BBQ with a side burner for cooking. The domes are beautifully decorated inside and out and all feature a full sized bathroom with toilet, sink and shower. They are also heated by heat pump and electric stoves. There are dining tables and seating areas both inside and out and there is a fire-pit outside that you can enjoy as well. Two of the domes also have private hot tubs.
Children and pets welcome. Minimum 2 night stays but if the schedule allows one night stays might be possible.
To learn more about the Sissiboo River Retreat domes and to book now click HERE.
Gravity Luxury Domes on the Shubenacadie River
The Gravity Luxury Domes are located on the Shubenacadie river in Maitland, Nova Scotia. The most unique feature about them is that they overlook the river where you can see the tidal bores daily. The Shubenacadie River is also one of only 8 places in the world where you can see a tidal bore. It is the perfect place to stay before or after enjoying a Tidal Bore rafting adventure from one of the nearby rafting tour guide companies.
On property they have four geodesic glamping domes. The domes are named after their daughters and the one called Nicole is accessible. The domes are located quite close to each other however there is a fence that allows for some privacy. Each dome has a Queen sized bed and full bathroom with shower and heated floors. Inside they each have a small kitchenette with coffee station, toaster, microwave and fridge. For cooking each glamping dome also has a BBQ and fire-pit outside for warmth and roasting the perfect marshmallows.
Adults only and no pets.
To learn more about the Gravity Luxury Domes on the Shubenacadie River visit their site HERE.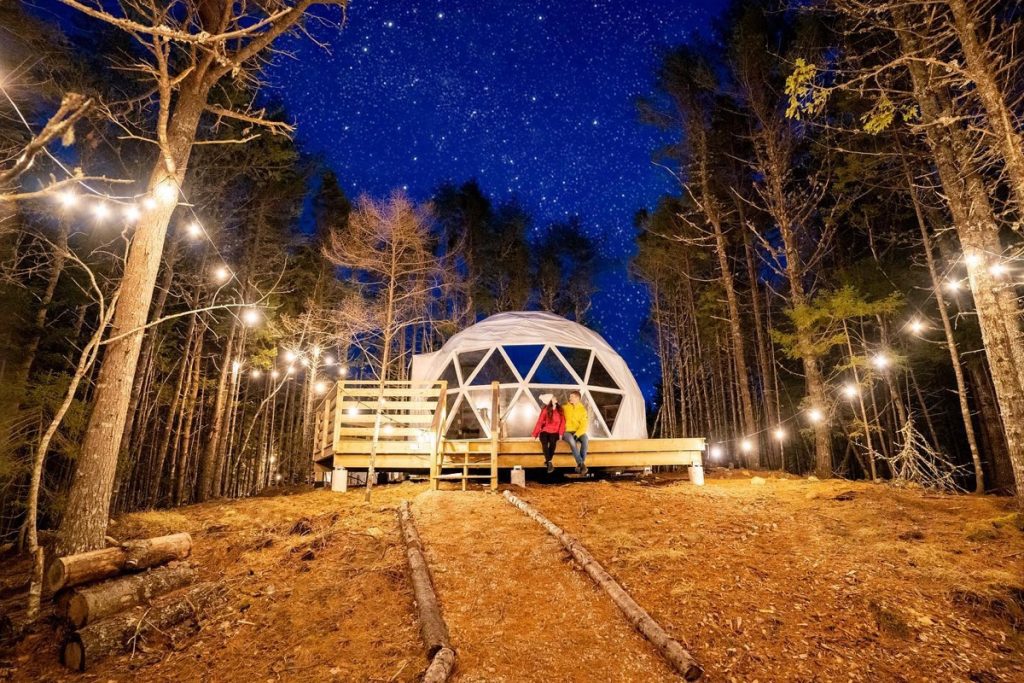 Sensea Nordic Spa
Coming soon (hopefully in 2023) the Sensea Nordic Spa in Chester, Nova Scotia will have their own glamping domes known as Dream Cocoons. The domes are already built and mostly completed and are located right at the spa. Imagine having a relaxing luxury filled day at the spa then just walking a few steps to sleep under the stars in a beautiful dome. I can't wait for these to be available for booking!
To learn more about the Sensea Nordic Spa Dream Cocoons visit their site HERE.
See my video review of the Sensea Nordic Spa HERE.
Nalu Retreat & Nordic Spa
The Nalu Retreat & Nordic Spa is one of the newest geodesic dome glamping properties in Nova Scotia. Opened in August 2023. Located in Porter's Lake, Nova Scotia the domes are just a 30minute drive from downtown Halifax. Currently there are three domes onsite with gorgeous views overlooking Porter's Lake. These are by far the most high-end luxury domes in the entire province making them some of the very best.
The domes have full kitchens with portable induction burners minus an oven. They have gorgeous bathrooms with slippers and robes provided to relax in or to wear to the hot tub. Unlike all the other domes in the province the bed doesn't have the best views from the front window. Instead it is where the living room area is set up with comfy leather couches. The bed is off to the side of the dome by the propane fireplace with a slight view from the side. Above the bathroom there is also a loft area where you can relax or do some yoga. The domes are for adults only and sleep 2 people max.
Outside on the large private deck you will find a BBQ, a seating area, outdoor shower and small hot tub. The hot tubs also offer great views overlooking the lake.
By spring of 2023 they plan to have a large Nordic Spa on property as well. As part of that service they also currently offer spa services in your own dome including acupuncture and massage.
To learn more about the property and to book a stay visit their website HERE.
As The River Bends Retreat
One of my favourite places that I stayed in Nova Scotia in 2022 was the As The River Bends Retreat. The retreat is located in Hantsport, Nova Scotia less than a 20 minute drive from Wolfville, NS. On property they have two geodesic glamping domes and plan on opening treehouses by summer 2023. The domes have large private outdoor areas featuring a fire pit area, BBQ, hot tub and outdoor projection screen. The coolest part is that you can watch Netflix by the fire or from the hot tub.
The domes are on the smaller side compared to some others, but still have everything that you need. There is a full kitchen with induction burners, toaster oven and fridge. The couch also pulls out to a double bed making it a great place for a family of four. Two adults and two kids. The beds are very comfortable and the spacious bathrooms with large showers are gorgeous.
The domes are located on a gorgeous property along the Halfway River with some great trails to explore. Relax in the mindfulness garden by the koi pond and do some yoga. They also offer guided forest walks, forest bathing, forest yoga and peaceful picnics. A unique experience they offer is Dining with the Dinosaurs, where you can enjoy a catered picnic on nearby Blue Beach a world famous fossil site.
When booking your stay you can also arrange to have a charcuterie board or breakfast charcuterie from Gather Here delivered for you. The domes are also a great pickup location to take a tour with Vintage Vino wine tours.
To learn more about the As The River Bends Retreat and to book your stay now visit their website HERE.
Geodesic Dome Glamping in Cape Breton, Nova Scotia
Cape Breton, Nova Scotia was home to the first geodesic domes in the province. Check them out for the ultimate luxury glamping experience while exploring the Cabot Trail. These domes are also some of the most popular so be sure to book them far in advance.
Archers Edge Luxury Camping
Archers Edge Luxury Camping was one the of the first destinations in all of Nova Scotia to have geodesic domes. They began the trend of glamping in domes in Nova Scotia and first opened in the summer of 2019. The domes are located on the Archer family's property that was previously farmland which they have owned since 1891.
At Archers Edge Luxury Camping there are five domes available that sit right on top of a cliff with stunning views overlooking the Gulf of St. Lawrence. They are the ultimate glamping destination in Judique, Cape Breton and the perfect spot to begin your trip around the Cabot Trail. Each geodesic dome is perfectly suited for 2 adults featuring a Queen bed, kitchenette with mini fridge, toaster, microwave, sink and coffee station and a full sized bathroom with shower. The domes each have their own BBQ for guest use with propane provided. The whole dome shares the same roof with just a divider wall so it might not be as private between the bathroom and bedroom as other domes might be.
Adults only and no pets. NOTE: There is also no wifi or TV. 2 night stay minimum. Open Seasonally from June to October.
To book and learn more about Archers Edge Luxury Camping visit their site HERE.
True North Destinations
True North Destinations glamping domes are located directly on the Cabot Trail in Pleasant Bay, Cape Breton. Along with Archers Edge they were some of the first geodesic domes available in Nova Scotia. There are 10 geodesic domes on property for glamping, one of which is fully accessible. All glamping domes have hot tubs, full kitchens with stove tops, bathrooms with showers, and are quite spacious. Each dome has 1 double bed and a pull out couch and sleeps 4 adults max or 2 adults plus up to 3 kids.
One thing to note however is that the whole dome shares the same roof so the bathroom might not be as private as you might like. There are 5 different types of domes with various views available and only half come with a moonroof so be sure to research the type of dome you want before booking. On site there is now also a Nordic Spa experience that you can add on to enjoy their cedar sauna, outdoor shower and hot tub circulating between hot and cold. You also have included access to a communal fire pit, a sunset viewing deck and a shared laundromat.
Child friendly. No pets allowed. Started in summer 2022 the property also features the Nourish Microshop and Juice bar in the main office. Beach access opening by summer 2023. True North Destinations is open year round however note that finding dining options nearby in the winter months can be a bit more difficult.
To learn more about the True North Destinations glamping domes or to book now visit their site HERE.
Blue Bayou Resort: Heart of the Highlands
The Blue Bayou Resort glamping domes are located in Dingwall, Nova Scotia just 3 minutes from the Cabot Trail. The domes are located almost right in the middle of the Cabot Trail so they are the perfect place to stop and spend the night while driving the full loop. The Blue Bayou Resort is also one of the most budget friendly of the glamping domes in Nova Scotia however with the slightly lower price the amenities are a bit less as well.
Basically you might have to rough it a bit more than in other domes. However there is still a full bathroom, there just isn't a door on it and it shares the ceiling with the rest of the dome. Also the kitchenette isn't much more than a kettle and small table/sink area so be sure to bring your own plates, glasses and cutlery if required. Outside the domes however there are fire-pitts and charcoal BBQs for cooking, but you must purchase your own charcoal and firewood.
At the Blue Bayou Resort they have 17 geodesic domes on property, which makes them by far the biggest glamping destination in Nova Scotia. Seven of the domes have 1 King bed and the other 10 have two Queen sized beds each. The resort is located along the shores of South Harbour and they also have kayaks, canoes and paddle boards available to rent and enjoy during your stay.
Kid friendly and dogs are allowed however they must be leashed at all times.
The Blue Bayou Resort glamping domes are open from May to October. To learn more about the Blue Bayou Resort and its camping domes click HERE.
Cabot Shores Wilderness Resort
The Cabot Shores Wilderness Resort is an eco-friendly destination and a great place to connect with nature. On property they have several types of accommodations including five geodesic glamping domes. The Atlantic Dome is open year round as it has a wood stove however the other four are seasonal and open from May to October. This treetop village amongst their apple orchard overlooks the Atlantic Ocean and the famous bird island which is one of a few spots where you can find puffins in Nova Scotia.
Since they are eco-friendly they are off grid but do have solar power to control ventilation and solar powered lights. Each dome is located on a treehouse platform and inside has a couple chairs and double bed. Outside there is a picnic table, fire pit and outhouse with a proper bathroom a short walk away. The Cabot Shores Wilderness Resort domes are the closest to roughing it that you get with still a touch of glamping. However because of that they are also some of the cheapest domes to stay at in Nova Scotia with starting rates from $155 a night.
Each dome has a large skylight and with no nearby light pollution it makes for some epic stargazing from bed at night. Also the Apple Dome is connected to the Luna Dome by a set of stairs, it is a bit smaller but perfect for kids while the adults get the bigger Apple Dome. The domes are also secluded so you have your privacy but note there aren't any curtains so plan to bring your eyeshades or wake up with the sunrise.
Three of the domes also have hot tubs and on the property there are other hot tubs as well as a sauna available to use. Other amenities include kayaks, canoes and SUPs for rental and they offer hiking tours, wellness services and have an onsite Bistro.
Kids welcome, but not pet friendly in the domes.
To learn more about the Cabot Shores Wilderness Resort click HERE.
Unique Glamping Experiences in Nova Scotia
Aside from Geodesic domes there are other unique camping and glamping accommodations available in Nova Scotia. Stay in an oTentik or a tear drop shaped Ôasis in a parks Canada park like Kejimkujik National Park. Check out the oTentik tents at Grand Pre National Historic site. Or for a bit of roughing it but still with a roof over your head check out the Nordic Hut available to rent at Norse Cove Camping.
If you want to feel like you might actually be on safari stay at the gorgeous 560sq ft tent on Gifford island near Mahone Bay with breakfast included. Or you could live like a Mongolian at Cabot Shores in one of their 11 Mongolian Yurts open year round.
Yurts at the Authentic Seacoast
For a bit of a different type of glamping be sure to check out the yurts at the Authentic Seacoast. Located in Guysborough, Nova Scotia on what was once a nine hole golf course now turned vineyard. Opened in August 2021 they have 10 brand new Mongolian style yurts spread out across the property. The yurts have various sleeping arrangements available depending on your party. Some yurts have a double bed and bunk beds, or have two twins beds, and there are even yurts with one Queen bed.
Yurts 1-4 have electricity while the others run on solar power. Each yurt has a BBQ for cooking, picnic table and seating on the deck along with a fire pit. Inside is a wood-stove, and small dining table. A few of the yurts also have hot tubs for an extra fee. Down by the wharf there is also a 6 person sauna for an extra fee as well. The bathrooms and showers are shared and are located nearby in the guest services building. This is can also where you can find a small kitchen area.
The wharf is available to all guests and is located in a calm bay that you can go swimming from. Guests can also rent kayaks or bikes to explore the property. Golf carts are also available to make it easier to get around.
The yurts are located near the Authentic Seacoast Distillery and Brewery which is a great place to stop to pick up some Authentic Seacoast products, take a tour or do a flight of their rum, vodka or Rare Bird Craft Beers. If you are looking for a bite to eat nearby be sure to make a reservation at their dining room in the Des Barres Manor Inn or check out the Hart General store in Boylston for some great sandwiches to go.
Book HERE.
Tips for Glamping in Nova Scotia
Make sure you bring supplies. The glamping accommodations in Nova Scotia vary from high end to budget friendly so sometimes not everything is included. If you are planning to BBQ make sure there is also a fridge or bring your own cooler. If you are going to a place with a kitchenette, confirm there is a stovetop for cooking or bring things that you can just heat up in the microwave or cook on the BBQ.
It can't hurt to bring more blankets or extra layers and confirm ahead of time that there is electricity or bring a portable charger for your phones. Also if wifi is needed make sure that they have it before you go as it might not be available at all domes (Archers Edge in particular) or it might be an extra fee or located only in one spot on the property.
Lastly some places can be pretty secluded so make sure that there are places to eat at nearby that are open. Or be sure to go to the grocery store closer to home before your trip. Lastly prepare for the weather especially as some accommodations might have bathrooms located outside of your dome/tent/yurt.
---
Enjoyed this post? Share it or pin it for later!