The Eastern Shore of Nova Scotia is often one of the least visited areas of the province. Previous to writing this post I myself hadn't explored much of the area either except for Musquodoboit and Guysborough years ago. I also found myself not knowing what to tell people to see and do in the area when they visited. So off I went recently for a 5 day 4 night trip along the entire eastern shore of Nova Scotia.
Everyone I met while exploring the eastern shore of Nova Scotia was so welcoming and kind. They were also beyond thrilled to know that I was creating content about what makes the eastern shore so great.
As I travelled I found that in each community that you visit you will quickly realize that not only does everyone know each other but you will also continually run into the same people. For example I took a boat tour with Sober Island Boat tours and also randomly on the tour were the owners of the Marmalade Motel that I was staying in and the master brewer of Sober Island Brewing that I had planned on visiting next. I love small town Nova Scotia exactly for that reason.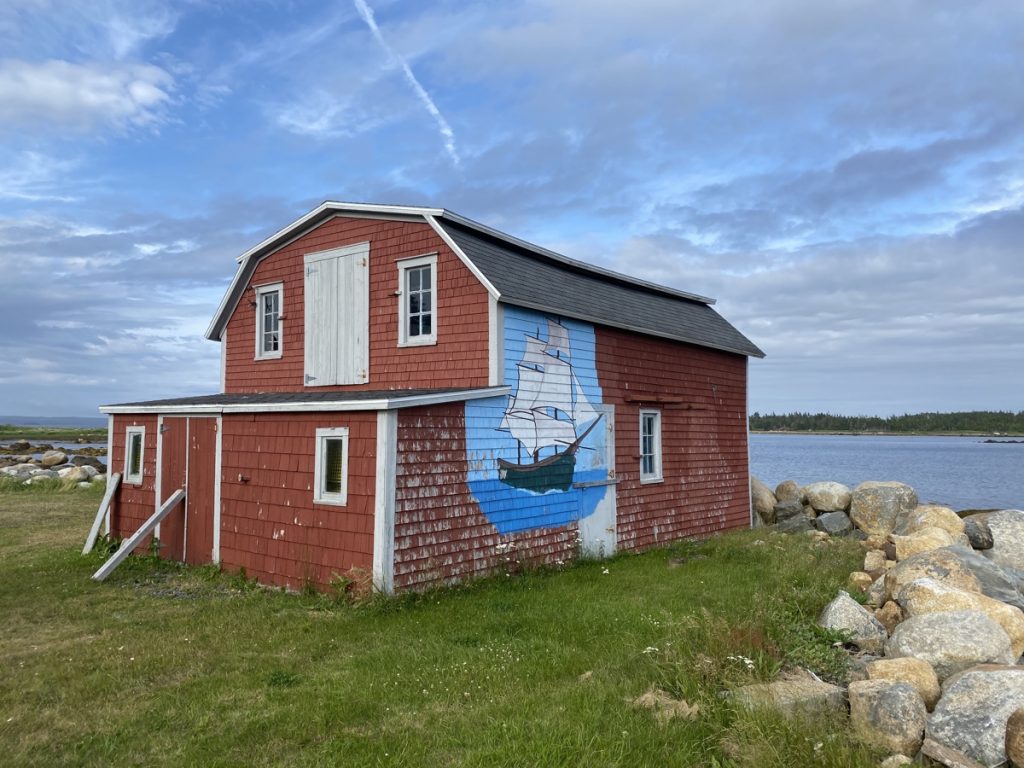 Information about the Eastern Shore of Nova Scotia
The Eastern Shore of Nova Scotia essentially covers the whole east side of the province from Dartmouth to the Guysborough area. The Eastern Shore is made up of part of the Halifax Regional Municipality and Guysborough County which includes all of the small communities from there to Guysborough and the Canso straight to Cape Breton.
To explore the Eastern Shore it is recommended you take the slow road and follow Nova Scotia Trunk 7, (or highway 107) for the majority of your drive. Also known as Marine Drive this winding scenic road will take you through a large portion of the Eastern Shore. Be sure to also divert yourself down the side roads you drive to explore even further. Just past Sherbrooke the road heads north to the Northumberland Shore and Antigonish. To keep exploring the Eastern Shore stay on highway 211 (if the Country Harbour Ferry is operating) then connect to the 316. If the ferry isn't working connect to highway 316 via the Melrose Country Harbour Road in Melrose, NS.
If you are wanting to explore the area at a bit of a faster pace or want to start in Guysborough and work your way back to Halifax then it is best to take the 104 highway. This highway is a lot faster and straighter but you will have to divert a bit more.
Here is a list of some of your must stop spots on the Eastern Shore of Nova Scotia
Musquodoboit Harbour
Years ago when I had visited Musquodoboit Harbour (because I was working on the TV show the Trailer Park Boys there), it felt like it was the LONGEST drive ever. But surprisingly when I went this time it was only a 30minute drive from downtown Dartmouth. That is just an afternoon drive away to stunning beaches, surfing, tasty food and funky antiques.
Musquodoboit Harbour has a lot to offer in the area. While visiting I stopped for lunch at the Uprooted Market and Cafe. A great spot to buy fresh local produce, local made art, a great cup of coffee and a delicious sandwich for lunch.
Note: They are open until 5pm but the kitchen closes at 3pm.
Not too far from the cafe is Old Times, Old Friends Antiques and Collectibles. If you like antiques, fine china, old dolls and other unique treasures than you have to stop by this place. Located in the side of a house and owned by a retired teacher who has been meticulous in documenting the history of every item she owns. One of the coolest/creepiest pieces she has might be the wax doll from the 1800's. You never know what you might discover when you visit.
Other suggested stops in Musquodoboit Harbour include the Musquodoboit Railway Museum that now also has a beer garden by Sober Island Brewing, a market on Sundays and a food truck. Next to it is the Polar Bear Express Ice Cream shop, and down the road is the Harbour Brewing Company and a bakery.
Martinique Beach
The most popular place to visit near Musquodoboit Harbour is Martinique Beach Provincial Park. Martinique is home to the longest white sand beach in Nova Scotia stretching over 5kms. The main beach and its small cove are great spots to go surfing with East Coast Surf School and Halifax Surf School. Both offer surfboard and wetsuit rentals and lessons at the beach. The beach is perfect for swimming and parts of it are supervised by lifeguards in July and August. It is a gorgeous beach to spend the day on but the water can be quite chilly, but good enough for a quick dip. On site there are outhouses and change houses but no canteen available.
Memory Lane Heritage Village
Located just 13minutes down the road from Musquodoboit Harbour is the Memory Lane Heritage Village in Lake Charlotte. Memory Lane is a 1940's Heritage Village depicting how life was in coastal rural Nova Scotia in the 1940's. The local community came together and saved old buildings from the area and created this village that is now a living history museum. As of 2021 the museum is celebrating it's 21st year. Memory Lane is similar to Sherbrooke Village however not funded by the government but by the community instead.
When you visit you can see people working there that are dressed like you would in the 1940's. You can visit the General Store, Post Office, School House, and Church. There is a home decorated for the era that you can walk through. Visit the fish shack to learn about fishing back then, ride in an old truck and even pet adorable kittens. On site there is also a cookhouse that serves food similar to what those working in lumber yards would have eaten in the 1940's. Think baked beans, brown bread and country ham.
At Memory Lane you can also sign up for the Clam Harbour Clam Digging Adventure where you learn to dig clams with a 5th generation clam fisherman.
Go Clam Digging
Clam Harbour, like the name suggests, is one of the best spots in Nova Scotia to go digging for fresh soft shell clams. However don't think that you can just show up there and find them that easily. The Clam Fishing industry is regulated just like all of the other fishing industries. Also there are certain areas where the clams might not be safe to dig for either or edible as they could be contaminated. (find out more information HERE.) Clam digging can also be a bit hard and you need the proper tools.
If you are determined to enjoy clams while visiting there are many places in the area that you can find them on the menu. Or you can book the Clam Harbour Digging Adventure through the Memory Lane Heritage Village. During the experience you will meet with a local 5th generation clam digging fisherman who will take you to the mud flats and show you how to dig for clams. You will learn how to find them, where and how to dig, what tools to use, and how to measure and collect them. Included in the price after your clam digging experience (depending on the tide times) you also get to enjoy fresh steamed clams at the cookhouse at the Memory Lane Heritage Village. Served with a side of butter or vinegar along with a cold glass of lemonade and a delicious fresh baked cookie for dessert.
These clams will blow your mind. They are so fresh and sweet and almost taste like lobster. They are steamed in their own juices and aren't chewy like many fried clams tend to be. Once you try these fresh Clam Harbour steamed clams you will never need to try other clams again as they just won't compare.
Clam Harbour Beach Provincial Park
Aside from searching for your dinner in Clam Harbour you can also enjoy the gorgeous Clam Harbour Beach Provincial Park. The park and beach are most famous for it's sand castle competitions that take place every August. It is a long and wide white sandy beach with shallow waters perfect for wading in or learning to surf. This is just one of the many gorgeous beaches located on the eastern shore of Nova Scotia.
On site there is a picnic area, boardwalks, trails to hike, surf rentals, and even a mobimat so wheelchair users have access to the beach.
Barry Colpitts Folk Art House
While driving along the Eastern Shore there are tons of places that are great for a quick stop. Whether it's a look-off spot, picnic area or just beautiful coastline that you can't help but take a photo of. One of the best road side stops is at Barry Colpitts in East Ship Harbour. You don't need to know the address because as soon as you get there you know. Barry's house is covered in colourful folk art that he has made over the years including a very large Jesus. In his yard there are also many unique whirligigs gently twirling in the breeze. Stop by and grab some photos. If you are lucky Barry himself might be around to give you a tour.
Taylor Head Provincial Park
The Taylor Head Provincial Park, is a gorgeous peninsula sticking out into the ocean amongst Nova Scotia's 100 Wild Islands. There are five different hikes that take you through various terrain in the park. The hikes vary anywhere from 45min to five plus hours long and can take you as far as 14kms. The hikes vary in skill level and can be quite rugged in parts. If hiking isn't your thing you can easily enjoy the 1km white sand beach just a short 1 minute walk from the parking lot.
At the park there are picnic tables, change houses, and outhouses available as well as a water tap to rinse your feet and shoes of sand.
Sheet Harbour
Sheet Harbour is a must visit on the Eastern Shore of Nova Scotia. This small community and surrounding area has a lot to offer. Sober Island Brewing is probably the most popular stop in Sheet Harbour. You can drop in for a flight of locally made craft beer or grab some to go including great merch like their new Sober Island Brewing Co. Nova Scotia tartan fleece blankets.
If you are a little hungry then head next door to their sister property the Henley House Pub for some delicious food like fish and chips or plan ahead and book their traditional Welsh afternoon tea from 2pm to 4pm on the weekends.
Sheet Harbour is also a great stopping point to get gas, snacks and other necessities on your journey.
Sober Island Boat Tours
Not to be confused with Sober Island Brewing, Sober Island Boat Tours offer boat tours from Sober Island, just south of Sheet Harbour. The boat tours take you around some of the 100 Wild Islands. They offer a two hour tour that takes you past the stunning Sheet Rock island and lighthouse, then all the way to Taylor Head Provincial Park and back again. If you are lucky you might see porpoise, minke whales, and various seabirds.
The tours are onboard a working lobster boat called "No Hurry" and in May and June they also offer lobster fishing tours. Tour times for the Sky and Sea tour depend on the tides and once you are out at sea Sober Island beverages are available for purchase. To learn more and book a tour visit their site soberislandboattour.com
Hike the Liscomb River Trail
The popular Liscombe Lodge on the Eastern Shore has over 15kms of hiking trails for you to explore. (To learn more about the lodge itself see below). The hiking trails are open to the public so they are perfect to enjoy on your way passing through even if you aren't spending the night at the lodge. The Liscomb River Trail is the most popular trail and is also the longest at 9.6km return loop. You should give yourself at least 2-6hours for this hike and be prepared with water, snacks, first aid kit, and bug spray. Also be sure to let people know your plans before you go.
The trail takes you along both sides of the river and to a gorge where there is a suspension bridge that you cross near a gorgeous waterfall. While hiking here always paying attention to your surroundings as there can be a lot of wildlife and sometimes even coyotes and bears. Hike with a buddy if possible.
If you are looking for a shorter hike take the Mayflower Trail that is only 3kms long and takes you along the mouth of the Liscomb River.
Explore Sherbrooke Village
It's hard to talk about the Eastern Shore and not mention Sherbrooke Village. Opened in 1969, Sherbrooke Village is an open air museum depicting Nova Scotia in the late 1800's. The majority of the buildings are still standing from that era in their original spots. You can visit and engage with the costumed interpreters and explore 25 different buildings set up as they used to be. From the working Blacksmith Shop to the post office, pharmacy, pottery barn, tea shop and more. The village is especially fun with kids and visitors can dress up in period costume as well.
When visiting be sure to also stop in at the Indigenous Art Centre to see some gorgeous Indigenous art on display and for purchase.
Tor Bay Provincial Park
Tor Bay Provincial Park is probably one of the most secluded provincial parks in all of Nova Scotia. The park is located near the tip of mainland Nova Scotia at the end of the Eastern Shore. Stop here for the perfect coastal view while enjoying a picnic, stroll the boardwalk through the trees and take a walk on a long sandy beach with hardly anyone else around.
The whole area around the park is made up of small fishing villages that are great to drive around and explore as well. You just never know what you might find.
Larry's River Parc de nos Ancêtres Municipal Park
In Larry's River, Nova Scotia you will come across a unique monument known as the Parc de nos Ancêtres or the Park of our Ancestors to commemorate the Acadians that live and lived in the area and their history. Made up of 10 large painted stones laid out in the shape of an anchor the images depict their departure from France to Port Royal, Nova Scotia and beyond including their deportation and resettlement. If you drive past be sure to stop for a few moments and learn about their history and cultural reality through the images and interpretive panels.
Visit the Authentic Seacoast Distillery in Guysborough
The Authentic Seacoast company in Guysborough produce a lot of quality Nova Scotian products. Be sure to stop into their distillery and brewhouse on your way through the Eastern Shore. At the Authentic Seacoast they brew Rarebird Craft Beer, they roast Fullsteam Coffee, and distill Fortress Rum, Virga Vodka and seltzers, Glynnevan Whisky and Sea Fever Rum. They also own Acadian Maple and make delicious maple syrup and other maple related products. Recently they have also started making goats milk soap scented with their own Fullsteam coffee.
In 2021 the Authentic Seacoast also transformed their nine hole golf course (Osprey Shores) now vineyard into a gorgeous property with 10 Yurts. (See below for more info). If you are looking for a bit more of a comfortable stay then be sure to also check out their property the Des Barres Manor Inn located a few minutes away.
Grab a sandwich at the Hart General Store
Located about 10minutes down the road from the Authentic Seacoast in the small community of Boylston is the Hart General Store. With not a lot of places to eat in Guysborough right now they are the perfect spot to grab a quick bite. Or if you are leaving Guysborough after your epic Nova Scotian Eastern Shore road trip then they are a great place to grab snacks for the road. They aren't just a regular general store though, inside they have a gift shop of lots of local made products, baked goods and the groceries they sell are local Nova Scotian made as well. They also carry frozen food like Pictou pizzas, fish cakes, Shepard's pie and in store make the best ham sandwiches and cold pasta salads that you can take to go.
Where to Stay on the Eastern Shore of Nova Scotia
Along the Eastern Shore of Nova Scotia there actually aren't that many accommodation options as you will find in other parts of the province. However there are a few great motels, Bed and Breakfasts and Inns as well as campgrounds. The Eastern Shore is also a popular spot for AirBnB's with everything available from $35 a night tent stays to entire $1,000 a night luxury homes on the ocean to book. Here are a few of the accommodation options that I recommend on the Eastern Shore of Nova Scotia.
The Marmalde Motel
Located almost right in the middle of the Eastern Shore of Nova Scotia the Marmalde Motel. It is the perfect midway point for a stop on a road trip down the Eastern Shore. Newly renovated, this nine room uniquely decorated motel is on the ocean in Port Dufferin just 15minutes from Sheet Harbour and is one of the best places to stay in the area. While there I stayed in the Octopus room but there is also a Flamingo room, a Sunset room, Llama room and more. On property they have a wharf that you can swim from, fire pit, yard games and BBQ area available for guests.
When you book your stay you can also pre-arrange your continental breakfast, a charcuterie board, picnic box or a treats box to be delivered to your room during your stay. These all offer more than enough food and I was happy to have arranged for them ahead of time and to have them in my room waiting for me after a long day of exploring. Especially because there are not that many options for food nearby.
Seawind Landing Country Inn
Further down the coast almost to the end of mainland Nova Scotia is the small community of Charlos Cove. Here you will find the Seawind Landing Country Inn, a 12 room Inn with some of the most fantastic food in Nova Scotia. Even if you aren't staying here make a reservation for dinner, you won't regret it. When I stayed there the menu featured everything from lobster croquettes, to Acadian baked haddock, a strawberry summer salad, filet mignon and even Bailey's creme brûlée. The breakfast is fantastic as well.
Aside from delicious food they also have an extensive wine cellar, adorable dogs to pet, a lounge area and a large property to enjoy surrounded by the ocean. They also have a wheelchair accessible suite in the main house.
On the way to Seawind Landing visit the Port Bickerton Lighthouse but make sure the country ferry is open before you go. Nearby you should also check out the "Out of the Fog" Lighthouse museum.
Authentic Seacoast Yurts
One of the most unique accommodation options that you will find on the Eastern Shore of Nova Scotia are the brand new Yurts at the Authentic Seacoast. Opened in mid-July 2021 there are 10 yurts spread out across their vineyard (previously the 9 hole Osprey shores golf club) for guests to enjoy. The yurts are made in a Mongolian style and are made of wool in the interior. Each yurt has tons of screened in windows that can open to let the breeze in and the sunlight dome in the middle of the ceiling opens as well. They have various sleeping options available with two double beds, a single Queen and even yurts with bunkbeds in them for families.
Every yurt has their own picnic table, BBQ, firewood box, chairs and fire pits outdoors. Inside you will find cozy beds, a wood stove for cooler nights and the winter time, a place to sit and eat and a few extra things like hand sanitizer, plates and cutlery. The yurts are solar powered and you can charge your phone but there are no wall plugs.
The yurts will be open year round and offer a unique glamping experience being located right on the ocean overlooking Guysborough Harbour. For bathrooms a couple of yurts each share a guest services building that has 4 full bathrooms and a kitchenette area.
If you are looking for a bit of a fancier place to stay in the Guysborough area then check out their sister property the Des Barres Manor Inn. Guests at the yurts can also make reservations here for the dining room.
Murphy's Camping on the Ocean & Norse Cove Camping
If you prefer roughing it a bit or just cheaper accommodation options then be sure to check out a couple of the camping options available on the Eastern Shore of Nova Scotia. Murphy's Camping on the Ocean is an older family run campground since 1960 that has spots available for RVs, tents and also seasonal sites. They are located in the perfect spot for exploring the 100 Wild Islands by kayak and also offer scenic boat tours.
Not far from them you will find Norse Cove Camping that is a brand new eco-friendly campground that has been only open for four years. Norse Cove has RV and trailer sites, unique wooden platforms made for tents, and even micro cabins/ Nordic huts with just enough room to sleep available to book. On site they also have kayak and paddle board rentals available.
---
Hopefully this road trip guide will help you in exploring the Eastern Shore and help you find new, fun, exciting and delicious things! There are many more interesting, unique and tasty places to visit on the Eastern Shore of Nova Scotia however this is all I was able to fit into my 5 day 4 night road trip. If you have any other suggestions or recommendations be sure to leave them in the comments below!
Note: Many of the places I visited aren't open on Mondays and Tuesdays and some might be seasonal operations as well. Be sure to always check opening and closing times in advance and make reservations where possible.
---
Enjoyed this post? Pin it for later!
---
Special thanks to the Nova Scotia Tourism for having me helping me create this sponsored content. All opinions and reviews expressed are my own.