Nova Scotia is a peninsula with 13,000kms of coastline and is home to over 3,800 islands of all sizes. With so many islands and such a large coastal area getting around by boat is a common means of transportation in certain parts of the province. In Nova Scotia you will find seven provincially operated ferries, two city operated ferries, four interprovincial ferries and one international ferry. Some of Nova Scotia's ferries are free, some are really cheap and others can be quite pricey depending one where you are going.
Ferries in Nova Scotia are used to connect islands to the mainland, or to quicken a route where a bridge isn't able to cross. Whether its a 15minute cruise with gorgeous city views, a unique 14 car cable ferry or a seven hour journey from Newfoundland you will enjoy your ferry travel in and to Nova Scotia. This guide to ferries in Nova Scotia you will help you navigate your next ocean going adventure.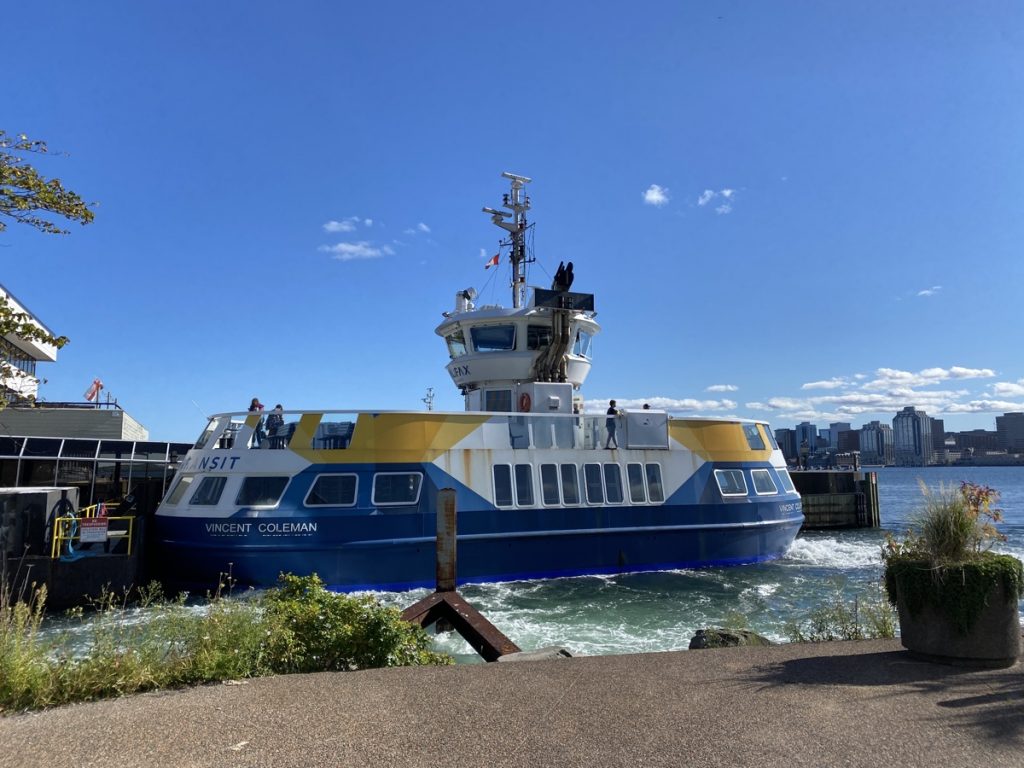 The Halifax Ferry to Dartmouth
The Halifax ferry to Dartmouth is operated by Halifax Transit who also runs the city's buses. There is one ferry terminal on the Halifax side of the Halifax Harbour located on the waterfront at the bottom of George St. . The ferry travels directly to one of two Dartmouth ferry terminals. One is the Alderney Landing ferry terminal which will bring you right into downtown Dartmouth at the bottom of Portland St. This is a great ferry to take if you want to explore downtown Dartmouth by foot. Do some shopping, grab a bite to eat or visit one of the great breweries, cideries or beer bars located nearby.
The second Dartmouth ferry terminal is located in Woodside. There are a couple good places to eat near this ferry terminal or you can jump on a bus for a quick 20min drive to Fisherman's Wharf. Here you will find a few more places for seafood, cute souvenir and art shops and a small provincial park. The Woodside ferry terminal is most commonly used by locals commuting for work or to school at the NSCC Ivany Campus.
Halifax to Dartmouth Ferry Fares: 0-12 free, Youth 13-17 and seniors $2.00, adults $2.75. Cash only or pre-purchased tickets from a store. Get a transfer when you board and use it for your return ferry trip if it's within 90minutes. Click HERE for the schedules.
Other Halifax Harbour Ferry Services
There have been talks about a Halifax to Bedford ferry being started but that has yet to happen. You can also take boat tours from the Halifax waterfront including one that will take you to George's Island. In the summer months there is also a Harbour Water Taxi available.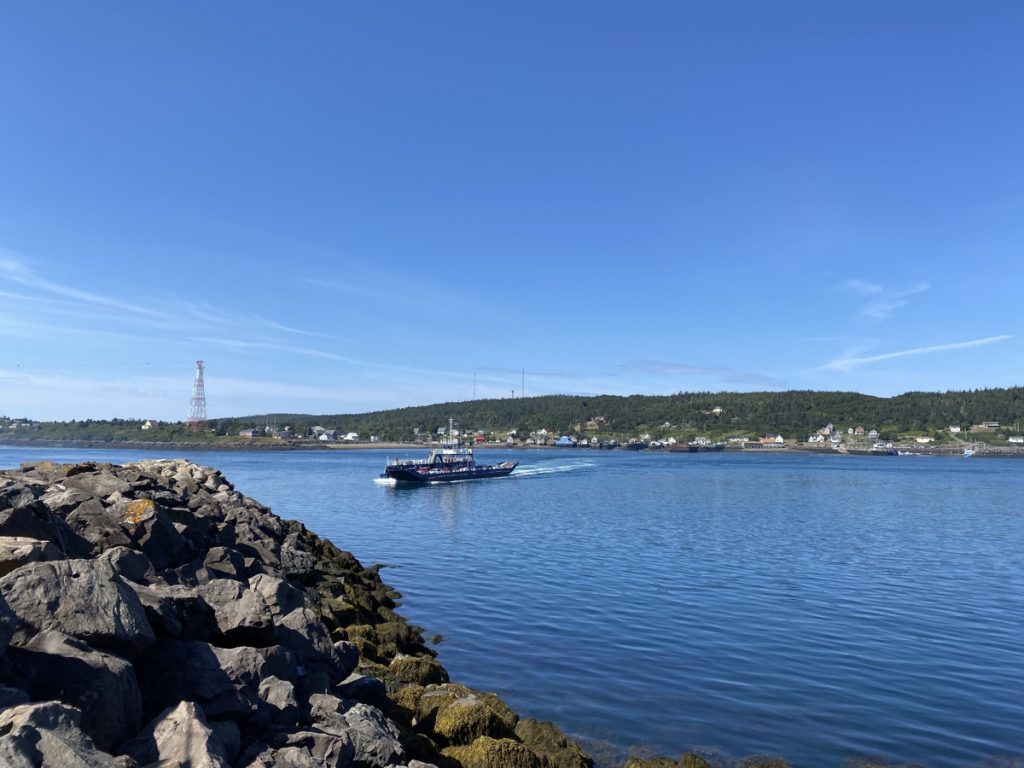 Small Community Ferries in Nova Scotia
There are seven provincially run community ferries in Nova Scotia. Four of the ferries are cable ferries and the others are self propelled. As of June 2021 all of these ferries have been made FREE to use.
There are two ferries on the South Shore of Nova Scotia. The Tancook Ferry is a walk on only ferry that departs from Chester, Nova Scotia to the Big and Little Tancook Islands, home to 200 residents. In summer 2022 the ferry departure point will be moving to Blandford, Nova Scotia and will have a new boat that can carry vehicles. The new Tancook Ferry will also be a shorter trip from the mainland. The other ferry on the south shore is the LaHave Cable Ferry. This ferry crosses the LaHave River which saves you a 35 minute drive through Bridgewater, Nova Scotia.
Along the Fundy Shore there are two ferries that connect Digby Neck with Long Island and Brier Island. This area of the province is home to fishing communities that fish in the Bay of Fundy and it is also the perfect location to go whale watching. The Petit Passage Ferry and Grand Passage Ferry operate on a 1hour schedule. However if the ferry is full (about 24 cars) the boat will return for you quicker than the schedule allows. If you are taking the ferry to get to a whale watching tour make sure you arrive early.
Located on the Eastern Shore of Nova Scotia is the Country Harbour cable ferry connecting smaller communities and allowing quicker access for emergency vehicles. Taking this ferry can save you at least an hour in travel time. This ferry isn't always operating so check before you go and pay attention to the road signs to see if it is running.
Pets are allowed.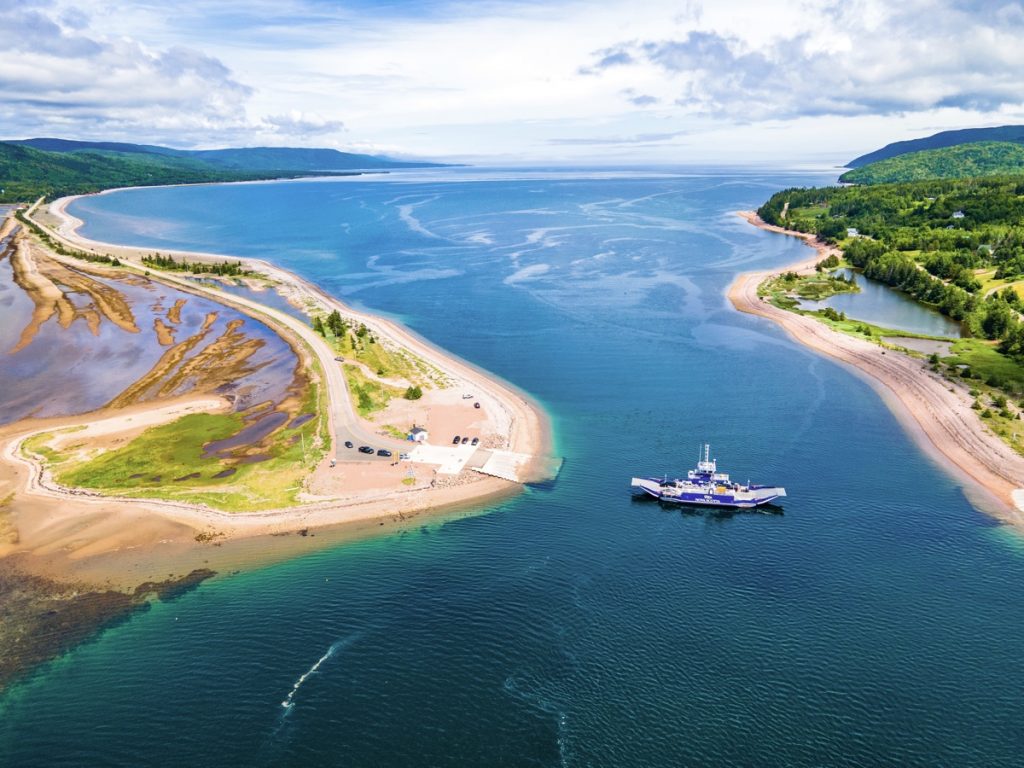 Cape Breton Ferries
The other two provincially operated ferries are located in Cape Breton, Nova Scotia. The Little Narrows Ferry in Cape Breton is one of the shortest ferry routes in Nova Scotia. Although short, it helps connect the Baddeck and Sydney areas of Cape Breton decreasing driving times for locals and tourists. The Englishtown Ferry is also very short and connects the Cabot Trail to the Baddeck area. The ferry helps create the loop of the Cabot Trail and is used quite frequently.
Cape Breton Provincial ferry fares: FREE
Pets are allowed.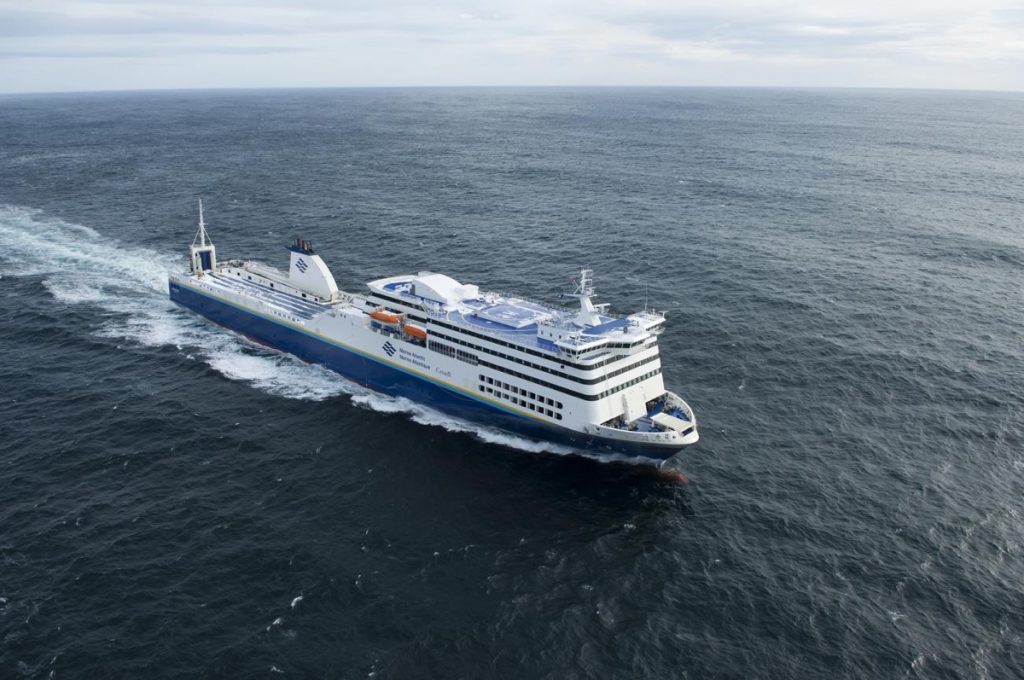 Ferries to Nova Scotia
Ferries from Nova Scotia to Newfoundland and Labrador
There are four other ferries in Cape Breton, but these ones are much larger and travel a lot farther. Marine Atlantic operates the MV Atlantic Vision, MV Blue Puttees, MV Highlanders and the MV Leif Ericson from North Sydney, Cape Breton, Nova Scotia to two points in Newfoundland. The MV Atlantic Vision travels from North Sydney to Argentia, Newfoundland seasonally from June to September. This is a 16.5 hour journey and rates start at $117 for adults to walk on one way. Add on $235 for a car $177 for a two bed cabin per one way trip. If you want to sleep and have privacy on the voyage definitely book a cabin in advance. The Argentia route only operates three times a week but does get you only a 1.5hour drive away from St. John's.
The MV Blue Puttees, MV Highlanders and MV Leif Ericson travel year round from North Sydney to Port Aux Basques, Newfoundland. The trip from North Sydney to Port Aux Basques takes 7hours and brings you to the west coast of Newfoundland. Port Aux Basques is 2hrs and 20mins from Corner Brook, NL, or 3hours 10min to the Gros Morne National Park of Canada. It would take you about 10hours to drive to St. John's from there. Rates start at $44 for adults to walk on one way. Add on $115 for a car and another $54 for a two bed cabin per one way trip.
Pets are allowed onboard both of the Nova Scotia to Newfoundland ferries. However rules apply and they are not allowed in cabins. If you must travel with your pet it is advised to take the shorter Port Aux Basque ferry. Learn more HERE.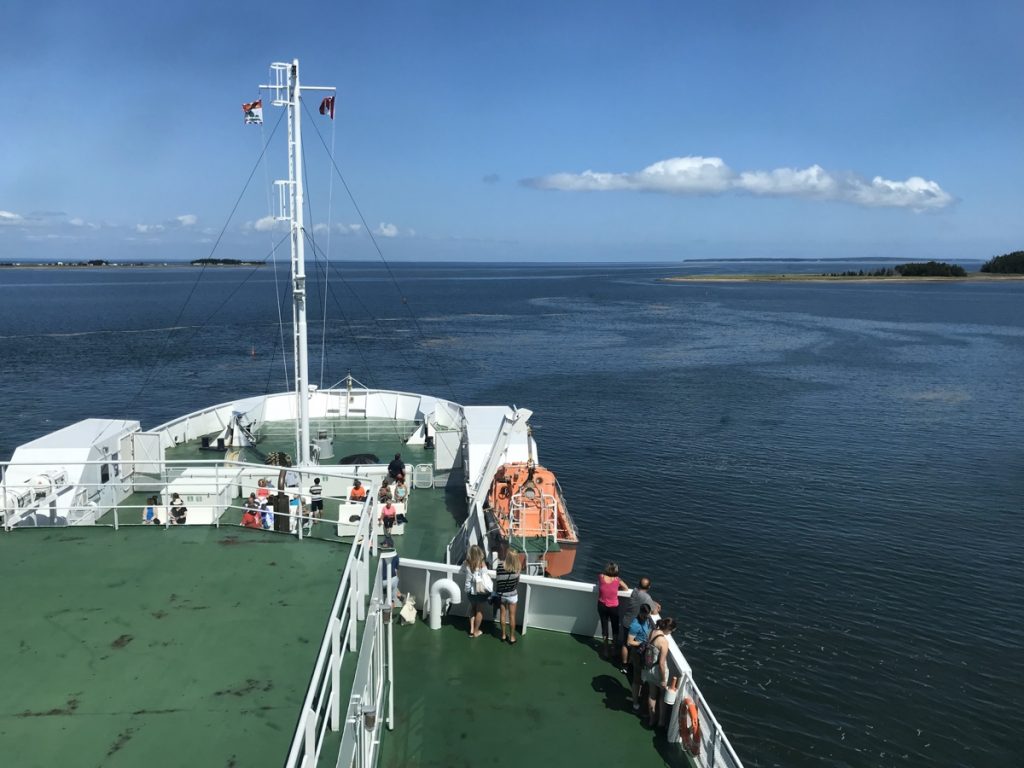 PEI Ferry to Nova Scotia
Traveling between Prince Edward Island and Nova Scotia you can take the confederation bridge via New Brunswick or the ferry from Caribou, Nova Scotia to Wood Islands, PEI. The PEI ferry to Nova Scotia operates seasonally and takes 75minutes. There are two ships that travel this route the MV Holiday Island and MV Confederation. Both ships offer the same amenities except MV Confederation also has a Cow's Ice Cream on board. These ferries are operated by Northumberland Ferries Limited who also operate Bay Ferries Limited and the ferry to New Brunswick and the CAT ferry to Bar Harbour, Maine.
If you are planning on taking the PEI to Nova Scotia ferry make sure to book a reservation in advance. Then you have a confirmed time slot and are guaranteed boarding. If you arrive without a reservation you might be able to still get on but if it fills up you might have to wait for the next ferry.
Fares for the PEI to Nova Scotia Ferry: $22 for adults and $19 for seniors roundtrip. Plus car fares starting at $84 round trip.
Pets are allowed onboard the PEI Ferry to Nova Scotia. However they must remain in your vehicle or be leashed and stay on the exterior passenger decks.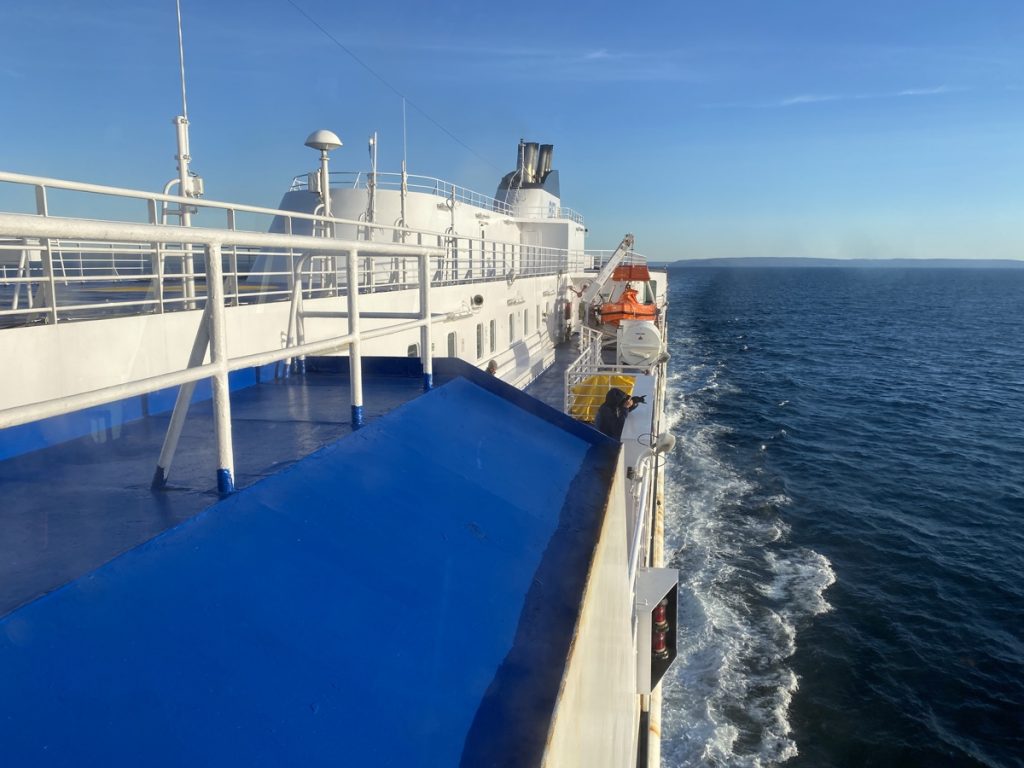 Saint John, New Brunswick Ferry to Nova Scotia
The Saint John, New Brunswick Ferry to Digby, Nova Scotia sails straight across the Bay of Fundy, home to the highest ocean tides in the world. Operated by Bay Ferries Limited this journey takes you about 2 hours and 15 minutes. Passengers will ride aboard the Fundy Rose which makes crossings daily year round. The ferry departs Saint John, NB at 0900 and departs Digby, NS at 1600.
The Digby to Saint John Ferry is great to take if you are doing a Nova Scotia road trip and want to make a little detour through New Brunswick. Spend a couple days exploring Saint John, take a scenic drive through the Fundy Trail Parkway, stop at the Hopewell Rocks, then head back to Nova Scotia for more adventures. Or travel on the ferry from Saint John to Digby. Eat scallops in Digby, explore the Annapolis Valley or grab some delicious seafood in Yarmouth. Then make your way around the rest of the province.
Fares for the New Brunswick to Nova Scotia ferry start at $67 for adults round trip plus, $120 per car.
Pets are allowed onboard but the must remain in your car or in ferry provided kennels.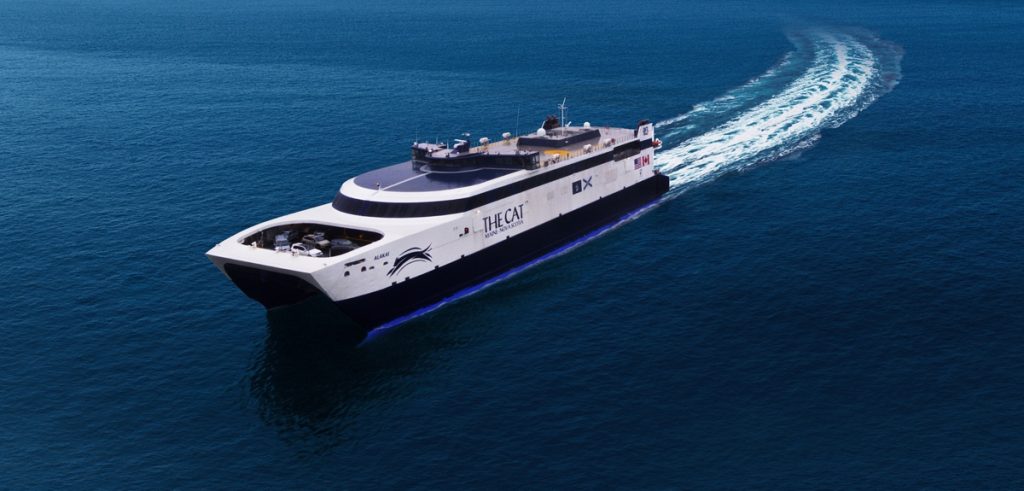 Ferry to Nova Scotia from Maine
The CAT Ferry from Maine to Nova Scotia is the only international ferry to the province. This ferry hasn't operated since the end of the 2018 season. In May 2022 it will be first time in three years that you can take the CAT Ferry from Bar Harbour, Maine to Yarmouth, Nova Scotia. The boat is a high speed catamaran that takes only 3.5 hours to travel between Yarmouth and Bar Harbour, Maine. There is one sailing a day departing from each destination. The ferry departs daily at 9:30am from Yarmouth, NS and daily from Bar Harbour, Maine at 3pm.
To take the Maine ferry to Nova Scotia you must pass through customs at each ferry terminal. You also need to travel with your passport. Fares onboard the CAT Ferry start at $210 per person round trip plus $199 per vehicle.
Pets are allowed onboard and but must remain in your vehicle or in a kennel.
Hopefully this guide will help you plan your road trip to and around Nova Scotia via boat!
---
Liked this post? Pin it for later!