If you are interested in taking the CAT Ferry from Nova Scotia to Maine or taking the CAT ferry from Maine to Nova Scotia then this is the guide for you. I personally did this trip in July 2023 and this post has all of the information you will need to decide if this ferry trip is right for you too. Hopefully I have answered all of your questions for taking the CAT ferry. From when to board, to what to bring, what you can eat, and do onboard and more.
Departing on the CAT Ferry from Yarmouth, Nova Scotia
In July and August the CAT Ferry departs daily from Yarmouth, Nova Scotia to Bar Harbor, Maine at 9:30am. (To view the ships entire May to October schedule visit HERE.) The captain told me however 9:30am is actually the time the ship exits the Yarmouth harbour so in actual fact the boat pushes from the dock around 9am if not sooner once all guests are on board. Guests are told to arrive for departure at the ship between 7am and 8:30am. If you arrive after 8:30am they cannot guarantee passage. If you arrive early they will check you in and line you up to board. Boarding however probably won't begin until after 8am.
Since the CAT Ferry departs so early in the morning from Yarmouth I recommend spending the night in a nearby accommodation if possible. The Rodd Grand Hotel is only a two minute drive away, they have great breakfast and offer guests taking the CAT Ferry a 10% discount on their rooms.
Boarding the CAT Ferry
As you board the CAT Ferry you are told where and how to park your car / truck / RV / motorcycle by the crew once onboard. I preferred having my car on the main level so if that is your goal as well arrive a little later so that you are at the back of the pack. Boarding starts around 8am and was quite easy and seamless and didn't take that long at all. Once you are parked, put your emergency break on and head upstairs. Remember to take everything you might need with you as you can not go back down to your car again until you reach the final destination.
I recommend that you take with you your wallet or purse, a sweater or jacket, and perhaps snacks or entertainment like a book, game or iPad. You can also grab a bite to eat onboard and entertain yourself with what they have available.
Passengers are also able to walk on the CAT Ferry. Arrive on foot to the ferry terminal building and the staff will direct you where to go. Once it is time to board you will be taken on to the ship by staff in a golf cart.
Onboard the CAT Ferry
Once you are onboard the CAT Ferry a good idea is to head to the back of the boat so you can see it depart. Whether it's a sunny or foggy day the views are still gorgeous as you pull away from Yarmouth and go past the Cape Forchu lighthouse. (It will appear on your left side if facing off the stern of the boat.) Next explore the ship. There is only one main deck so it is easy to get around. Before you board you will be given a map of the deck plan too.
There are three lounge areas on the ship that all have food and drink options. The Forchu Lounge at the bow, the Scotia Market Cafeteria in the middle and the Sip at Sea Cafe in the stern. The Forchu Lounge is the only spot to purchase alcohol on the ship. Midship you will also find the gift shop and information desk where you can learn about your destination and the ship.
At the visitor information desk you can see an itinerary of entertainment onboard for that day. The whiteboard will list the movie that will be showing, if there is live music, trivia, a bridge tour or other activities available during that sailing. If a bridge tour with the captain is available I definitely recommend checking that out as you get to meet the captain, ask questions and learn all about the CAT Ferry.
Accessibility on the CAT Ferry
The CAT Ferry is accessible and there is an elevator to take you from the car parking area to the main level. The main level is fully accessible with small ramps in certain areas and there are accessible toilets as well. In some parts of the seating areas there are accessible seating options for those in wheelchairs too.
Things to do on the CAT Ferry
The CAT Ferry takes 3.5 hours to travel either way between Bar Harbor, Maine and Yarmouth, Nova Scotia. While on board there are various things you can do. Find a spot to sit and entertain yourself with a book, games, or a nap. Check out what entertainment is available at the bow of the ship like live music or trivia. If you are curious to learn about the CAT Ferry and meet the captain then take a tour of bridge. (Bridge tours are not guaranteed on every journey.)
Depending on the weather you can also enjoy the outdoor decks at the stern of the ship. Always be on the lookout for whales! Grab some snacks, drinks or a meal from one of the three cafes. Watch the news or movie of the day playing on one of the many TVs. Or explore the gift shop. The perfect place to grab some last minute souvenirs, t-shirts, hoodies, and locally made products from your trip.
What can you eat and drink on the CAT Ferry
Even though you board the CAT ferry from Yarmouth to Bar Harbor early in the morning the bar is open. If you want you can start your day / trip with a mimosa or another alcoholic beverage of choice. You can also grab one of the many non-alcoholic options available on board. (No matter what you chose remember don't drink and drive, and always have a designated driver.) All three cafes have food and drinks but only the Forchu Lounge at the bow serves alcohol. Drinks however can be enjoyed anywhere on the main deck.
For food options on board you can enjoy everything from chips, popcorn, cookies and desserts to sandwiches, lobster rolls, nachos, and even pizza. Some items are packaged or pre-made and others are made fresh to order. Most food items are reasonably priced on board however note that all prices are in USD. The ship accepts Canadian and US cash or cards.
Arriving in Bar Harbor, Maine from Yarmouth, Nova Scotia on the CAT Ferry
The CAT ferry crossing only takes about 3.5hrs and you should arrive in Bar Harbor around 11:30am or 12noon. (Don't forget that Bar Harbor is a one hour time difference behind Nova Scotia.) Once you disembark the CAT Ferry in Bar Harbor, Maine you need to drive through customs. For my experience when I arrived I showed my passport, answered a couple questions and I was on the way quite fast. The whole process maybe took three minutes max. The speed of your customs visit of course may vary.
Where to Stay in Bar Harbor
There are TONS of options of hotels, Bed and Breakfasts, motels and more for accommodation options in Bar Harbor. Where you stay really depends on your plans while visiting and your budget. I was looking for a cheap place to stay and didn't mind that it wasn't directly in the middle of the town. I ended up using Air Miles points and booked the Days Inn by Wyndham Bar Harbor. Conveniently this property is located directly across the street from the CAT Ferry terminal in Bar Harbor. I literally could not have been staying closer to the ferry terminal.
From the Days Inn Bar Harbor the middle of town was not even a five minute drive away or a 30 minute walk. If you are planning on visiting the Acadia National Park this hotel is a great location for exploring the park as well.
Budget Bar Harbor accommodation options: Bluenose Inn – Bar Harbor Hotel
Mid range Bar Harbor accommodation options: Main Street Motel Bar Harbor
Luxury Bar Harbor accommodation options: The Primrose Bar Harbor
Tips for Visiting Bar Harbor
I will write a more in depth post about exploring Bar Harbor and the surrounding areas but here are some of my top tips.
Visiting Bar Harbor can be quite expensive and the town is overrun with visitors in the summer months. Since I conveniently had my car with me I stayed out of the main town area at the Days Inn which was relatively cheap and located right across from the ferry terminal. To get to the main part of Bar Harbor it was a 30min walk or quick five minute drive.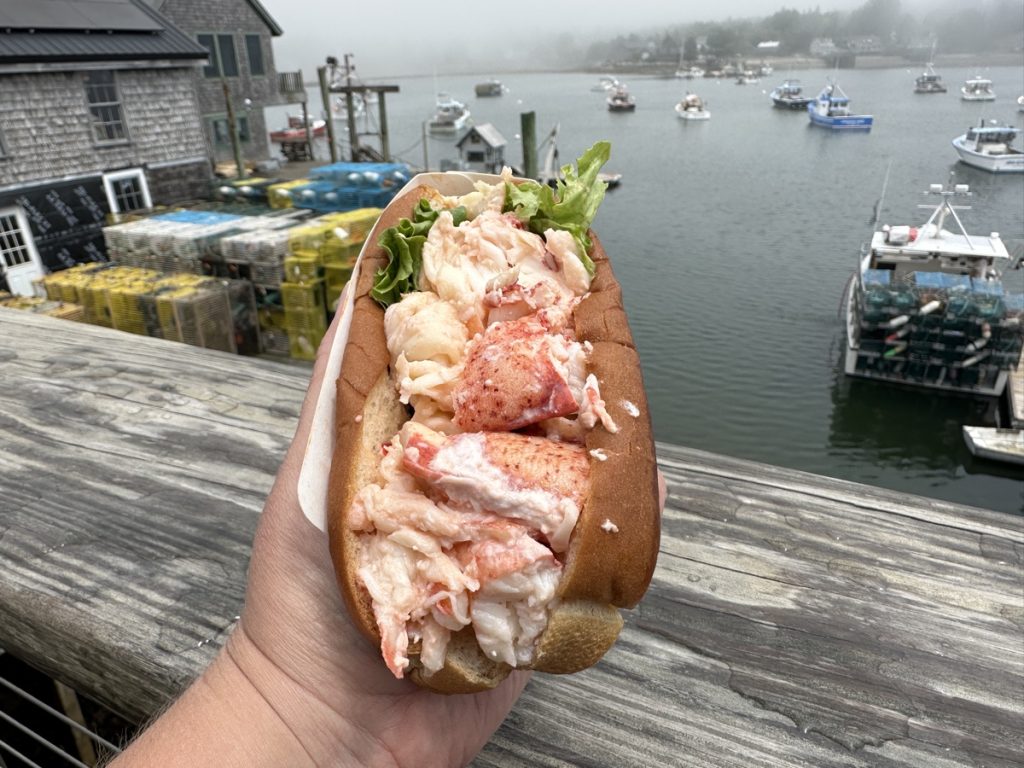 One of the main things to eat and enjoy in Bar Harbor is of course lobster. However directly in Bar Harbor it is very expensive. Cheaper, more affordable and maybe even more DELICIOUS lobster options located just outside of Bar Harbor are McLoons Lobster Shack and Thurstons Lobster Pound. Do NOT miss them.
Avoid visiting on weekends if you can as that is when Bar Harbor is at it's busiest. If you can instead visit in the middle of the week it might make for a better trip.
There are several entry points for Acadia National Park. Not all have toll booths. If you plan on exploring at all make sure you get a park pass which starts at $30 a day otherwise you might end up with a ticket. Visit popular spots earlier in the day if possible before they get too crowded.
Departing on the CAT Ferry from Bar Harbor, Maine
The CAT ferry departs daily in July and August from Bar Harbor, Maine to Yarmouth, Nova Scotia at 3pm EST. (To view the ships entire May to October schedule visit HERE.) Because of this boarding time for the CAT Ferry in Bar Harbor is between 12:30pm and 2:00pm. Failure to arrive before 2:00pm could cause you to not be allowed to board. The ferry trip from Bar Harbor, Maine to Yarmouth, Nova Scotia takes 3.5 hours, about the same amount of time as going from Nova Scotia to Maine.
Taking the ferry from Maine to Nova Scotia
Taking the CAT ferry from Bar Harbor, Maine to Yarmouth, Nova Scotia is basically the exact same trip only heading in the opposite direction. Some differences might be the entertainment offered on board that day, a few of the crew you see and of course the weather. When I cruised to the US there was live music and when I returned to Canada they offered trivia instead. It really just depends on the day of the week you travel. Aside from that all food items and the gift shop remain the same.
Note: Remember no matter which direction you are sailing all prices for items purchased onboard are in USD.
What Time Does The CAT Ferry Arrive in Yarmouth?
The CAT Ferry arrives in Yarmouth, Nova Scotia around 7 or 7:30pm. Once you arrive you do need to pass through Canadian customs and immigration. From my experience they were a bit stricter than the American border control. What took 3min when arriving in the US took about 1hr waiting in line once I arrived back in Canada. Talking with them was fairly quick I think because I am a local but waiting in line for them to process everyone else took way too long.
It is probably a good idea to stay in Yarmouth for at least one night when you arrive so that you don't have to drive after dark. That way you also get some time to explore the area before you head on to visit the rest of Nova Scotia. You can find my guide to exploring Yarmouth HERE.
Note: Nova Scotia is in the AST time zone 1 hour ahead of Maine time.
Why should you take the CAT Ferry?
People often ask me why they should take the CAT ferry between Bar Harbor, Maine and Yarmouth, Nova Scotia. Taking the CAT ferry definitely isn't for everyone and it also may not be affordable to all. However it is a unique experience and can be convenient. It's much nicer to enjoy a boat ride where you can eat, walk around, and nap VS being cramped in a car, focusing on the road. The CAT saves you on gas and wear and tear on your car. However the ticket prices and needing to get to Yarmouth might outweigh that for some people.
Personally I enjoy exploring Nova Scotia including the Yarmouth area and I thought it was a great experience. I would much prefer a nice boat ride over 8 hours in a car any day. The ferry passenger numbers increased in 2023 so fingers crossed for another great season in 2024.
Have you taken the CAT Ferry? Tell us about your experience in the comments below!
---
Liked this post? Pin and save it for later!
Special thanks to the CAT Ferry for hosting me on this trip. All opinions and views expressed are my own.