Peggy's Cove, Nova Scotia and its iconic lighthouse is the most visited destination in Nova Scotia. Popular for its large granite rocks, picturesque fishing village, souvenir shops and of course the lighthouse. To get the most out of your visit I have created this guide to visiting Peggy's Cove.
What can you do in Peggy's Cove, Nova Scotia?
The main thing to do in Peggy's Cove is to see the Peggy's Point Lighthouse sitting on top of gorgeous hunks of granite rock overlooking the Atlantic ocean. Recently a brand new accessible boardwalk was built to make viewing the lighthouse an even better experience so be sure to check it out. You can also carefully climb on and explore the rocks. But WARNING stay off the black rocks at the waters edge. They can be very dangerous, slippery and a rogue wave could wash you out to sea. Other things you can do is visit one of a few great souvenir shops, art galleries, grab a bite to eat, and stroll through the working fishing village. You can also just pull up a seat and enjoy the gorgeous views and fresh salt air.
For the more adventurous you can also go hiking in the Peggy's Cove preservation area too with the Polly Cove Hiking trail being a popular route to take. Another popular stop in the Peggy's Cove area is to the SwissAir Flight 111 Peggy's Cove Memorial.
Continue reading for more information on the best things to see, do and eat in Peggy's Cove in more detail.
When is Peggy's Cove open to visit?
Peggy's Cove is open to visitors year round. However the best time to visit is during the daytime when it is easy to see everything. But saying that, on a clear night there isn't a lot of light pollution in the area and it can also be quite beautiful. Peggy's Cove, Nova Scotia is also a very popular spot for sunrise and sunset. You can see some of the most beautiful skies at Peggy's Cove with the lighthouse in view.
Even though Peggy's Cove is open to visitors year round, the most popular time to visit is in the summer months. That is when most tourists visit and is also when all of the shops, restaurants and more are open. To get the true full Peggy's Cove experience be sure to visit from May to October. When visiting Peggy's Cove give yourself at least an hour or two to explore the area.
Where can you eat in Peggy's Cove?
The most popular place to eat in Peggy's Cove is the Sou'Wester Restaurant which is located right in front of the lighthouse. They offer everything to eat from lobster dinners to lobster rolls, fish and chips, burgers, etc. and are famous for their homemade gingerbread. As part of the restaurant they are also the largest souvenir shop in Peggy's Cove.
The BEST spot for lobster rolls in Peggy's Cove is Tom's Lobster Shack. Located on the Peggy's Point Road just down the hill from the lighthouse near the fishing wharves. Tom's Lobster Shack sells a couple different kinds of lobster rolls and other menu items as well as ice cream cones.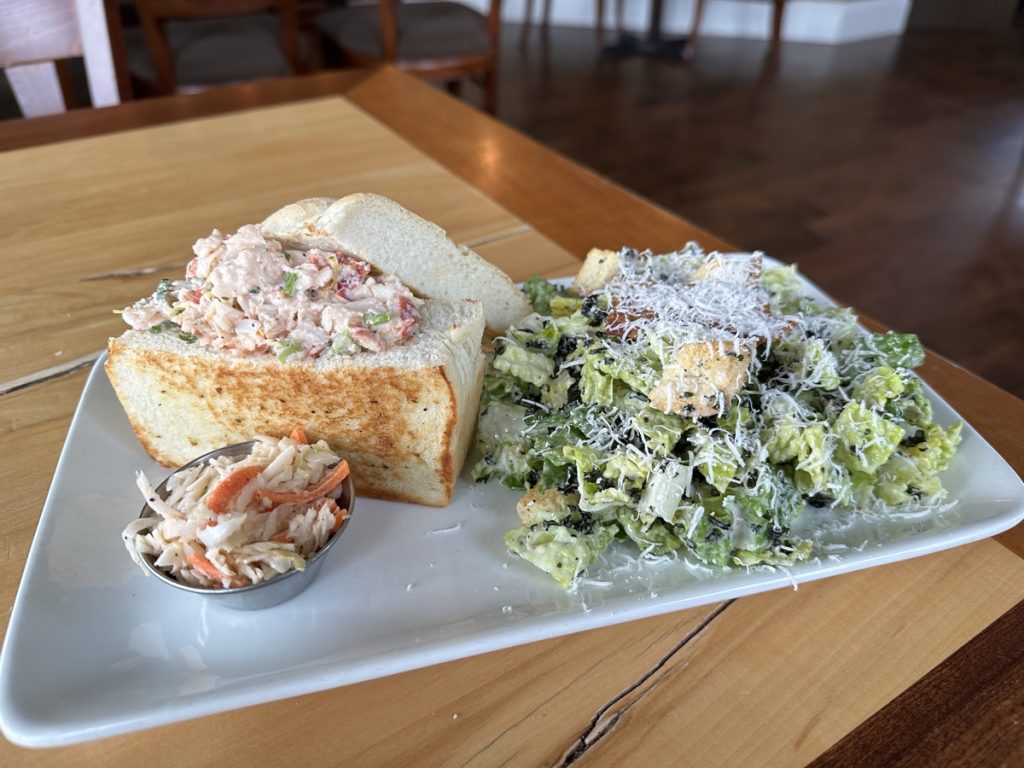 The delicious lobster roll and a kale ceasar salad at the Rhubarb Restaurant near Peggy's Cove
If you are looking for quick food to go in Peggy's Cove then check out the hotdog truck called Peggy's Dogs that is often around on Lobster Lane. Or head to Bubba Magoos & Bistro for some great snacks.
Another fantastic spot for lobster rolls is about a 4minute drive away at the Rhubarb restaurant in Indian Harbour. They have one of my top three favourite lobster rolls in the province! They also have great fish tacos, pizzas, seafood pasta and more.
Souvenir Shops in Peggy's Cove
There are several souvenir shops in Peggy's Cove with lots of lighthouse souvenirs from snow globes to postcards, ornaments, shirts, socks, books and more. They also carry a lot of Nova Scotia in general souvenirs and a TON of lobster related souvenirs. The biggest of shops as mentioned before is at the Sou'Wester. It is actually two full floors of souvenirs.
Located near the Sou'Wester you will also find the Amos Pewter shop. A shop full of hand crafted pewter jewellery, ornaments, tableware and more. In the shop they also show you how these unique metal pieces are created and molded right in the shop.
The next gift shop is a small family owned gift shop called Peggy's Cove Gift Shop with bits and bobs and a few hand made art pieces that make great souvenirs. If you still haven't found what you are looking for then check out Bubba Magoos for great souvenirs as well.
In one of the old fishing wharves you can also stop in to visit the Buoy Shop where you can buy some great wood carved buoys of various colours, shapes and sizes. If you are looking for more unique souvenirs then the newly relocated Hags on the Hill is the place for you. They are more like an artisan market and feature locally made products.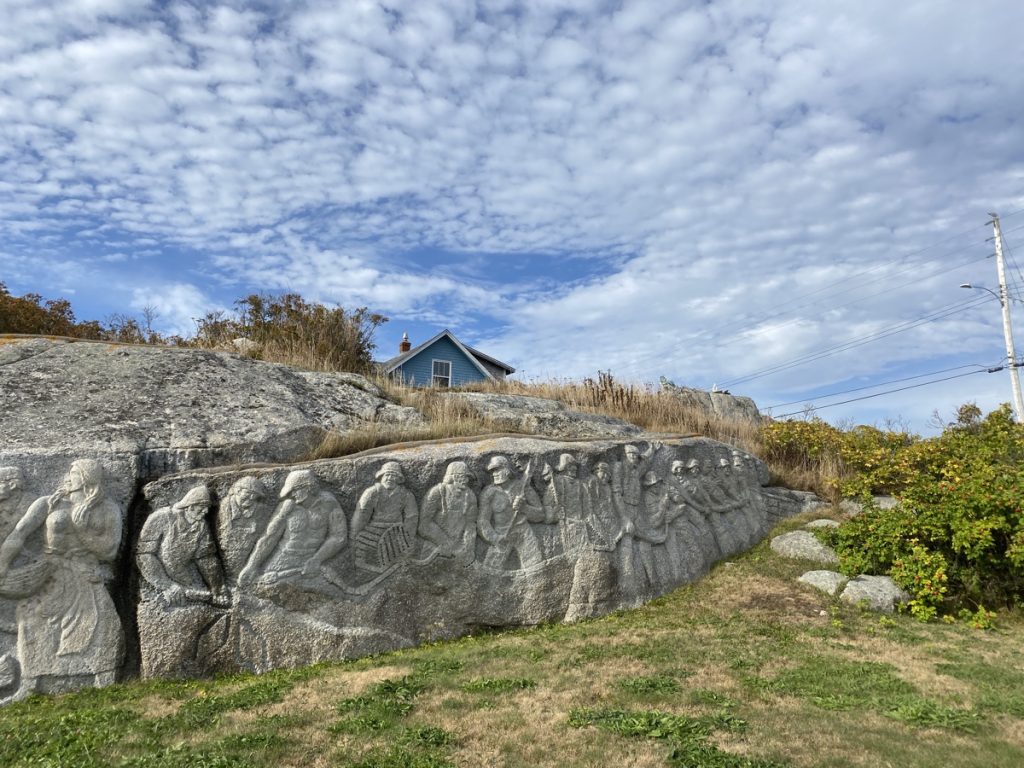 Enjoy the Art in Peggy's Cove
Peggy's Cove was once home to a great artist named William deGarthe. Originally from Finland he was an artist and sculptor who lived most of his life in Nova Scotia. Today in Peggy's Cove you can visit his home now turned art gallery. In the yard of the gallery there is also a large 100ft granite sculpture of Nova Scotian fishermen and their families. Carved into a large granite rock that the yard was made of it was 80% completed when he passed away. Known as the Fisherman's Monument all visitors are welcome to visit it.
Each summer Peggy's Cove is also home to the Peggy's Cove Area Festival of the Arts. Taking place this year from July 5th to 16th, 2023. During the event there will be artists plein air painting, there will be art sales, art displays and much more. Visit their site PeggysCoveFestivalOfTheArts.com to learn more.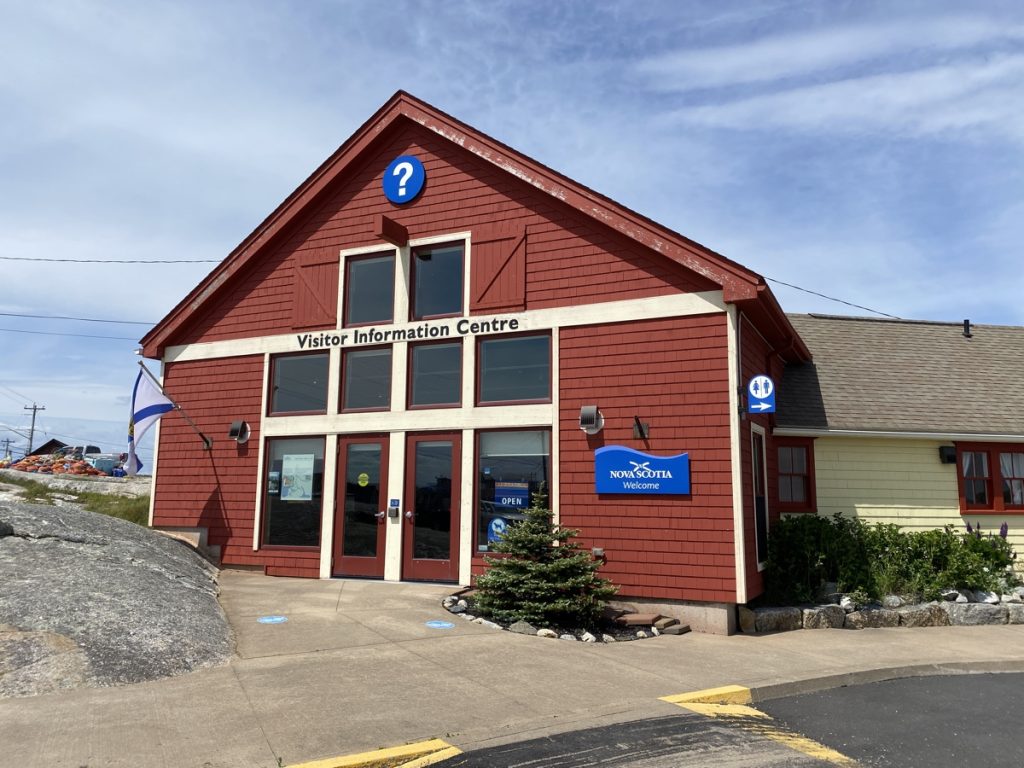 Visit the Nova Scotia Visitors Information Centre
Another great place to visit as you stroll around the Peggy's Cove village is the Tourism Nova Scotia Information centre. Their parking lot is a great place for visitors to park to enjoy the area. They also have parking spots that fit RVs and buses. At the info centre you can learn a bit about the history of Peggy's Cove and you can also learn about ALL of Nova Scotia. Stop in to chat to the friendly TNS team and they can provide you with everything you need to know for your road trip around Nova Scotia. They have all of the knowledge, brochures and maps that you could ever want.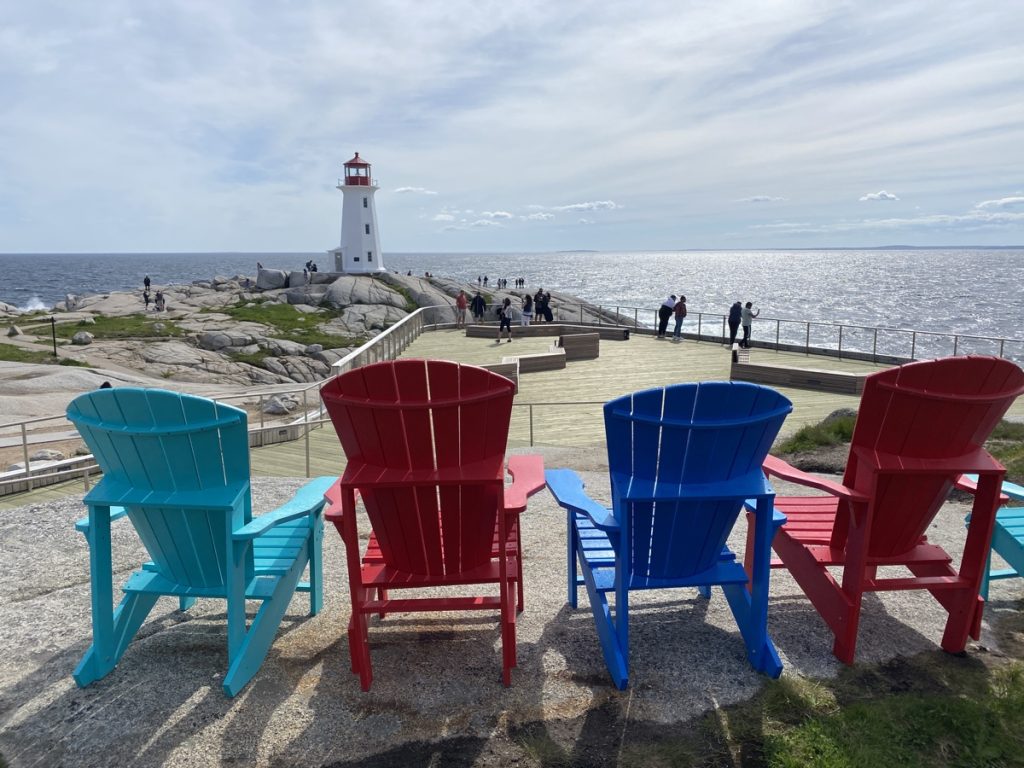 Public Services in Peggy's Cove
There are lots of places to park in Peggys' Cove. The main parking lot is located near the lighthouse behind the Sou'Wester and there is a second parking lot at the NS Tourism Visitor Information centre. There are also a few random spots along the side of the road in the village. Please note people do live here though so avoid parking in their driveways or in the way of businesses. There are also two public toilet buildings. One by the fishing wharves and the other one near the new deck overlooking the lighthouse.
How to Get to Peggy's Cove
There are two routes to get from Halifax to Peggy's Cove. A scenic winding route partly along the ocean that takes 45minutes or a highway route that is still a bit scenic that takes you 49minutes. The scenic route from Halifax to Peggy's Cove has you driving the Lighthouse Route also known as Prospect Road or NS 333 W. The road is full of twist and turns and some scenic sites. The highway route takes you on the 103 highway to exit 5 in Tantallon, you then turn left on to the Hammonds Plains Road, right on the St. Margaret's Bay road then left on to the Peggy's Cove road all the way to Peggy's Cove. The Peggy's Cove road portion of the drive is also scenic but a little less twisty then the other drive.
If you are driving to Peggy's Cove from Lunenburg or the South Shore you once again drive on highway 103 until exit 5. Or on the south shore you can drive the slower route of the St. Margaret's Bay road until you reach the Peggy's Cove road again in Tantallon. It's about an hour and 15 minute drive from Lunenburg to Peggy's Cove.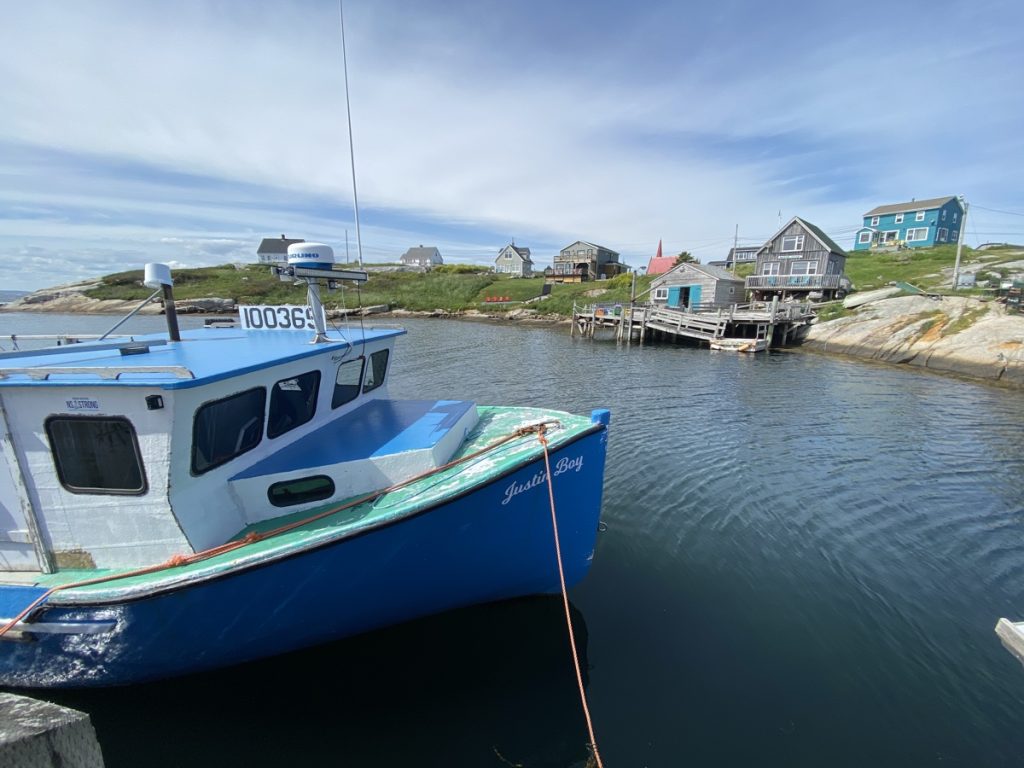 Tours to Peggy's Cove
If you don't have your own car or a rental vehicle then there are a few tour options to take you to Peggy's Cove. One option for $79 per person is a four hour small group tour from Halifax to Peggy's Cove with Get Your Guide here. Or for $189 per person you could enjoy a small group tour to Peggy's Cove from Halifax to enjoy sunset and a meal at the Rhubarb restaurant here. Another option is a 3.5hr tour bus tour to Peggy's Cove with Ambasstours for $68.90.
The most enjoyable tour that you could probably take to Peggy's Cove is with Taste Halifax. They offer a Peggy's Foodie Adventure tour from Halifax to Peggy's Cove. This four hour tour is $185 per person and has you visiting four delicious foodie stops along the way. Enjoy local cider, lobster rolls, rappie pie and more. Also yes you visit the lighthouse and explore Peggy's Cove as well.
If you have the money Casino Taxi will also take you from Halifax to Peggy's Cove, drop you off for an hour and then take you back to the city for a roundtrip flat rate of $150.
Where to Stay Near Peggy's Cove
There are a lot of small accommodation options near Peggy's Cove. Directly in Peggy's Cove there are a couple Airbnb's however you pay for location and stunning views in the price. There are other great options just down the road from the village as well. Leaving Peggy's Cove turn left and you will find the Clifty Cove Motel, King Neptune Campground, as well as a few cottage options. One of the nicest places to stay near Peggy's Cove is the Oceanstone Seaside Resort. Oceanstone is also opening their very own Hydrothermal Nordic Spa in summer 2023.
There are glamping options close to Peggy's Cove as well at Nova Glamping, that offer a unique experience glamping in a geodesic dome on an island.
Follow all of my suggestions in my guide to visiting Peggy's Cove and you will have the best visit. No matter the time of year it is always a lovely place to explore and a gem of the province for a reason.
---
Like this post? Pin it and save it for later!