Before starting Nova Scotia Explorer I naively thought I had already traveled around a fair bit of Nova Scotia. Mostly because I've lived here my whole life. I now know that I was very wrong and am amazed at how many new and great places I get to see and explore almost every time I set off on a road trip or adventure around Nova Scotia. One destination specifically though that I knew was glaringly missing from my travels from around Nova Scotia was the whole entirety of the Yarmouth and Acadian Shores. I should probably even be embarrassed to admit it.
On previous travels I had made it as far as the Digby area on the Bay of Fundy side of the province and as far as Shag Harbour on the south shore. I was just missing that one large gap to close off the loop going around the bottom tip of the province. I had just never had a reason to visit the area and didn't know much about it. Before I started this site I was often confused when visitors told me they where headed there. I would think "It's just Yarmouth… not much to do there". BUT BOY WAS I WRONG!
I'm so sorry!
In June of 2022 I was lucky enough to attend a Travel Media Association of Canada conference in Yarmouth. Being that it was a travel media conference they also hosted us on familiarity tours before and after the conference. These pre and post trips gave me the best introduction to the area and were a great guide for me to be able to now share the beauty and richness that this area of Nova Scotia has to offer. From pretty lighthouses to gorgeous beaches, Acadian culture, unique foods, delicious craft beer and cider, amazing welcoming people, intriguing history and so much more.
First Timers Guide to Yarmouth, Nova Scotia
Since that first trip I have now actually been back traveling through the area three or more times all within a seven month period. And I still have so much more of this area to visit and explore.
The Yarmouth and Acadian Shores area of Nova Scotia is a large region made up of Yarmouth County and the Municipality of Clare. You probably need at least a week to visit this entire area properly on just one trip. For the purpose of this guide I will just be focusing on the town of Yarmouth and nearby spots. Follow this guide if you are wanting to visit for a few days to get a taste of the area.
The painted ladies on Main Street in downtown Yarmouth
My first tip is to make sure that you have a car to visit this region. Also please note this area is a great place to visit year round however there are many seasonal businesses that only operate May to October. Plan accordingly to your interests.
Whether you are driving from another part of Nova Scotia, arriving on the Digby Ferry from New Brunswick or the CAT Ferry from Maine, the town of Yarmouth should be a main stop for you to visit in Yarmouth County. The great little town of Yarmouth, Nova Scotia has a population of just under 8,000 people. It is a seaside town with fishing and tourism being it's largest industries. Yarmouth is a town full of history, good and bad, with hardships that come and go but they always thrive. First populated by the Mi'kmaq and then the French Acadians of which many descendants still remain today.
Yarmouth Walking Tours
Enjoy a Walking Tour of Yarmouth
The first thing I do when visiting a new place is to find a local hop on hop off tour or walking tour. They are without a doubt the best ways to get the lay of the land, and a locals view of the town. Candice of Yarmouth Walking Tours offers the very best walking tours of the town. You can privately book a tour and choose the Intro to Yarmouth tour or the Eerie and Ominous tour to learn about the towns secrets, crime, folklore and more.
Street art in downtown Yarmouth
On the walking tours you will visit the Yarmouth waterfront, see some of the gorgeous historic Sea Captain's homes in the area, see the fisherman's Lost to the Sea Memorial, go to the famous Frost park and more. An easily walkable town you will also see some great instagrammable spots too.
Inside the W. Laurence Sweeney Fisheries Museum
Dive into the History of Yarmouth
To learn even more history about Yarmouth after your walking tour your next visit should be one of three great museums. First the W. Laurence Sweeney Fisheries Museum located right above one of the biggest herring fish plants in the area. Visit to learn all about the history of the fishing industry in the area with scaled down replicas of actual fishing wharves, sheds, processing plants and more. Great for adults and kids as there is also a "find the fisherman" Homer game throughout the whole exhibit.
For those with interests in fire fighting be sure to also visit the Firefighter's Museum of Nova Scotia. Visit and see old fire engines, antique horse-pulled engines, old firefighting gear, tools and more.
Learning history at the Yarmouth County Museum
The Yarmouth County Museum is another important spot to visit full of rich history from the town. A very rare and unique item in the museum is an elephant's ball in the basement. In 1963 a Circus traveling by boat caught fire at dock in Yarmouth and the local firefighters rushed to save the animals. Luckily the elephants (one who later lived to be 72) and lions and more escaped from the fire. (Except for one zebra.) But thankfully none escaped into the town. The elephants ball is a unique reminder of that day.
A flight of beer at Heritage Brewing Co in Yarmouth
Drink in Yarmouth
Located right on Main Street in downtown Yarmouth is Heritage Brewing Co. a delicious local craft beer brewer. Stop in to grab tall boys to take home or stay and enjoy a flight or pint in the tap room or on the outdoor patio. They have 14-15 beers, ciders and seltzers on tap at any time and often feature live music, trivia nights and even karaoke. They also serve up some tasty snacks like caramelized onion chip dip from the Wild Roots restaurant. So delicious! Heritage Brewing Co. brews some constant favourites and then often rotate smaller batches as well. My favourite of theirs is definitely the Wheat Kings Pineapple Wheat Ale.
Creamsicle beer at Tusket Falls Brewing co.
About a 14 minute drive from town another great local craft beer brewery is Tusket Falls Brewing Company. They offer at least nine taps of their own delicious craft beer and tall boys for sale as well. If you ask nicely they might let you take a peak into the brewing floor. Tusket Falls Brewing also serves up a delicious menu of food which can be enjoyed with a flight or pint in their taproom or on their lovely patio. I highly recommend a smash burger with the creamsicle beer if available. So good!
Two other great places to grab a drink in town is the Sip Cafe. I definitely recommend trying something off the menu from the near by Lazy Bear Brewing Co. Also Rudders Brew pub has four in house brewed beers from their micro-brewery. They also serve up great pub food, fish and chips, lobster rolls and more.
Be sure to check out Wine and Beer Tours of Nova Scotia for a drinking tour of the area as well.
Climb to the top of the Cape Forchu Lighthouse
Located a scenic 15 minute drive from downtown Yarmouth is the apple core shaped Cape Forchu lighthouse. There has been a lighthouse standing in this spot for over 180 years. The current lighthouse was built in 1962 and in the past couple of years has been opened for visitors to climb to the very top. While climbing the 77 steps to the top a guide will tell you all about the lighthouse and surrounding area. This experience and the small restaurant and gift shop on site are open from May to September. However you can visit the lighthouse and its surrounding 19acre park area year round.
While driving back to town be sure to stop and see the Yarmouth bouy wall on Yarmouth Bar. Yarmouth Bar is essentially a sand bar turned road that gives you access to Cape Forchu. It also has some nice beaches on either side and is home to some important fishing wharves in the area. In the summer months at various wharves throughout the Yarmouth and Acadian Shores you can visit with guides and learn all about the lobster fishing industry with the Living Wharves experiences. See how lobster traps work, learn how to pull them up and band lobsters, learn how to repair rope and more. Visit their site here for locations and times.
A delicious lunch from the Shanty Cafe in Yarmouth
Eat at the Best Yarmouth, Nova Scotia Restaurants
Yarmouth of course has a McDonald's, Tim Hortons, Jungle Jim's, Boston Pizza, etc. your typical, every town kind of places. But what are the best restaurants in Yarmouth, Nova Scotia? My favourites are the Shanty Cafe, Honey Bees Restaurant, Wild Roots and the previously mentioned Sip Cafe and Tusket Falls Brewing Co.
The Shanty Cafe is located right in the middle of town on central street. I've enjoyed a delicious fish burger and fresh salad there as well as a great breakfast. The great thing about them too is that they are a Social Enterprise. "Our mandate is to provide meaningful employment to individuals who face barriers to employment as a result of disability, mental illness, age, language, literacy, etc." So they serve up delicious food while doing some social good!
A massive plate of delicious sushi from Honey Bees Restaurant
Honey Bees Restaurant is a quick five min drive from downtown Yarmouth. It is by far one of the best restaurants on the whole Yarmouth and Acadian Shores. Owned and operated by Chef Sonia Park and Tony Lawrence what started as an ice cream shop is now "an inclusive cultural food beehive." Aside from ice cream, milkshakes, hot chocolates, and smoothies they now also have bubble tea and the most amazing Asian inspired menu of delicious food. From bento boxes to sushi maki rolls, tempura, edamame, udon soup, Korean fried rice, Korean fried chicken, chicken teriyaki and so much more. My favourite item without a doubt was the Sweet Potato Poutine Roll. Deep fried sweet potato with fresh cheese curds and unagi sauce. Unbelievably delicious.
A tasty chicken sandwich at Wild Roots
About a 12 minute drive from downtown Yarmouth near Tusket Falls Brewing co. is the Wild Roots restaurant. A full service locally sourced restaurant with an ever changing menu. For lunch they offer great sandwich and soup options as well as fish and chips and several fresh bowl / salad options. For dinner things get a little bit fancier with menu items like mussels or baked brie toast, mushroom ravioli, Duck confit, panko crusted haddock, stuffed chicken breast, braised lamb ragu and some great sounding desserts. These tasty menu items and more make it also one of the best Yarmouth, Nova Scotia restaurants.
Frenchy's used clothes shopping
Enjoy Shopping in Yarmouth
Yarmouth has some great shops for retail therapy. Whether you want to buy some new to you clothes or great locally made art they have it all. The Frenchy's thrift shop is a great place to visit for affordable clothes and home products with the majority of the items being imports from the U.S. . Visit Tooie's Country Store for some ornaments or home decor. Stop into the Store Next Door for some great Yarmouth merch, and locally made products. They are also a part of the same Social Enterprise as the Shanty Cafe. You also need to check out the Yarmouth Farmers market every Saturday.
Unique local art at Seahags and Scallywags
Visit Every Bloomin' Thing for flowers, souvenirs, jewellery, locally made products and gifts. Another interesting spot is Seahags and Scallywags. This shop is full of some fantastic locally made products, art, up-cycled treasures and more. They also have a unique instagram experience that changes with the seasons with various backdrops and props for lots of fun photos.
Yarmouth and Acadian Shores merch at the Store Next Door
One of the best times to go shopping in Yarmouth is actually at the end of November during their Merry Madness holiday shopping event. Buy a ticket and you get discounts at various shops in town including complimentary snacks, drinks and a shopping bag. Merry Madness in Yarmouth typically takes place around the second last week in November so be sure to add it to your calendar for the next one!
Take a Lobster Tour
In the summer months another great tour that you can take near Yarmouth is with Tusket Island tours. Jump on board this real working lobster boat in Wedgeport about a 20min drive from downtown Yarmouth. Learn all about lobster fishing from real life fishermen, explore the nearby islands, enjoy live music on the ocean and visit their own fishing shack for more music and delicious seafood chowder. If interested they also offer fishing charters as well.
A double room at the Rodd Grand Hotel
Where to stay in the Yarmouth
There are lots of great places to stay on the Yarmouth and Acadian Shores. From gorgeous seaside Airbnb's to tiny homes made from shipping containers, Bed & Breakfasts, small motels, luxury boutique properties and more. When visiting Yarmouth the best places to stay are the Rodd Grand Yarmouth Hotel and the Tru by Hilton Yarmouth.
Perfectly located right in the middle of downtown Yarmouth is the Rodd Grand Yarmouth Hotel. The original Grand Hotel opened in Yarmouth in 1894 and is famous for being mentioned in the song "It's Beginning to Look a Lot Like Christmas". Specifically in the lyric "There's a tree in the Grand Hotel, one in the park as well." with the park mentioned being Frost Park just across the street. This 130+ room hotel is a great place to stay when visiting and will be going under a great renovation and refresh soon.
The lobby of the Tru by Hilton Yarmouth Hotel
Opened in February 2021 the Tru by Hilton hotel is owned and operated by the Acadia First Nation Yarmouth. Located a five minute drive from downtown Yarmouth it is a very modern and sleek hotel with colourful designs and art throughout. They also offer a great continental breakfast each morning with make your own waffles.
---
Follow these recommendations and your first trip to Yarmouth will be the very best! I know I'll be visiting again!
Liked this post? Be sure to pin it for later!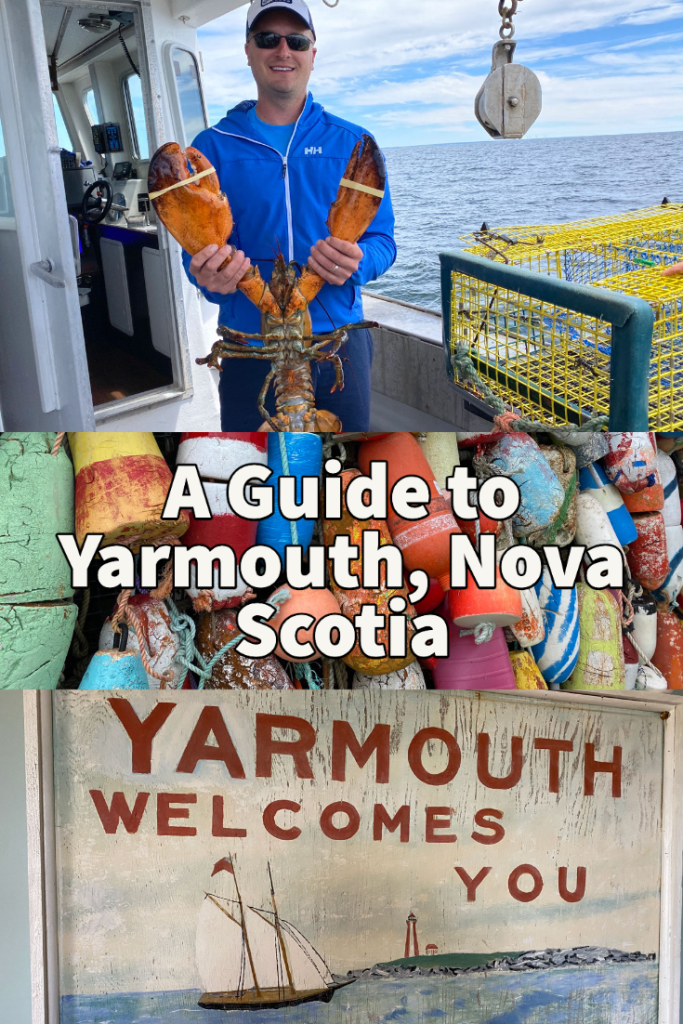 Special thanks to YASTA and TMAC for hosting me on this trip. All opinions and views expressed are my own.