Nova Scotia is full of creative and inventive people that love showcasing the best of our province. Whether you are shopping in a cute boutique in a city or town or driving down a road in the middle of nowhere you will always find unique and locally handmade crafts, art, food and more. Whatever you might find it will of course make a great gift for yourself or someone you love, living locally or afar. Here is a compilation of some of my favourite Nova Scotian gifts that I have found, in my Nova Scotia gift guide.
The Perfect Nova Scotia Holiday Gift Guide
Food Gifts
Halifax Foodie Card – Shameless self plug right at the start. One of the best food gifts you can give anyone in Halifax, Nova Scotia is the 2023 Halifax Foodie Card. The card features 20 different local restaurants and shops and offers you over $250 in discounts for the cost of $29.99. I have personally curated the card myself featuring some of my favourite restaurants across the city. The Halifax Foodie Card is the perfect gift for the foodie lover on your holiday shopping list. Buy yours now at FoodieCard.ca.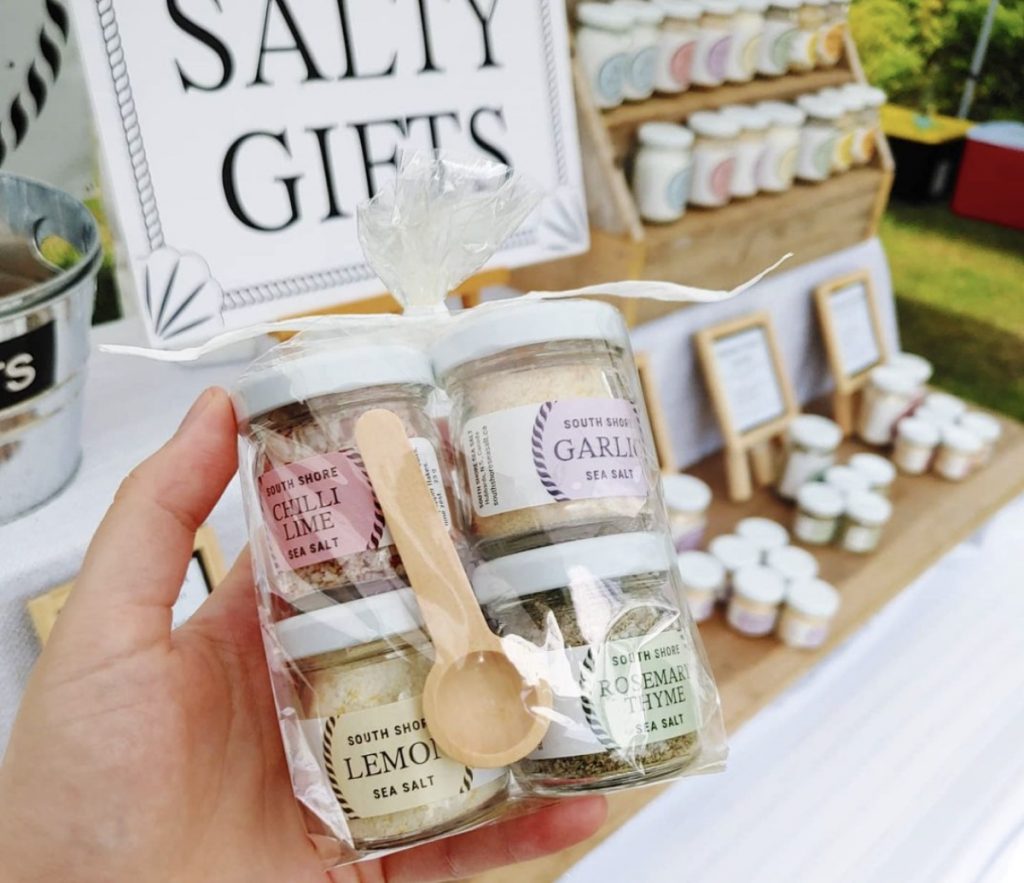 South Shore Sea Salt – Owned and operated by a mother and daughter duo who get their sea salt straight out of St. Margret's Bay in Nova Scotia. They sell various types of salt to tickle your taste buds as well as spice mixes including their new Donair Spice that comes with an informative recipe card. A great gift from them includes a locally made pottery salt cellar pot to hold the salt. Order from them online HERE.
Lure Caramels are so darn delicious! Made locally in a one woman shop in Glen Haven, Nova Scotia by Kate Melvin. The caramels can be found at shops around the province or you can order them online. You can get them covered in chocolate or with nuts, but the very best might just be the pure caramels sprinkled with huge chunky flakes of sea salt. It will literally be the most delicious thing you have ever tasted. Learn more on her site HERE.
Helen B's Preserves are some of the best locally made jams in the province. Possibly even better than your grandmother's. Made by the Boulangerie La Vendéenne in Lunenburg you can actually find them sold at various shops around the province as well. Favourites include strawberry rhubarb jam, wild blueberry jam, and even Scrooge Jam made of raspberries, blackberries, blueberries, strawberries, cherries, and pomegranates. They also have mustard pickles, mango chutney and more. Visit their Facebook page HERE.
Wood'n'Hive in Port Williams, Nova Scotia makes delicious honey and beeswax products all produced by local bees in the Annapolis Valley. In the fall you can even visit their shop to see how the honey is made and taken from comb to jar. They sell honey in various sized jars and containers as well as edible honey comb and creamed honey. Their beeswax products consist of everything from candles to wraps, lotion bars, lip balms and more. Visit their shop to purchase or reach out to them on their site for delivery or vendors HERE.
Michelle Ashley's Bakery – This small bakery and chocolate company now has their own storefront in North End Halifax where they make their delicious creations. Painstakingly hand painting every delicious chocolate that really are pieces of art. They feature various flavours of chocolates and truffles from pumpkin spice, to lavender, salted caramel and more. Michelle Ashely's Bakery also makes delicious hot chocolate bombs, and can even do custom orders for macarons, and wedding cakes. Visit their site to learn more HERE.
Acadian Maple Syrup – Maple syrup ALWAYS makes the perfect gift. Acadian Maple Syrup is one of the more popular maple syrups in the province and the one you can often find most widely available. They have a storefront in Upper Tantallon and can be found at Sobeys grocery stores and other locations. You can buy their maple syrup in various sized containers as well, perfect for stocking stuffers too. Other maple products include maple cookies, maple peanut brittle, maple hard candy and more. They are owned by Authentic Seacoast who also locally make Fortress Rum, Rare Bird Craft Beer and Full Steam Coffee. Learn more HERE.
Rousseau Chocolatier makes some of the finest chocolates in Nova Scotia. Crafted by Julien Rousseau-Dumarcet a chocolatier from the South of France. Their products are made with as many locally sourced ingredients as possible and change seasonally. Aside from their truffles and delicious macarons, they also sell very Nova Scotian items like chocolate lobsters. For the holidays they also offer chocolate filled advent calendars and Limited Holiday Edition: Artisan Chocolate Bars like Eggnog Caramel and Ginger Bread Caramel. If you can't decide what to get they also offer several gift basket options for the perfect present for the chocolate lover in your life. Shop now on their site HERE.
Book of Donair – Nova Scotia is known for its donairs which are actually the official food of Halifax. This delicious spicy shaved meat concoction with a sweet sauce is quite tasty and you can learn all about it in this new book. Written by Nova Scotian food blogger Lindsay Wickstrom the "Book of Donair: Everything you wanted to know about the Halifax street food that became Canada's favourite kebab" can make the perfect gift for the food lover on your Christmas list. It also ships a lot easier than lobsters or a donair itself. Learn more about the book HERE.
Lunenburg Rum Cake – The most perfect holiday food gift in Nova Scotia is of course a delicious Lunenburg Rum Cake. Made by local baker Sarah Allen, these are the perfect gifts for the holidays or make a nice addition to a holiday party. Lunenburg Rum Cakes are made with Ironworks Distilling Bluenose Rum however are suitable for children to eat as well. She also makes delicious chocolate bark named after various streets in Lunenburg. You can buy the rum cakes at many local markets or online. Learn more HERE.
Drink Gifts
There are ENDLESS options of locally made wine, craft beer, craft cider and liquor in Nova Scotia. All of which makes a great gift. However here are a few of my favourites and there are so many that I have yet to even try.
Ironworks Distilling in Lunenburg, Nova Scotia is an award winning micro-distillery and makes various types of liquor from reasonably priced to high end. They make all of their products with as many local ingredients as possible including various types of Gin, Rum, Brandy, liqueurs and more. Recently released is their Maple Rum Cream which is perfect for the holiday season especially paired with egg nog. Visit them in Lunenburg for a taste test or find them at your local NSLC. To buy online visit their site HERE.
Compass Distilling – Located in North End Halifax, Compass Distilling also make delicious local spirits like vodka, gin, aquavit and rum as well as bitters. One of their most popular is Gin Royal that is a bright blue colour made with butterfly pea blossom. When mixed with a citrus it turns purple like a magically delicious science experiment. $1 from every bottle is donated to the Nova Scotia Beekeepers Association. Learn more HERE.
Lake City Cider is a delicious cidery and tasting room in downtown Dartmouth. Currently they deliver and also have a walk up cider window for fast and convenient service. They have classic ciders that are always on their menu as well as a rotating list of great ciders depending on the season. Lake City also often does collabs with local businesses like their current drink called the Snakebite made along with their cider and the Spindrift Killick Session Lager and house-fermented black currant wine. It is very delicious and a perfect drink for holiday parties. Order a few HERE.
Propeller Brewing Company – Propeller is an OG brewery in Nova Scotia being the oldest microbrewery in the province. They have been making delicious brews in the city for years. You can buy their beer by the can, growler and even keg. Propeller has a storefront in Halifax and Dartmouth and recently opened a new taproom on Quinpool road in Halifax as well as being sold at NSLC stores across the province. Propeller beer can make a great present for a friend or even better a gift card that they could also use to enjoy their newly expanded arcade at their Gottingen street location. For the true propeller fan grab them a Galaxy IPA Holiday bundle. To learn more visit their site HERE.
Tidal Bay Wine – Tidal Bay is Nova Scotia's very own appellation wine. Known as the "essence of Nova Scotia in a glass", there are now 12 wine producers creating this white wine each year. Described as "A racy, aromatic white wine, it displays the Nova Scotian characteristics of our cool climate region and pairs flawlessly with the local seafood we're known for." The Tidal Bay wines tastes can differ quite a lot from vineyard to vineyard so be sure to gift a friend a few kinds so you can get invited over for a taste test. Learn more about Tidal Bay HERE.
To find a list of more great Nova Scotian beverage companies visit the Taste of Nova Scotia Good Cheer Trail. A great idea is to also grab a gift card from all of these local companies too.
Wall Art
Paper & Wings Co makes beautiful painted prints, cards and surface patterns. They create a lot of unique ocean themed prints and cards as well as iconic scenes from Nova Scotia. Grab a stunning brightly coloured wall print of a lighthouse, the citadel hill clock or a greeting card featuring a rare blue lobster. They even have lobster creations known as their "Claws with a Cause" where they make a donation to a charity with each purchase. View their shop online HERE.
Sarah Duggan Creative Works – Artist Sarah Duggan creates beautiful water colours and paintings of cats, dogs, plants and more and turns them into affordable quirky prints. Give the gift of art made by a local Nova Scotian artist. Visit her Instagram HERE.
Shore Things – A small family run shop in Fisherman's Cove, Eastern Passage full of locally handmade sea shore art made with found materials from over 100 artisans. From driftwood lobsters to colourful tiny homes, bouy ornaments and more. Stop by the shop then enjoy some great fish and chips nearby. To learn more visit their Facebook page.
Saltwreck – Saltwreck creates beautifully designed Canadian map prints. From maps of Canada to each province, many cities and even for certain communities. They feature regular looking maps as well as maps designed in various shapes from lobsters to bears and moose. There are over 600 different designs to choose from on their Etsy Shop and they ship all across Canada.
Salt Sky Studio – Kate from Salt Sky Studio was born and raised on the South Shore of Nova Scotia. You can see in her colourful art that she has definitely enjoyed more than one of our beautiful sunsets. These simplistic and modern pieces of framed wooden art are gorgeous and would look great hanging on anyones wall! Find them at a local market or visit their Instagram for how to buy yours HERE.
Sunflower Stripes Stained Glass – Sam from Sunflower Stripes Stained Glass is taking stained glass to whole new level. From cute little mushrooms to vegetables and butterflies. However the most Nova Scotian of all her pieces are the Peggy's Cove Lighthouse and the town clock from Citadel Hill. Her whales are stunning as well, especially the Narwhal. To buy some of her gorgeous pieces of work visit her Facebook page.
By the Sandee Seas – Bye the Sandee Seas creates a different kind of glass art making fused glass pieces and sea glass and other found objects from the beaches of Nova Scotia. Her adorable seagulls are so whimsical and have a lot of character. She almost makes ornaments and other gorgeous decorations. Learn more on her Facebook page.
Jewellery
I Dream In Colour. Do You? Amy Nemeth hand paints Nova Scotian sea glass with sea creatures and nautical scenes. These tiny pieces of wearable art are quite delightful. She also creates cute ornaments and sea life prints as well. Learn more on her Facebook page.
Gift Boxes
Pre-made gift boxes are more and more popular this year and can make your gift shopping a lot less stressful and easier. There are a bunch of Nova Scotia themed and Nova Scotia made unique gift boxes available in the province for all different tastes.
Bougie Box Charcuterie make delicious charcuterie and dessert boxes. You can order various sizes to serve different numbers of people. These are perfect to take to a friend hosting a small gathering or to send to someone to cheer them up. They are even just great for when you would rather not cook a meal or as an idea for a cute date. I'd love to find one of these under my Christmas tree to dig into on Christmas day. To learn more visit their Instagram HERE.
Other great local boxed food / charcuterie box companies are HaliCheeseGirl and Better In Boxes Catering.
Boxing Rock Brewing Company has recently launched a Brewmance box. Known as the ultimate craft beer lover's Christmas gift. You can buy three different boxes featuring Sour, IPA or Lager depending on your preferences. Order for yourself or a friend once or sign up for a yearly subscription where you get a box every 3 months. The Brewmance box also features Boxing Rock swag, special surprises and perfect pairings with an included recipe. Learn more about the Boxing Rock Brewing Company Brewmance beer box subscription HERE. If the boxes aren't available or you want beer more often then check out their Grab Bag HERE. For $61 you can get a mixed bag of beer according to your tastes or a surprise mix, value $75.
Freak Lunchbox – Freak Lunchbox is the coolest candy store in Nova Scotia. They currently have a couple locations in downtown Halifax and Bedford as well as a new store in the Halifax Shopping Centre. To make your holiday shopping fast and easy they have boxed up some of their best candies, chocolates, treats and more into gift boxes that you can grab and go. They even feature ones specifically for vegans. Shop their online store HERE.
Nova Box is one of the most perfect boxes to send to a friend that is really missing Nova Scotia. Not only is it filled with perfectly curated items from local makers in Nova Scotia but it also acts almost like a warm hug from home. They have a couple of already made boxes to chose from or you can select items on their website to make your own personalized Nova Scotia gift box. Order yours now on their site HERE.
Nova Box recently purchased the East Coast Box Company and they produce similar boxes except the East Coast box is made up of locally made products from all over the four Atlantic provinces.
Nova Scotia's Community Haul Box – This is a subscription service box that is delivered each month for $55 Canadian a month plus tax and shipping (or you can arrange free local pick-up.) The box supports local businesses and proceeds from every box purchased goes towards the IWK hospital. The contents of the box changes monthly but typically you will find local food products, hats, clothes, art and more. You can also purchase a one time box option. Order and learn more on their site HERE.
Misc. Gifts
Nova Scotia Fisherman is a great locally made skin care company with a focus on using locally sourced products like seaweed and sea salt. They carry everything from sea salt and caramel lip balms to soap, lotions and more. You can order on their website or find them in many stores across the province. Look for their iconic row boat sales display to grab yours. For the holidays they also are selling various items together in gift sets that make the perfect gift. Shop online HERE.
Krooked House Art Shop – Located in Seaforth, Nova Scotia Krooked House is run by local Nova Scotian sisters Tonya and Shannon. They paint and create prints, ornaments, jewellery and crafts depicting scenes from life in Nova Scotia. From mermaids in cosy sweaters to, people surfing, whales in the harbour, winter scenes and more. Check out their colorful art work on their Facebook page HERE.
Cole Harbour Candle Co. – Do not shop for these candles in person if you are hungry. It is almost cruel how delicious these candles smell and you can't eat them. Featured scents are sugar cookie, egg nog, candy cane, candy apple, roasted chestnut, pumpkin caramel and more. They have also recently partnered with Peace By Chocolate to make candles that smell exactly like Syrian Chocolate. Order them now on their Facebook page HERE.
BardBardBard – If you are looking for the PERFECT card to send a fellow Nova Scotian at home or abroad then look no further than BardBardBard. These unique and funky handmade 3D cards celebrate some of the best things of Nova Scotia. Popular cards include the Peggy's Cove Lighthouse, the Halifax waterfront, and Lunenburg as well as popular culture memes like Elf, Gilmore Girls, Space Cats, and more. The most popular card by far this year however will be the Woody the Talking Christmas Tree card. If you know, you know. Buy them now on his Etsy shop HERE.
Pottery is also a popular craft of many artisans in Nova Scotia. There are many to choose from but some artists that really create pottery in the essence of Nova Scotia are: East Wood Pottery and Amy Scotia Pottery. East Wood Pottery creates mugs and plates with fishing scenes and unique ceramic ornaments. While Amy Noel at Amy Scotia Pottery makes unique, wobbly mugs, tea cups, tea pots and more with designs sometimes inspired by the sea.
Nova Scotian Crystal – If you are looking for one of the fanciest Nova Scotian gifts possible then look no further than Nova Scotian Crystal. Once located along the Halifax waterfront Nova Scotian Crystal were the only mouth blown, hand cut crystal makers in Canada and one of only a few remaining in the world. They made crystal everything from lamps to ornaments to vases and bar ware, drink glasses, bowls and even candle holders. The crystal is made in various patterns and designs and make the perfect gift to be cherished forever. Unfortunately because of the pandemic and lack of tourists they closed after many years of making gorgeous pieces. NovaScotian Crystal can still be found through various resellers however including local vintage seller EffexVintage. Visit their instagram and buy online HERE.
Amos Pewter – Amos Pewter artisans have been making unique pewter creations in Nova Scotia since 1974. From Christmas ornaments to earrings, necklaces, picture frames, candle holders, home decor, mirrors and more. Decorated with sea side designs, nature and more. Their ornaments, jewellery, and decor make the perfect Nova Scotian made gift. Learn more on their website HERE.
Knotty Girl Rope – The fishing industry is huge in Nova Scotia and often it creates a lot of waste especially with used ropes. Big storms and waves also often wash nets and ropes away that are later found washed ashore. Knotty Girl Rope takes these used and found ropes and repurposes them into unique rugs, baskets and other items giving them a second life and saving them from destroying the environment. Check out their Facebook page HERE.
Nova Scotia Made Clothing
Nova Scotia Explorer I Liked Nova Scotia Before It Was Cool Shirts – This year I am excited to share that Nova Scotia Explorer has it's own t-shirts for sale! So far there is only one design, but if there is interest more might become available. This cheeky design that says "I Liked Nova Scotia Before It Was Cool" is 100% Nova Scotian made in collaboration with Stanfield's. The shirts are soft and comfortable and sizes run from Small to XXL. To buy your shirt now visit the Nova Scotia Explorer Shop.
Stanfield's – Local clothing company Stanfield's has been producing fine Nova Scotian clothes since 1870. Find their products sold at their factory outlet in Truro, online or at various stores across Canada including the Trail Shop and Take It Outside stores in Nova Scotia. Typically known for their underwear and socks they now make lots of different clothing items including comfortable graphic tees. Currently they are making the softest, comfiest 3 layered masks in various patterns to keep everyone safe. The best pattern available is of course Nova Scotian tartan. They also currently sell tartan buffs and infinity scarfs. To buy online visit their site HERE.
Heddy's Warm Woolies – Beautiful knitted creations made by Nova Scotian Heather Cook. From knitted toques with lobsters on them to mittens, slippers and even felted work. Every stitch is made with love. Learn more on her Facebook page HERE.
Local Love – Popular Halifax retail news resource HalifaxRetales and local company Power Promotional Concepts have teamed up together to create locally themed merch. A percentage of proceeds go towards local charities like FeedNS, Phoenix Youth Programs, Eddie Carvery Fund and the Black Lives Matter Solidarity Fund NS. Visit their site HERE to grab a cute moonmist ice cream hoodie, a Dartmouth Christmas sweater or even a famous Oxford Blueberry tote bag.
New Scotland Clothing Co. – New Scotland started out as a clothing company and is now a brewery as well. Created by two Nova Scotian brothers who were looking for Canadian made clothing to wear when curling. After not finding what they wanted they started their own brand and made it themselves. Now they make high quality t-shirts, sweaters, hoodies, sweatpants and more which are great for celebrating your Nova Scotian pride. To order their clothes online visit HERE.
Dartmouth Clothing Co. – The Dartmouth Clothing Co. makes graphic tees featuring Dartmouth related things but also lobsters, Oak Island, donairs and more. They are a great memento to have and to show off your love for all things Nova Scotia. They also make great retro looking posters featuring NS destinations as well. Shop their online store HERE.
Folk Art
Nova Scotia is known for having some pretty incredible folk art artists. Typically folk art in Nova Scotia is hand carved wooden figures that are brightly painted. However of course folk art can be a broad spectrum of unique art. To learn more about Nova Scotian Folk Art check out the NS Folk Art festival.
Artist Brent Dykeman: Based in Hubbards, Nova Scotia you can often find Brent's work at the Hubbard's Barn Farmer's market. Brent creates a lot of colorful fish wall hangs as well as unique people, birds and more. Recently he has also been focusing on metal works with found pieces as well. Reach out to Brent for inquiries on Facebook.
Artist Kathi Petersen: Kathi is based in Bridgewater, Nova Scotia however her Pufferbellies folk art can be found in stores all around the province. She might be most popular for her colourful Santa Clause carvings that always have Santa doing funny different things. From holding a cat to knitting, racing in a Dragonboat with other Santa's, playing the bag pipe's and more. Visit her site HERE to learn where you can buy her art.
Artist Reed Timmons: Reed is based in Pleasant Bay, Nova Scotia in Cape Breton along the Cabot Trail. His work is featured in a small roadside shed at the side of his house and often at local markets. His hand carved puffins are gorgeous and he also creates unique and colourfully spotted whales, moose, seagulls and more. Reach out to Reed for inquiries on Facebook.
Knotty Lemon Designs – Adrienne Dean is the creator of Knotty Lemon Designs where she takes pieces of old reclaimed wood from 100+ year old homes and driftwood from beaches and turns them into colourful folk art. A popular design of hers are unique wreaths made from colourfully painted pieces of wood. Other pieces include Santa ornaments, Halifax waterfront scenes, and streetscapes. To shop her folk art visit her website HERE.
Experiences
Giving the gift of an experience that can be done safely can be a great idea as well. It is also a perfect way to support more local businesses. Here are a few options of some great Nova Scotian experiences that you can gift to a local or someone who is coming to visit Nova Scotia.
Sensea Spa – This newly opened Nordic Spa in Chester, Nova Scotia is the perfect destination for an escape. The spa features multiple suanas, steam rooms, outdoor hot pools and cold plunge pools, as well as forest yoga. There is a yurt where you can grab a bite to eat or drinks and you also have the option to add on spa treatments like facials and massages. Buy a giftcard on their site HERE.
Magic Winery Bus – Give the gift of a wine tour in the Annapolis Valley with the Magic Winery Bus. They offer tours from May to October with a couple extra holiday tours offered in November and December. The wine tours take you to four vineyards in the Wolfville area. Each tour stop lasts 1 hours and includes a couple wine samples and a small snack. It also gives you lots of extra time to explore the vineyard, try more wine and buy some to take home as well. Buy a gift card for a tour on their website HERE.
Curated Food Tours – There is a new food tour company in Halifax, started by the creators of the popular local food magazine Curated Food & Drink Magazine. They currently offer 5 different tours with more variations coming in the new year. Operating May to December their food tours make for a great experience for the food lovers in your life whether they are locals or friends visiting from afar. The Curated Food Tours highlight various neighbourhoods around the city from the Best of the North End of Halifax to the Best of the Spring Garden Road area, and the Best of Quinpool Road. They also have tours focused on seafood and delicious beverages that the city as to offer. Learn more and book a tour or gift card now on their site HERE.
Nova Scotian Boutique Shops to Visit
Jennifer's of Nova Scotia is one of the best boutique shops in Halifax to buy locally made art and gifts. Located on the busy corner of Spring Garden and Dresden Row in downtown Halifax. They feature pieces by many of the artists mentioned in this post so they are a great one stop shop. You can also order from them online for delivery or for curbside pickup HERE.
There are many other similar shops to Jennifer's that should not be missed including:
This is just the tip of the iceberg for locally owned shops that sell locally made goods in Nova Scotia. There are a tons more shops great for souvenirs as well all over the province.
For more lists of more great local artists and local shops check out these sites:
I would love more contributions to this list. Who have I missed or might not know about? Please leave your favourites in the comments below!
---
If you enjoyed this post please share it and pin it for later!