Like the rest of Canada, Nova Scotia can be quite cold and snowy in the winter months. This causes many people to stay locked up indoors, snuggled by the fire. The warmer summer months are really the best time to go to Nova Scotia and definitely our more active times with a lot more things being available to see and do. However there are still some incredible experiences to be had in Nova Scotia in winter. Here is a list of the:
21 Best Things To Do In Nova Scotia In Winter
Go for a Winter Hike
There are so many wonderful places to go hiking in Nova Scotia no matter the time of year. Some of the trails might be a bit limited in the winter months but there are still so many to explore. The safest is the Rails to Trails Rum Runners Trail that goes from Halifax to Lunenburg. This 119km stretch of trail is one of the easiest hikes in the province, it is flat and wide and relatively clear in the winter. However wherever you are in the province there are always trails to be walked and hiked in the winter months so you can enjoy the quiet stillness of the Nova Scotian wilderness after a fresh snowfall.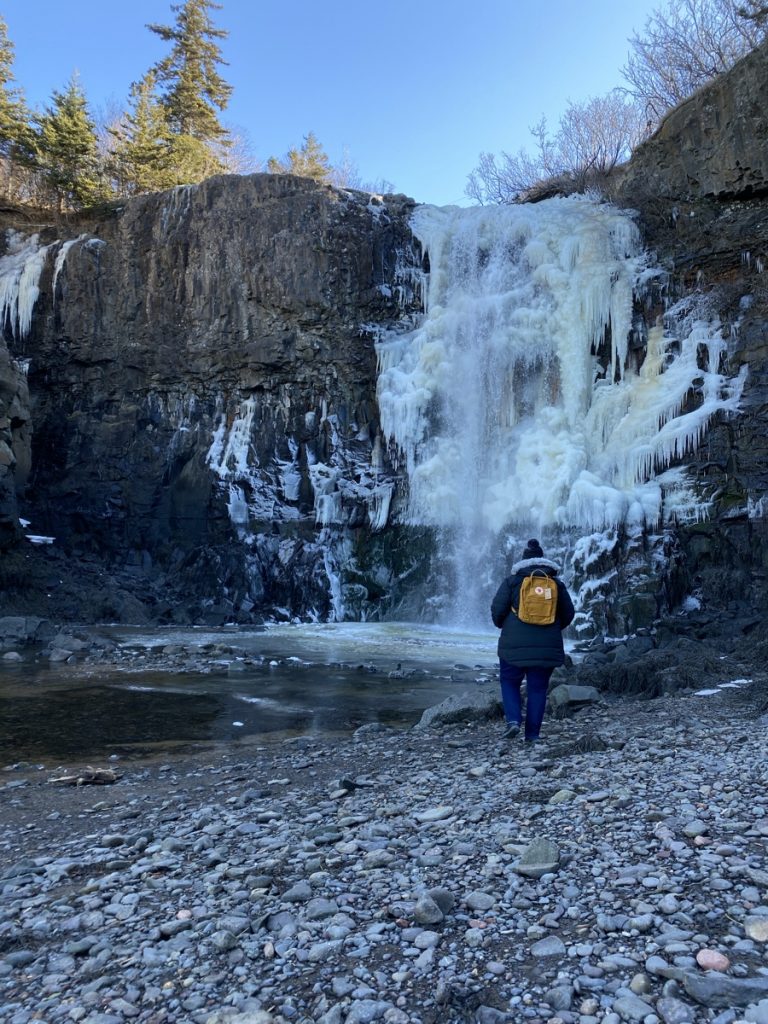 Search for Icy Waterfalls
Searching for waterfalls might be an odd suggestion for the winter months, but the gorgeous fast flowing waterfalls we see the rest of the year now appear almost frozen in time in the colder temperatures. Some of the waterfalls in the winter are much harder to get to with snow and ice on the ground but some make it worth the trek and others are easy to get too. One of the "coolest" waterfalls to see in Nova Scotia that is frozen in the winter months is the Baxters Harbour Falls. Located just outside of Canning in the Annapolis valley, these falls are very easy to get to and are magnificent in the winter months. Visit at low tide so you can get a close up view. Stay around for a while and you might even catch the crashing down of massive icicles into the water below.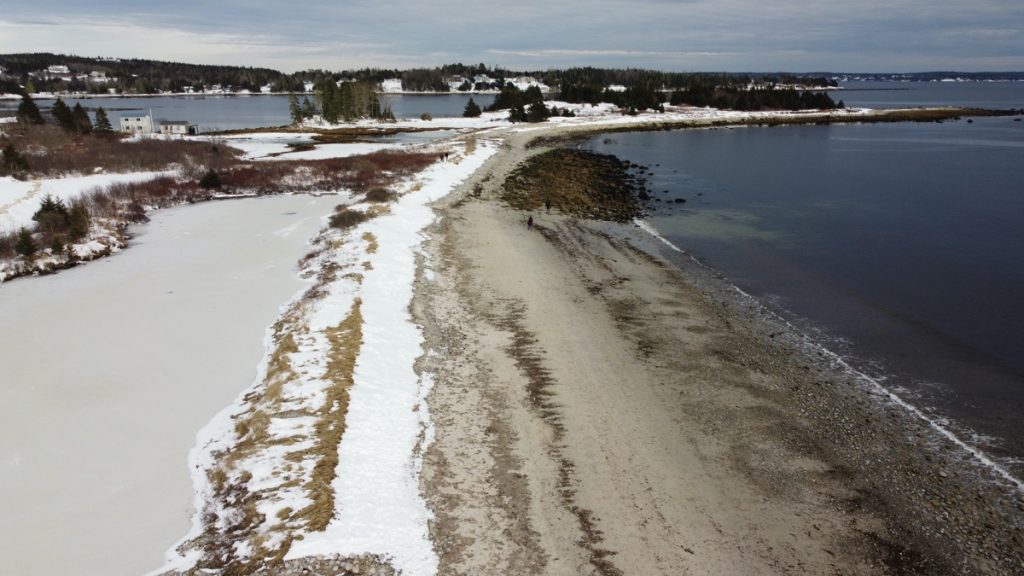 Head to the Beach
It may seem like a weird time of year to be headed to the beach but in the winter months beaches in Nova Scotia can still be enjoyable. During this time of year a lot of the sand washes away and is replaced with rocks, which also gives you more of a chance to find sea glass. Beaches are also a great place to go for a walk as they tend to not be snow covered as the waves have washed the snow away. It is also just relaxing and refreshing to enjoy a nice hot chocolate while listening to the soothing waves.
Go Skating on a Nova Scotian Lake or Pond
Skating in the "wild" is a whole different kind of experience compared to a rink. Nova Scotia is filled with lakes and ponds that make perfect natural skating rinks in the winter months. There are over 3,000 lakes in the province so there are many places to skate. Be sure to check online reports for ice thickness (at least 10cm) before you go and always skate with a buddy. Be safe and stay away from thin ice and open water areas.
Go Skating on the Emera Oval in Halifax
One of the coolest things in downtown Halifax is the Emera Oval. The perfect Halifax winter activity, the Oval was originally built for the 2011 Canada Games as a skating rink and speed skating track. This skating rink is now open every winter on the Halifax Commons and is free for the public to use. There are various types of skates offered each day, find the schedule and learn more information HERE. They also have skate and helmet rentals available on site (closed during the current pandemic restrictions) and there is a Beavertails food truck on site for a great Canadian snack.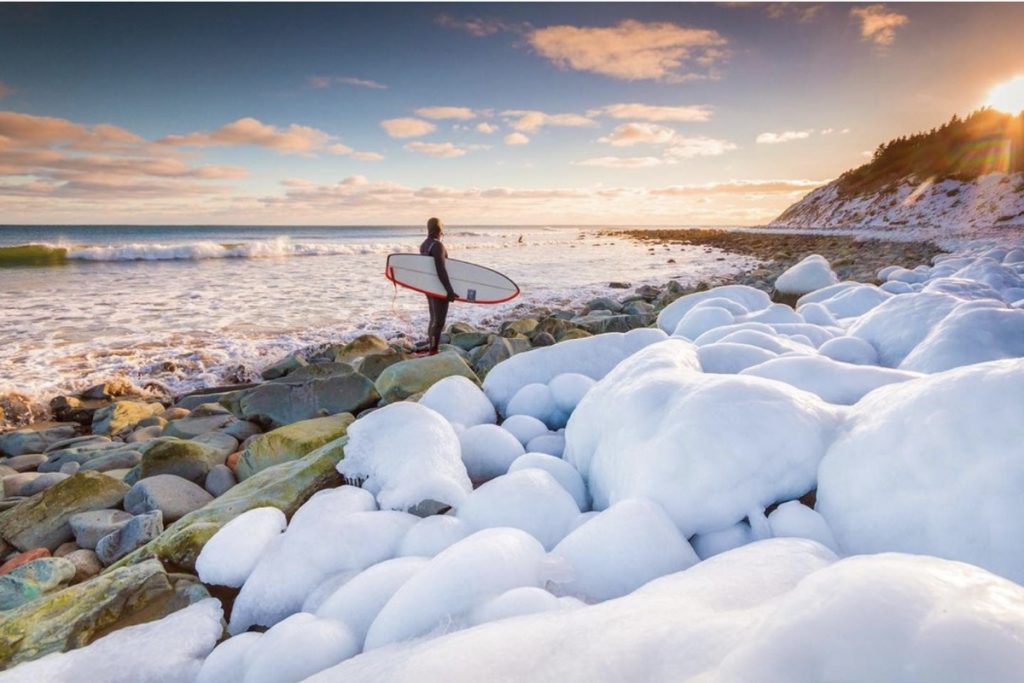 Go Winter Surfing in Nova Scotia
While it will be incredibly cold, winter time is actually when you can find the best waves to surf in Nova Scotia. Rent a 6mm wetsuit with booties, mits, and hood and hit the waves at Lawrencetown or Martinque Beach alongside some of the best surfers in the province. They are also some of the craziest people. Check out the East Coast Surf School in Lawrencetown or Surf Martinque in East Petpeswick for rentals and lessons.
Hit the Slopes and Go Skiing in Nova Scotia
Nova Scotia is home to several ski hills perfect for skiing and snowboarding. Our ski hills are nowhere like the Rocky Mountains but they still do the trick. The ski hills can be found around the province like Martok, and Ski Wentworth on the mainland and Ski Ben Eoin and Ski Cape Smokey in Cape Breton. All ski hills have bunny hills for first timers and beginners all the way up to black diamond. Ski and snowboard lessons are also available, as are rentals of all of the gear you will need from skis to snowboards, poles, boots and helmets. Some of the ski hills also offer areas that are great for cross county skiing. The most important part however is that they also all have a great lodge for that perfect après ski snack and drink at the end of the day.
Learn How Maple Syrup is Made
From mid-February to mid-April the snow and ice begin to melt and thaw and this is when the sap starts running in the maple trees. This is also the best time of year to visit a Sugar Shack like Sugar Moon Farm to learn how maple syrup is made. Visit Sugar Moon Farm and take a hike or go snowshoeing through their maple woods to see the trees tapped and sending sap down hill to the sugar shack. Then take a tour inside to learn how maple syrup is made. The best part is to then enjoy a hearty meal of pancakes and bacon with lots of delicious maple syrup inside at their restaurant. Don't forget to stop at the gift shop on the way out to buy a couple litres of maple syrup to take home.
Visit their site to learn about their covid restrictions and bookings during the pandemic HERE.
Learn to Snowshoe
Often in the winter months, especially after a fresh snowfall the hiking trails can be a bit tricky or deep with snow. That is when it is time to bring out the snowshoes. Check out this Hike Nova Scotia resource guide for the best place to buy or rent snowshoes in Nova Scotia. Then hit the trails in your adventure snowshoes that will make your winter activities even easier and that much more fun.
Book a Weekend Getaway
The winter months are the perfect time for a getaway in Nova Scotia. Head to a cozy seaside AirBnB or let someone else take care of you and book a few nights at a resort. The White Point Beach Resort is the perfect winter getaway as you can rent your own small cabin that includes a working fireplace perfect to cuddle next to as the snow falls outside. Then head to the main lodge for meals, drinks and entertainment. Room service options are also available. Starting in the 2022 season they also have romantic glamping domes called Glomes available for couples to book a stay in.
Enjoy some of the Best Lobster in Nova Scotia
November to May is prime lobster fishing season in Nova Scotia when sections 33 and 34, the largest sections in the province are allowed to fish. That also means that the winter months are the best months to get the freshest and tastiest lobster in Nova Scotia. We even have a festival all February long called the Nova Scotia Lobster Crawl celebrating lobster and the lobster fishing industry. You can still find fresh lobster in Nova Scotia year round as the season never ends, it just moves around. But the fresh lobster available in the winter in Nova Scotia really is the best.
Ride A Fat Bike
Typically it is hard to ride a bicycle in the snow however there are several places in Nova Scotia that offer fat bikes for rent that make it a lot easier. Fat bikes are designed with larger, wider tires to glide easily over sand and snow so you can have an incredible biking experience no matter the time of year. Sweet Ride Cycling Mahone Bay has lots of fat bikes for rental HERE.
Enjoy the Sensea Nordic Spa
The Sensea Nordic Spa in Chester, Nova Scotia is open year round giving you a unique experience in the winter months versus the summer months. In the winter months enjoy the outdoor pools in the crisp and refreshing winter air amongst the snow. Spend time relaxing in and out of the hot and cold pools or relax by the fire pit. Enjoy the sauna and steam rooms, put on a cozy robe and grab a drink inside the dining yurt by the fire. It is also a great place to enjoy a massage and then repeat the cycle all over again.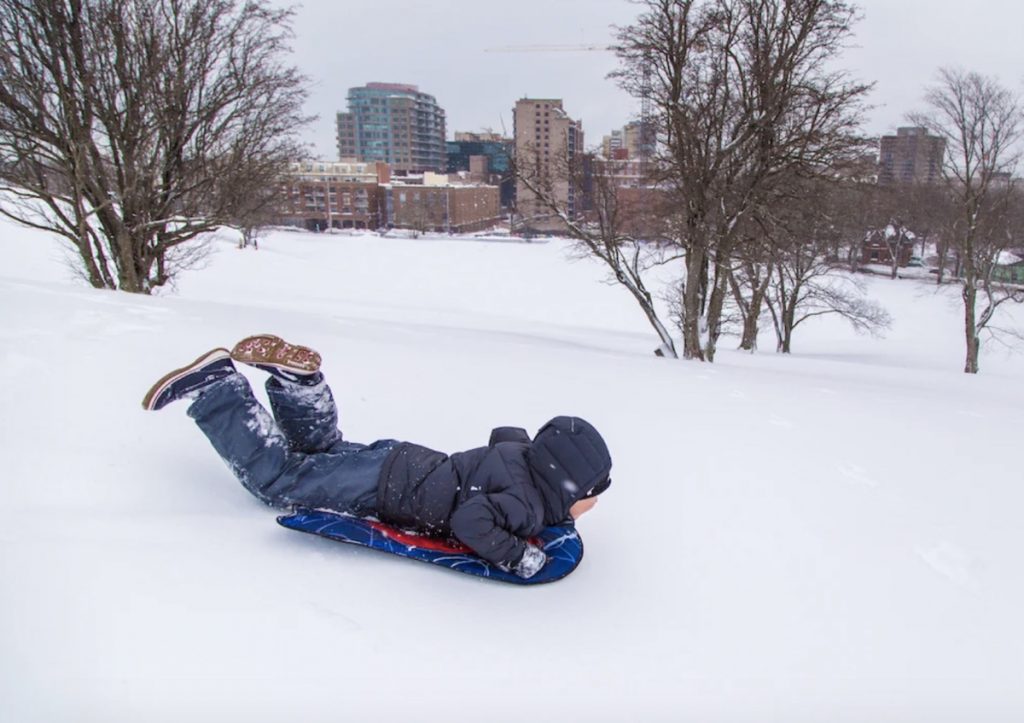 Go Sledding
Nova Scotia is a hilly place so there are plenty of opportunities to go sledding after a snowfall. Visit a local Canadian Tire or hardware store, grab a crazy carpet, sled or toboggan and head to the nearest hill. If you would rather not spend money for a few moments of thrills just find a bunch of locals and ask nicely and I am sure they will let you borrow theirs for a ride or two. Some of the best places to go sledding in Halifax are on Citadel Hill in the Garrison Grounds area or off of Robie Street behind Gorsebrook Junior High.
Eagle Watch
A winter tradition in Sheffield Mills, Nova Scotia is eagle watching every morning from January to the end of March. Each day at 8:30am and 10:30am in a farmers field in Sheffield Mills at the corner of Middle Dyke Road and Bains Road, a bunch of dead chickens are placed to feed many of the bald eagles in the area. Photographers and visitors from around "flock" to see these magnificent birds enjoy a tasty treat in the snow.
Find the Best Snowmobiling Trails in Nova Scotia
Aside from hiking, biking, skiing and snowshoeing, riding snowmobiles is also a popular winter activity in Nova Scotia. There are several trails throughout the province that are ideal for snowmobiling. Most likely you will want to bring your own machine however there are a couple places where you can rent a snowmobile in Nova Scotia like the Highland View Snowmobile Rentals in Cape Breton. Many of the trails take you on a route that connects you to accommodations, gas stations, places to eat and more so you can make a couple days trip out of your snowmobile adventure. Click HERE for a list of snowmobile trails in Nova Scotia.
Go for a Sleigh Ride
One of the most perfect family friendly activities in winter in Nova Scotia is to go on a sleigh ride. Visit the Ross Farm museum in New Ross, Nova Scotia to not only learn about life in Nova Scotia in the 1800's but to also take a sleigh ride around their 60 acre property. People are also encouraged to bring their sleds, snowshoes, and skis to ride on the hills on their property. You could even build a snowman or two. Then enjoy a delicious mug of hot chocolate to finish off a perfect day. Book your tickets to visit ahead of time online HERE.
Dine Around Halifax
Every February in Halifax restaurants celebrate "Dine Around Halifax" in partnership with the Discover Halifax and the Restaurant Association of Nova Scotia. During Dine Around Halifax restaurants offer a set menu at various price points with speciality curated items only featured in February. The event is a great way to encourage people to get out and support local in one of the coldest and slowest months of the year for the restaurant industry. View select menus online HERE and order now for take out, delivery or dine in.
Visit the Public Gardens
The Public Gardens in Halifax were closed during the winter months for years. Only recently they have begun allowing the public to wander around the gardens in the winter months. The Halifax Public Gardens are the perfect escape from the city while still being in the city especially during or after a snowfall when everything seems so perfect and quiet. The gardens are open daily from 8am to 4pm. Also in November and December visit the gardens each night from 6pm to 9pm to enjoy the Evergreen Fest Holiday Lights illuminating the park.
Visit the Playdium Arcade
If you are looking to get out but to still stay warm a great new attraction in Halifax is the Playdium. Located in Dartmouth Crossing this massive arcade has over 90 games, a bowling alley, food and snacks and is the perfect place to hang out with the friends and have some fun. Perfect for all ages, play Mario Kart, win all of the points on Skeeball, shoot some hoops and so much more. Fingers crossed you win enough points to take a cool prize home too.
Dine Outdoors
In the summer months the sidewalks of Halifax are filled with patios for restaurants and pubs. In the winter time in Halifax it might be a bit chilly to dine outside but partly thanks to the pandemic a new kind of outdoor dining is popping up in the city. Dining in geodesic domes or tiny little green houses (or as one of the fancy Italian restaurants like to call them "Cabinas"). These outdoor domes and tiny glass walled cabin like structures have heaters, blankets and room for you and your bubble to dine outdoors warmly but also safely from others. Current restaurants featuring them in Halifax are the Bicycle Thief, Shuck / The Cut, Birch and Anchor, and the Argyle Street Brasserie. They are quite popular however so be sure to book them in advance.
---
Have you visited Nova Scotia in winter? What are you favourite winter activities? Leave them in the comments below!
Enjoyed this post? Pin it for later!