Nova Scotia is a province that is just begging to be road tripped around. With 13,300kms of coastline through idilic fishing villages, rolling hills, sprawling farm land and more. If you are taking a Nova Scotia road trip there are several key places that you will want to visit. Halifax, the South Shore, the Annapolis Valley, Bay of Fundy, Cape Breton and everywhere in between. Here is my suggestion for the perfect Nova Scotia road trip itinerary.
The Perfect Nova Scotia Road Trip Itinerary
Arriving in Nova Scotia
Most likely you will be arriving by car from New Brunswick or by plane. Either way my suggestion is to start in Halifax to begin your Nova Scotia road trip. Spending your first couple of nights in Halifax you can explore the city, and get used to the time zone.
Note: If you are arriving on the ferry from PEI start at day six. If you are arriving on the ferry from Maine start at halfway through day four.
If you are arriving by plane you can pick up a rental car from the airport or take a taxi or public bus to the city. Once you are ready you can pick up a rental car in Halifax. The most central car rental locations in the city are the Budget Car and Truck Rental located in the Metro Park parking garage on Hollis Street or the Avis Car rental on Grafton Street.
Halifax Accommodations:
The Westin Nova Scotian and the Halifax Harbourfront Marriott are the two best Halifax hotels that will give you the greatest views of the harbour from your room. Be sure to book harbour views or request them on checkin. They are also both located on either ends of the waterfront boardwalk which are great locations in the city. If you are looking for something more central in between the two chose the The Hollis Halifax A Doubletree by Hilton. Bonus you get warm cookies when you check in.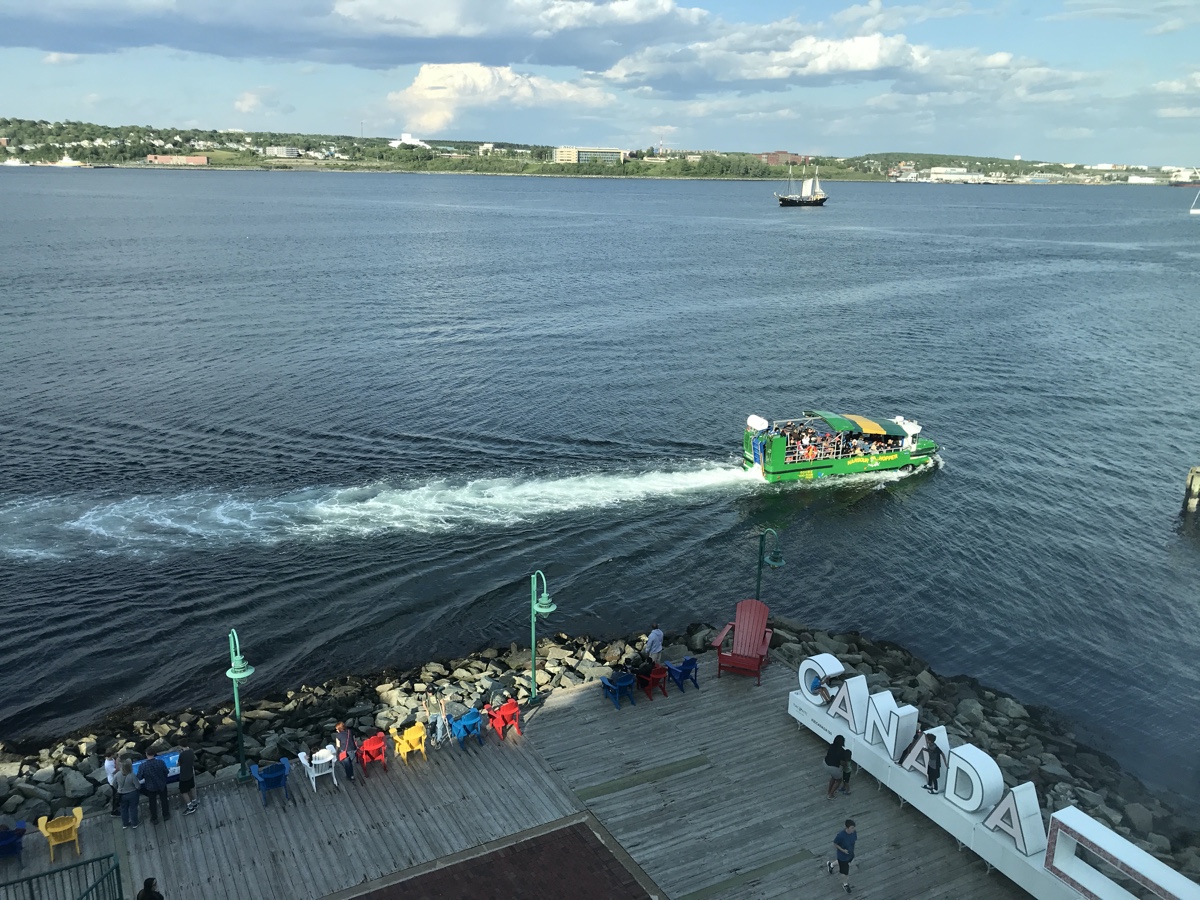 Road Trip Day One: Halifax
Enjoy breakfast in your Halifax hotel or visit one of the city's popular cafes. One of the best ways to get to know a new city is to take a quick bus tour of it. In Halifax take a tour onboard the Harbour Hopper, an amphibious vehicle tour boat. The Harbour Hopper gives you a one hour fully narrated tour taking you through downtown Halifax and showing you all of the main sites and sounds. Then it splashes into the harbour where you learn about the Halifax Explosion, our history with the Titanic and more.
For lunch on day one I recommend grabbing a bite to eat along the waterfront in the Salt Yard. The Salt Yard is a bunch of outdoor kiosks serving everything from lobster rolls to poutine, pizza, beaver tails, ice cream, fish and chips and more. It is the perfect place along the waterfront to grab a bite while on the go.
Afterwards I recommend walking along the waterfront boardwalk and visiting the Art Gallery of Nova Scotia to see a lot of great local, Canadian, and International art work. Another option is a visit to the Maritime Museum of the Atlantic that explores Nova Scotia and Canada's nautical past. The museum also has a great exhibit on the Halifax Explosion and is home to the largest collection of wooden artifacts from the Titanic.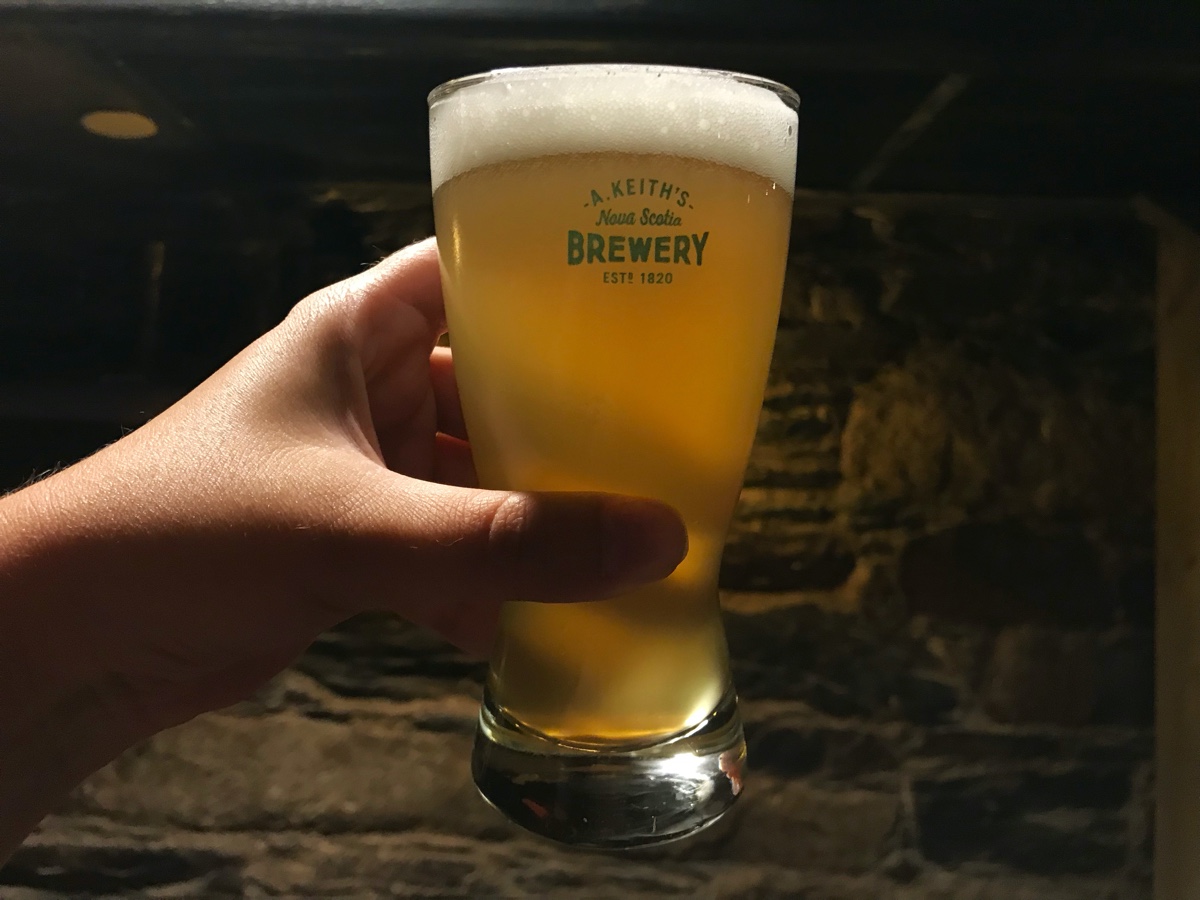 If Art Galleries and museums aren't your thing then I recommend checking out the Alexander Keith's Brewery. Alexander Keith's beer has been brewed in Halifax since 1826. Visit the brewery to learn all about about how the beer is made, it's history, and learn about their new craft beers currently being brewed. Also enjoy some live entertainment from the tour guides.
For dinner check out The Mercantile Social one of the newer restaurants in the city. This uniquely decorated restaurant serves great drinks and even better food. It is also one of the top instagram spots in Halifax. Grab some fish tacos for an appetizer then enjoy a tune poke bowl or a truffle penne. To finish off the night head back to the waterfront to grab drinks at the Stubborn Goat beer garden. If you are in the mood for live music head to the Lower Deck pub where they have live entertainment seven nights a week.
Road Trip Day Two: Halifax
If it is a Saturday or Sunday head to Edna's early for one of the best brunches in the city. If Edna's is too busy then grab breakfast to go from the Halifax Seaport Farmers market.
Your first visit for the day should be to one of the top things to do in Nova Scotia, the Halifax Citadel National Historic Site. Located in the middle of downtown overlooking the harbour the Citadel has some of the best views in the city. The current fort was completed in 1856 however there has been some kind of fortification on this location since 1749.
The fort is open year round but there are more things to see and do from spring to fall. This is also when the 78th Highlanders re-enactors guard the fort. Visit the fort and explore the grounds, take a guided or self guided tour and learn about Halifax's history. At 12noon, head to the top of the fort for the ceremonial firing of the noon gun. The gun is fired daily to announce the changing of the shifts.
For lunch head towards the Spring Garden road area where you will find unlimited options to eat. Grab sushi at Sushi Nami Royale, enjoy Italian at La Fresca or grab a fried chicken sandwich or brisket nachos from the Black Sheep. For more of a leisurely lunch on a nice day head a few blocks over to Argyle street and grab a spot on a patio of one of the many restaurants and pubs nearby. A Halifax patio in the summer months is the perfect place to enjoy a meal, a few drinks and do a little people watching.
Following lunch grab an ice cream from the Dairy Bar on the corner of South Park street and Spring Garden road. Then take a walk through the Halifax Public Gardens. Enjoy the flowers and see if you can spot the Titanic floating in the pond.
Spend your afternoon exploring the city shopping in the areas around Spring Garden Road and Barrington Street. Some recommended boutique shops to check out are Sweet Pea, the Biscuit General Store, The Vault for jewellery, The Black Market and Jennifer's of Nova Scotia for locally made crafts and souvenirs.
For your last dinner in the city there are endless options for dining. If you want artisanal pizza, pastas and salads head to Morris East on Morris Street. They also have the most delicious house made s'mores for dessert. For a fancier dining experience head to the Bicycle Thief down on the waterfront. They serve an Italian menu with the freshest pastas, seafood and great cocktails. Their outdoor patio is located right on the harbour as well. If you want to go really, really fancy make a reservation in advance for the Stories Restaurant. Located in the Halliburton Boutique hotel this white tablecloth restaurant serves up some of the best food in the city. The scallops are highly recommended.
Road Trip Day Three: South Shore
Pick up your rental car  and make your way to the South Shore of Nova Scotia. Your first stop should be to Peggy's Cove. The drive from Halifax to Peggy's Cove will take you 45minutes if you follow the Lighthouse Route / Prospect Road. This route is the scenic option winding along the coastline. If you get a bit car sick you might want to skip it. Instead drive there via the 103 highway taking exit 5 for Peggy's Cove.
Peggy's Cove is still a working fishing village to this day but also thrives on tourism. There are a bunch of small souvenir shops, lots of photo spots and places to grab a bite to eat. If you want to grab something on the go I suggest a lobster roll from the Peggy's Cove Lobster U-Cook truck. Looking for just a snack then definitely get an ice cream from DeeDee's. If you want a sit down lunch you can go to the Sou' Wester with great views of the lighthouse. Be warned however that it is often packed with groups from tour buses. Instead I might recommend the Rhubarb Restaurant just a couple minutes down the road. They have delicious lobster rolls, chowder, fish cakes, baked goods and lots of other great things on the menu.
Next Stop: Mahone Bay to Lunenburg
After lunch make your way to the St. Margaret's Bay road and head left towards Mahone Bay. The St. Margaret's Bay Road is also scenic and winding. Once again if you get car sick you can take the 103 highway until you hit exit 10 for Mahone Bay. This drive will take you about 1 hour.
Mahone Bay is most popular for its iconic churches lined up next to each other overlooking the bay. This quaint small town is perfect for an afternoon stroll and boutique shopping. If you are getting thirsty make your way to the Saltbox Brewery for a craft beer on their patio or pick some up to go. If you are looking for a coffee or tea check out the Biscuit Eater Cafe and Books.
After Mahone Bay you should head to the small town of Lunenburg. Lunenburg is a UNESCO World Heritage town and is a popular stopping place. The town is filled with colourful homes with the unique design feature the Lunenburg bump. For the best views of the town drive around the harbour near the golf course. There you can get a great view of the town skyline with all of it's colourful buildings, boats and fishing shacks from across the water.
A main attraction in Lunenburg is the Ironworks Distillery. Ironworks makes everything from rum to brandy, gin, vodka and more using as many locally sourced ingredients as possible. Visit them for a tour and enjoy a few samples then take a bottle or three home. One of their coolest products is the Around the World Rum which has literally sailed on a ship around the world. A more affordable option is their boat rum which ages in barrels on a barge in the Lunenburg Harbour.
For dinner in Lunenburg head to the Salt Shaker Deli. This casual restaurant features menu items like Lobster Mac & Cheese, a smoked salmon club, lobster roll, gourmet pizzas and lots of great local beer and cider on tap. Their small outdoor patio also offers great views of the Lunenburg waterfront on a sunny day.
Lunenburg Accommodations:
There are a bunch of small hotels and B&Bs in Lunenburg for you to chose from. The Smugglers Cove Inn is a great one to check out and is centrally located in the town.
Road Trip Day Four: Annapolis Valley
For breakfast in Lunenburg head to the No 9 Coffee Bar for a coffee or tea with a fresh scone or breakfast sandwich.
Take your time this morning and explore Lunenburg by foot. Enjoy all of the colourful buildings, visit the cute little shops, and explore the Fisheries Museum of the Atlantic. You can even step onboard the iconic Bluenose sail boat docked along the waterfront if it is in port. Once the fastest racing schooner in the world the Bluenose is now an ambassador for Nova Scotia. It is also featured on the Canadian 10 cent coin.
Visit the South Shore Fish Shack  for lunch and dine on the BEST fish and chips around. They also have a great lobster roll and other delicious food options like burgers, clams, scallops and lobster rolls.
After lunch it's time to get back on the road and head towards the valley and the Bay of Fundy. The Annapolis Valley area of Nova Scotia is full of beautiful farmland, cideries, distilleries and lots of vineyards. Taking highway 12 the drive should take about 70mins and lead you to Kentville, Nova Scotia. Kentville is a small town and is home to the Maritime Express Cider Co. which you should definitely stop and visit to enjoy a sample of all of their fresh ciders on tap or grab some to go.
Explore the Annapolis Valley area and head to the Look Off just outside of Canning on top of North Mountain. Here you will see great views over the valley and Minas Basin which is part of the Bay of Fundy. In the Port Williams area check out the unique water fountain behind the big red barn near Church Street off of Hwy 358. Made from over 100 water faucets arranged like a tree it is really cool to see.
While driving around the area this is also a great time to stop in to a few of the many vineyards in the area. (Always drink responsibly and have a designated driver.) There are even bus tours available that will take you on a guided tour to multiple vineyards. Local Nova Scotian wine makes a great gift to take home. Learn about our red and white wines, ice wines and even our own appellation called Tidal Bay.
For dinner make your way to the Port Pub and Bistro in Port Williams. They serve local craft beer from Sea Level Brewing and great pub food.
Annapolis Valley accommodations:
For budget accommodations look into staying at the Old Orchard Inn. If you have a bit more money to spend then stay in one of the many beautiful B&B's in the area. The Blomidon Inn in Wolfville is a favourite of many.
Road Trip Day Five: Shubenacadie
Sleep in at your cozy B&B and enjoy the morning. Now is also a great time to visit more vineyards in the Wolfville area. Lightfoot and Wolfville Vineyards has tastings available that go along great with their wood fired oven pizzas for lunch. If you prefer beer and cider more than wine then be sure to visit the Church Brewing Co. for lunch. Once a church, now a brewery this pub and restaurant has the best chicken sandwiches.
Another great cidery in the area to visit is the Annapolis Cider Company. Located on the main street in Wolfville, their ciders are so fresh and great to take home for later.
Once you have had your fill of cute B&B's, farmland, vineyards and more make your way towards the Shubenacadie Tidal Bore Rafting Cottages. The drive from Wolfville to the cottages will take about 1hr and 20minutes. At the Shubenacadie Tidal Bore Rafting Resort you will truly be able to experience the power of the Bay of Fundy.
Note: Be sure to book your stay and rafting tour far in advance. The high tide times vary each day so be sure to pick a high tide time that best fits your schedule.
The Bay of Fundy is home to the highest ocean tides in the world and twice a day they rise and fall by 43feet on average. When the tide rises it is so powerful that it creates a tidal bore and changes the direction of the Shubenacadie river. The tidal bore forces the water to go back up stream as the tide rushes in. When this happens for one hour twice a day the craziest currents and rapids are created in the river. At the Shubenacadie Tidal Bore Rafting Resort they have turned this phenomenon into an exhilarating experience where they take guests out to ride these insane waves and rapids in zodiacs.
If possible the best idea is to schedule a morning rafting trip. That way you can arrive the day before and stay overnight. The cottages available have full kitchens so that you can bring your own food to cook for yourselves. Or you can book one of their Fundy Tides & Fireside packages depending on when you visit that include a seafood lunch paired with local wines on the river floor before the tide rises on your tour as well as lobster dinner, rum tastings and one nights accommodation.
If this all sounds a bit too adventurous for you then skip this option completely and make your way to Cape Breton from the valley.
Shubenacadie Accommodations:
The Shubenacadie Tidal Bore Rafting Cottages are located along the Shubenacadie river. This 180 acre property has 13 cottages, an above ground swimming pool and miles of groomed hiking trails.
Road Trip Day Six: Cape Breton
Wake up this morning ready for a once in a lifetime adventure. Meet your group and suit up in your rain gear and life jackets for your tidal bore rafting experience. Be warned you will get soaked and possibly a bit muddy. Old clothes and shoes are recommended so you don't ruin your nice things. Also the closer it is to a full moon the bigger the waves and bigger the fun.
Following your thrilling tidal bore rafting adventure wash up and check out to begin your road trip to Cape Breton Island.
Depending on where you are driving from (Wolfville or Shubenacadie) the road trip to Cape Breton will take you roughly 4-5hours. A great place to stop along the way for a bite to eat is the University town of Antigonish, home to St. Francis Xavier University. This small town is also home to Peace By Chocolate a Canadian immigrant success story run by a Syrian family. The Hadhad's escaped the war to make a new lives for themselves in Canada and now operate an extremely popular chocolate company. If you have time stop by their small chocolate shop at 32 Bay street.
Drive the Cabot Trail
After a quick stop in Antigonish continue on to Cape Breton Island. The most popular thing to do in Cape Breton is to drive the Cabot Trail through the Cape Breton Highlands National Park. If you don't have much time you can drive the trail in one day. However for the best experience do this trip in at least two nights if not three. The Cabot Trail makes a ring around the western side of Cape Breton island. It is hotly debated as to whether driving clockwise or counter clockwise is best to see it. For the purposes of this guide we are suggesting that you drive clockwise starting in the village of Chéticamp.
After your long day of rafting and driving to Cape Breton check into your hotel or B&B in Chéticamp for the night. For dinner in Chéticamp head to Le Gabriel Restaurant and Lounge for casual pub fair and seafood.
Cheticamp Accommodations:
Silver Lining Inn is one of the more recently renovated and updated accommodations in the area. Chéticamp is greatly dependent on tourism however airbnbs are making it harder for locals to find places to live. If you can, please choose to stay in a hotel or B&B here verses a nightly vacation apartment rental.
Road Trip Day Seven: The Cabot Trail
Start your day with a great continental breakfast at your accommodations, the Silver Lining Inn.  Spend the morning exploring Cheticamp. Visit Les Trois Pignons to learn about the history of the area and the local Acadians. Explore the local art galleries and folk art shops to see a bunch of unique local art. Grab lunch at L'Abri great little restaurant and cafe. Their lobster rolls are definitely recommended.
Following lunch make your way into the Cape Breton Highlands National Park. There are a lot of great view points and rest areas to visit as you drive along the trail. The best place to hike close to Cheticamp is also the best hike in the whole park known as the Skyline trail. On your way through stop at the Parks Canada Chéticamp visitor centre to pick up your park pass which costs $7.90CAD a day for adults or $16CAD per family/group. Kids under 17 are free. Seasonal passes are also available.
If you want to plan in advance you can also  book tours and experiences through the visitor centre or Parks Canada website. Two great recommendations for the Cheticamp area are the Learn to Lobster Boil experience and the Skyline trail hike tour for sunset.
Road Trip Day Eight: The Cabot Trail
Check out of your accommodations and head along the Cabot Trail. Stop at various view points, watch for wildlife like bears and moose, and enjoy more hikes. As you drive the Cabot Trail you will go in and out of the National Park. Every time you come out of the park you will end up in another small cute town. I definitely recommend checking out any folk art you see along the way and recommend adding a stop at the Timmons Folk Art shack in Pleasant Bay.
The drive from Chéticamp to Baddeck is only 3 hours but there are many places to stop and things to do along the way. If you want to take your time to enjoy the many hiking trails, perhaps go zip-lining and limit your driving you can stop half way to spend the night. The Blue Bayou Resort has geodesic domes in Dingwall that are a fun glamping type of accommodation to stay at for a night or two.
A great spot for lunch today is the Rusty Anchor in Pleasant Bay. The oysters and lobster rolls are definitely recommended. For dinner after you have checked in to the Blue Bayou Resort you can BBQ with your own food on charcoal pits. If you would rather a restaurant enjoy a nice meal at the Markland Coastal Beach Cottages.
Cabot Trail Accommodations:
The Blue Bayou Resort is a great way to go camping and have a unique experience under the stars but with running water.
Road Trip Day Nine: Baddeck
Begin your morning in Dingwall with breakfast at Danena's Bakery & Bistro. For your last day on the Cabot Trail make your way through the small villages of Neil's Harbour, Ingonish and Baddeck. Your drive will have more scenic views of the Atlantic ocean along the way. If you have time you can even stop and go whale watching. Take a tour with Ingonish Whale Watching tours for the chance to see pilot whales, humpback whales and more.
In Ingonish visit the Groovy Goat Farm & Soap Company to pet some goats and buy locally made soaps. Next door is the Periwinkle Cafe which is a great stop to grab a coffee and check out their small shop filled with cute seaside themed art and jewelry.
The last stop of your Nova Scotia road trip should be the village of Baddeck. Baddeck is home to the Alexander Graham Bell National Historic Site which has a museum highlighting his many works and experiments. Alexander Graham Bell spent half of his time living in Baddeck and is now buried there as well.
Another popular spot to visit in Baddeck is Big Spruce Brewing a craft brewery that focuses on brewing with organic grain and hops. Visit for a flight of their delicious beers and try their new hard seltzers.
For your last night have dinner at Baddeck Lobster Suppers, one of the best lobster dinner experiences in Nova Scotia. Put on your lobster bib and dig into a lobster served with all you can eat mussels and chowder plus a dessert for $50. Or just a lobster dinner for $36. Other options include Atlantic Salmon, grilled strip loin, and Cape Breton snow crab.
Baddeck Accommodations:
One of the best places to stay in Baddeck is the centrally located Inveraray Resort. The resort is located on a beautiful 11acre property along the Bras d'Or Lake.
Road Trip Day Ten: Halifax
Downtown Halifax is about a 3hour and 45minute drive from Baddeck. Make your way back to the city leisurely for the end of your trip. If you are interested in one more great stop before you leave Cape Breton explore Fortress Louisbourg. It is a 90min detour to north eastern Cape Breton but this historic fortress is a must see. Take a guided tour to learn about the French and British which both occupied the fortress. Learn how to fire a canon or even learn about the history of rum with a taste test as well.
From Fortress Louisbourg your drive back to Halifax will take just under 5hours.
When is the best time to road trip through Nova Scotia?
Spring, summer and fall are definitely the best times to road trip through Nova Scotia because of the warmer weather. A lot of places outside of Halifax are also seasonal operations. In the winter months everything you want to see and do might not be open or available.
If you had to pick one specific time to road trip around Nova Scotia then the best time is fall because of all of the foliage changing colours. The leaves are so beautiful that Cape Breton even has a festival called Celtic Colours to celebrate them. This is an extremely busy time to visit however so be sure to book far in advance.
If winter is your only time to visit then definitely visit in February during the South Shore lobster crawl. February is the middle of the South Shore's lobster season and is when some of the tastiest lobsters are caught. If visiting in winter be sure to pack warmly and be prepared for potential snow storm delays.
The Best Tips for a Nova Scotia Road Trip
Fill up your car with gas in the city and more populated areas. The farther you get away from highly populated areas the higher the gas prices.
Always get full insurance on your rental car and if it's your personal car consider having CAA.
Be on the look out for animals especially in more rural areas. Nova Scotia has a lot of road kill from raccoons to porcupines, pheasants, deer, coyotes and more. You also never know when you might come across a bear, moose or something else.
Pack extra snacks and water and keep them secure from animals when parked in rural areas.
Don't leave expensive items out in the open, either take them with you or hide them. Nova Scotia is a very safe province but people can always be tempted by opportunity.
If you are taking your personal car get a tune up and oil change before you depart. This will hopefully help prevent any issues while on the road.
Have a day bag or overnight bag. If you are stopping at a new place every night it can be frustrating dragging a suitcase around. Bring a day bag or overnight bag that you can stuff essentials into to bring inside your accommodations. That way you have less to carry and less to worry about leaving behind. Always bring your valuables inside.
Keep a small garbage bag in the car so you can keep it clean. This will make the ride more enjoyable and will help prevent littering.
Have a great play list. If you want to listen to some Nova Scotian musicians I recommend checking out: Joel Plaskett, Matt Mays, Classified, the Rankins, Bara McNeils, Anne Murray, Feist, Jenn Grant, Natalie McMaster, Ashley McIssac, Matt Minglewood, The Stanfields, David Myles, Gordie Sampson, Rita McNeil, Neon Dreams and Mo Kenney. These artists will give you a wide range of music genres to enjoy. For some Nova Scotia specific songs listen to Barrett's Privateers by Stan Rogers or Love This Town by Joel Plaskett. Definitely don't listen to Hello City by the Barenaked Ladies… they hated Halifax.
For your road trip around Nova Scotia you should have cell phone service the majority of the time. However in the more rural areas there may be some spotty patches of service. A good tip is to open your Google maps and pin the places you are traveling to and your accommodations. Then type in the search bar at the top "okmap".  Your phone will then download the map info for the area so it is still useable even without phone service. Lastly screenshot your accommodation's address and phone number just in case.
Avoid driving at night just as a general rule of thumb. It is safer to drive in the daylight, especially when it is on roads you haven't driven before.
Check the weather each day so yo know what to be prepared for on the road and what to wear.
Have fun!
There is so much more to see  and visit in our beautiful province but this is the ultimate Nova Scotia road trip for your first time. Leave room in your schedule to be flexible and spontaneous for the best road trip. You never know when you might strike up an interesting conversation with a local. Or spend an hour stuck behind a moose that won't move in the road.
Where do you dream of visiting in Nova Scotia?
Enjoyed this post? Pin it for later!