When we think of Nova Scotia's natural attractions, beautiful forests, stretches of coastline, and pristine beaches typically come to mind. However did you know that Nova Scotia is also home to over 800 waterfalls of all shapes and sizes?
Waterfalls in Nova Scotia can be found in almost every corner of the province, and discovering them can be both fun and rewarding. One of the best parts of chasing waterfalls is witnessing how different seasons transform the falls. From the dramatic roar of tumbling water during spring thaw to a trickle during the hot, dry months of summer.
The Nova Scotia waterfalls on this list are primarily located in designated parks with established trails so you can be sure your waterfall chasing doesn't lead you to private property or anywhere that might not be properly maintained. That said, this list contains waterfalls with different accessibility and hiking difficulty—from falls you can practically drive right up to, to falls that require a challenging hike to see.
NOTE: Remember to leave no trace when you visit these special places. It's as easy as taking out what you bring in and disposing properly of your trash.

Ready to discover some beautiful new places? Add these must see Nova Scotia waterfalls to your list!
1. Mary Ann Falls
Location: Near Broad Cove Campground, Ingonish, Cape Breton
Mary Ann Falls in Cape Breton, Nova Scotia is a 20 foot cascade featuring a viewing platform next to the falls. I've heard that locals swim in the base of the falls in the summer, although the current looks quite strong when the water level is high. As always, use your own judgement!

Getting to the falls is either an easy 400m stroll from the parking lot, or could require a larger walk. While the dirt road that leads to the parking area is in decent shape, when I first attempted to visit last May it was closed. It would be possible to walk in using the road; however, it wouldn't be particularly scenic.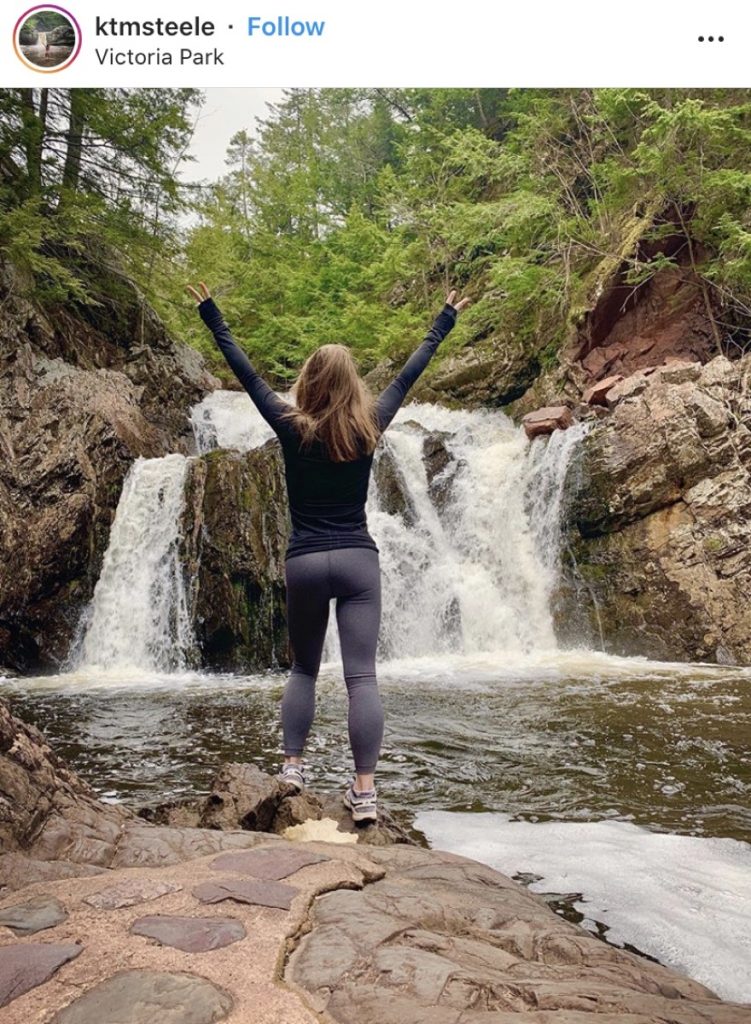 2. Joseph Howe Falls
Location: Victoria Park, Truro
Victoria Park in Truro is a beautiful place to visit during all seasons, offering a seamless balance between infrastructure and nature. The park covers 3,000 acres and is a perfect place for families with children, and the paths are all established crusher dust trails. Following along the brook, there are two small cascading waterfalls in the park to discover. First you will come across Joseph Howe Falls and further down the trail and up hill you will find Waddle Falls. In addition to the waterfalls, you can enjoy points of interest like Jacob's Ladder a 175 step stair case, a heated outdoor pool, and an old wishing well.
3. Mill Falls
Location: Kejimkujic National Park

Mill Falls is a short but powerful waterfall along the Mersey River, named because it once powered a mill at that site. The waterfall is located in the Kejimkujik National Park. The waterfalls are easily accessible and a roughly eight minute walk from the parking lot behind the visitor centre. If you'd like to extend your hike, there are also 2km of established crusher dust trails on either side of the river. This is a beautiful place to explore during autumn when the maple trees show off their vibrant colours.
4. Economy Falls
Location: Economy River Wilderness Area
The Economy Falls are located in the rural community of Economy in Colchester County, Nova Scotia on the north shore of the minas basin. Arrive at the Economy River Wilderness area and find the trail head just off of River Phillip road. Hike about 2km to find this waterfall which flows through some of the oldest rocks in Nova Scotia. This waterfall is especially impressive during the spring months when the water levels are high and you can witness the roar of the plunging water. The last stretch of the trail to the falls features a steep staircase—it's helpful to get down to the base, just be prepared for the 186 step climb back up!
You can find a great map of the trail system in the area HERE.
5. Jane's Waterfall
Location: Rogart Mountain Trail (trailhead at Sugar Moon Farms)
Jane's Waterfall is located along the Rogart Mountain Trail in Earltown, Nova Scotia which begins and ends at Sugar Moon Farm. There are two ways to get to this waterfall depending on what type of hike you are looking for. You can take a shortcut by following the road from Sugar Moon Farms right to the falls, or take the full 6km trail that starts with a climb up Rogart Mountain and then descends into the woods until you reach the waterfall. In this case, the scenic route is truly scenic, and is worth the hike—discover a stunning look-off, watch the forest transform as you ascend the mountain, and follow the brook downstream to the waterfall. Jane's Waterfall is most impressive in the spring when the water is high. If you go in a dry spell during late August, the water is usually reduced to a trickle.
After your hike to the falls be sure to stop by Sugar Moon Farm for a delicious plate of pancakes and Nova Scotia's best maple syrup.
6. Borden Brook Falls
Location: Blomidon Provincial Park
Located in Blomidon Provincial Park in Blomidon, Nova Scotia, this waterfall features a series of cascades. The Borden Brook trail is 3.5km and climbs to a height of 185 m, crosses Borden Brook, and then is just a short walk to the base of the Borden Brook waterfall. While it is in a park, it isn't necessarily intuitive to get to; when you park in the main lot, go up the road to the left (not toward the beach where the other trails are). Alternatively, further up the road, there is a spot where you can hop over the metal railing and see a footpath and access the upper portion of the falls.
If you visit Blomidon, don't miss the other trails in the park where there are many other points of interest, like panoramic look-offs to the Bay of Fundy. There is also a beach where you can walk along the seafloor at low tide. Not far from here you will also find Cape Spilt home to one of the most popular hikes in the province.
7. Beulach Ban Falls
Location: 456 Beulach Ban Road (between Pleasant Bay and Cape North, Cape Breton Highlands)
Would you believe me if I told you that accessing the 65 foot high cascade of Beulach Ban Falls is as simple as parking and getting out of your car? It's true—the waterfalls are located just across the brook from the parking area. But if you make the trip there, there's even more to see. The parking lot is also next to the trailhead for Aspy Trail—a 9km round trip that eventually leads to a breathtaking look off down the Aspy Valley. This trail is one of the best places in Nova Scotia to enjoy the autumn colours however it is rated difficult.
Beulach Ban is also Gaelic (a language still spoken in Cape Breton) for white gorge.
8. Uisge Ban Falls
Location: Uisge Ban Falls Provincial Park
"Uisge Ban" is the Gaelic term for white water. This small provincial park of the same name has about 4km of walking trails in the park and features a 50 foot waterfall. These falls are nice and easy to access and will take about 1hour round trip to see. Follow the Falls Brook stream along a flat, established trail to get to the base. 
9. Still Brook Falls
Location: Black Brook Cove Beach
This corner of Cape Breton has it all—a horseshoe-shaped waterfall which flows into the ocean and can be appreciated from the beach or from above along the Jack Pile Trail.
The best view of the waterfall is from its base. You can spot the waterfall from the beach, and at low tide, you can climb the big rocks to get close to it. If you want to tie a hike in with your visit, the trailhead for Jack Pine Trail is right there and features a nice 2km loop. You can see the falls from above along the trail and one of the Parks Canada red Adirondack chairs marks the spot.
10. North River Falls
Location: North River Provincial Park
At over 100 feet tall, North River Falls is Nova Scotia's highest waterfall. On this list, it is also the most challenging to get to.
The trail is 9km each way in and out to the waterfalls for a total of 18km. Parts of the trail are wide and established while other parts require river crossings and a bit of scrambling on rocks to follow. If you decide to take this on, be prepared. Wear proper clothing and footwear, bring enough food and water, and know you have the ability to spend 6 hours hiking.
Fall for Nova Scotia's Waterfalls
This list just scratches the surface of the dozens of falls in Nova Scotia that are waiting to be discovered! For more waterfall recommendations, visit my lists of waterfalls on Nova Scotia's mainland and waterfalls of Cape Breton.

Happy exploring!
Laura Hawkins
Guest Author
Laura A. Hawkins is Nova Scotia's unofficial tour guide. She's explored nearly every corner of the province and loves sharing the gems in our backyard. Her articles and photos about the best of Nova Scotia have been featured in award-winning newspaper The Coast, HalifaxTrails.ca, Halifax Bloggers, and more.To discover even more of the gems in our backyard, follow me on TikTok: lauraahawkins_ and Instagram: lauraahawkins.
---
Liked this post? Pin it and save it for later!