The UNESCO World Heritage town of Lunenburg, Nova Scotia is one of the most popular places to visit in Nova Scotia. Located on the picturesque south shore with a deep history in fishing, there are many delicious seafood restaurants in Lunenburg to enjoy. From quick bites to fancy sit down restaurants and even tasty meals in small B&Bs. Aside from seafood you can also find great breakfast spots, BBQ and even burritos. To figure out where to eat when you visit here is a guide to the best restaurants in Lunenburg, Nova Scotia in no particular order.
Note: Many of the restaurants in Lunenburg are seasonal and are only open May to October. If visiting on the weekends be sure to make reservations a few days in advance.
A guide to the best restaurants in Lunenburg, Nova Scotia
The South Shore Fish Shack
The South Shore Fish Shack in Lunenburg probably makes the best fish and chips in town. They are basically a takeout spot with picnic tables for you to stay and enjoy your meal. You order your food and are then given a buzzer to pick it up when ready. Their two level patio overlooks the Lunenburg waterfront and they have a few indoor seats as well. Their fish and chips are made of large pieces of haddock coated in a crisp light batter and served with perfect crunchy housemade fries.
Other menu items include a fish burger, hamburgers, lobster rolls, steamed lobster, scallops, clams and even poutine. For drinks they offer fountain pops and are also licensed so you can grab a pitcher of beer on the patio as well.
What: Lunch and dinner.
Where: 108 Montague St, Lunenburg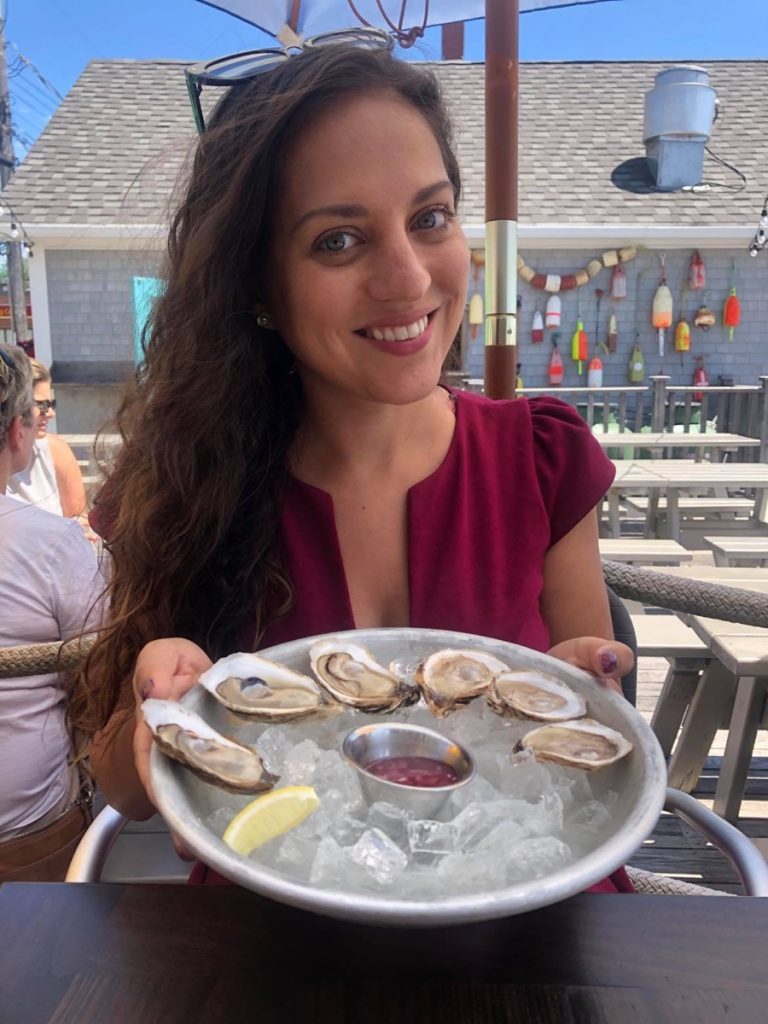 The Half Shell Oysters & Seafood
Located right next to the South Shore Fish Shack and sharing the same owners is the small patio bar the Half Shell Oysters & Seafood. Of course they serve up delicious local raw oysters from not only around Nova Scotia but around the maritimes but also other seafood dishes too. Popular items include scallops, snow crab, broiled oysters, tacos, seafood chowder, tuna tartare, paella and more. They might be small with just a handful of tables and bar seating but their menu is large, fresh and delicious. The Half Shell also serves local craft beer, wine and make some great cocktails. They are an outdoor restaurant so be sure to visit on a nice day.
What: Mon-Thurs Dinner Fri-Sun Lunch and Dinner
Where: 108 Montague St, Lunenburg
The Savvy Sailor Cafe
If you are looking for a great breakfast spot in Lunenburg then the Savvy Sailer Cafe is the spot to go. They serve up a classic bacon and eggs breakfast as well as lobster eggs Benedict, french toast, breakfast wraps, frittata, and muesli with fruit. Starting at 11am they also offer lunch options featuring salads, chowder, fishcakes, flatbreads, panini's, sandwiches and wraps. Don't forget to try their dessert like the rum cake, peanut butter pie or gluten free brownie.
They also have some great vegan and gluten free menu options available. View their menu here.
What: Breakfast and lunch.
Where: 100 Montague St, Lunenburg
Rascals Run Burrito Bar
Seafood is the most popular food in Lunenburg of course but the newly opened Rascals Run Burrito Bar has a nice menu for when you need a seafood break. They offer both 10″ and 12″ burritos as well as burrito bowls so that they can be gluten free friendly. There are six burrito/bowl options available and two kinds of arepas. The burritos feature everything from just beans and cheese to pork carnitas with grilled pineapple salsa, spiced chicken with mango chutney, beef barbacoa, and two vegan options with mushrooms, chickpeas and roasted sweet potato.
I'm not much of a bean fan myself but they are able to make substitutions for you and make your burrito exactly how you want. They also offer catering options.
What: Lunch, dinner and catering.
Where: 139 Montague St Unit #3, Lunenburg
Salt Shaker Deli & Inn
The Salt Shaker Deli and Inn is a popular casual dining restaurant in Lunenburg open year round. They have an outdoor patio, a great bar to sit at and plenty of inside table seating. On their menu they feature everything from lobster rolls to Bahn Mi Burgers, smoked haddock seafood chowder, fishcakes and more including 16 great hand rolled thin crust pizza options. The restaurant really offers something for everyone and it's often my first pick of places to dine at when in town.
The Salt Shaker Deli also has a few local craft beer on tap and offer various wine and cocktail options.
As the name suggests they are also a four bedroom inn with beautiful views of the Lunenburg waterfront and harbour.
What: Lunch, dinner and an Inn.
Where: 124 Montague St, Lunenburg
The Beach Pea Kitchen & Bar
The Beach Pea Kitchen & Bar is probably one of the fancier restaurants in Lunenburg or as they self describe themselves "elegant dishes in a relaxed atmosphere". The restaurant opened in 2018 and has the same owners of the Salt Shaker Deli, South Shore Fish Shack and the Half Shell Oyster and Seafood so you know their food is going to be delicious. With elegant dishes also comes elegant prices however so be sure you realize that you will pay a bit more for their menu here. It can also be quite the popular spot so be sure to make a reservation a few days in advance. They also take walk-ins but that can't always be guaranteed.
When I ate at the Beach Pea Kitchen and Bar it was one of the most delicious meals I've ever had. I started with the beef taratre which was amazing, then I had the lobster taglietelle. The pasta was full of large fresh morsels of lobster knuckle and tail and smothered in an unreal lemon cream sauce. Everything paired so well together, I ate every last bite. I finished off my meal with the chocolate hazelnut crema with haskap sorbet that had a surprising zing to it. If I could afford it I would eat here every night for the rest of my life.
Other items on their menu include calamari, grilled octopus, gnoochi, carbonara, lamb, scallops, halibut and more. They also have many gluten free options available as well. All of this is served with local craft beer on a rotating tap, fancy cocktails and wine.
What: Dinner
Where: 128 Montague St, Lunenburg
Bar Salvador
Bar Salvador and is the fifth and newest restaurant owned by the owners of Salt Shaker, Fish Shack, the Half Shell and Beach Pea. Opened in April 2021 rumour has it one of the main reasons for them opening Bar Salvador was so people could stop in for a drink and light snack while waiting for a table at one of their other locations. Either way this Spanish style tapas bar is not to be missed. Whether you have been to Spain or not be sure to explore their menu and try a little taste of everything, best shared with a friend or two.
My favourite was also the most expensive item on the menu, the Jamon Iberico, a cured pork leg imported from Spain from a pig who only eats acorns. Shaved thinly and eaten as is, it melts in your mouth. It might be pricey for what you get but it's worth it and the closest you can get to being in Spain while still in Nova Scotia.
What: Thurs & Fri Dinner, Sat & Sun late Lunch and Dinner.
Where: 125 Montague St, Lunenburg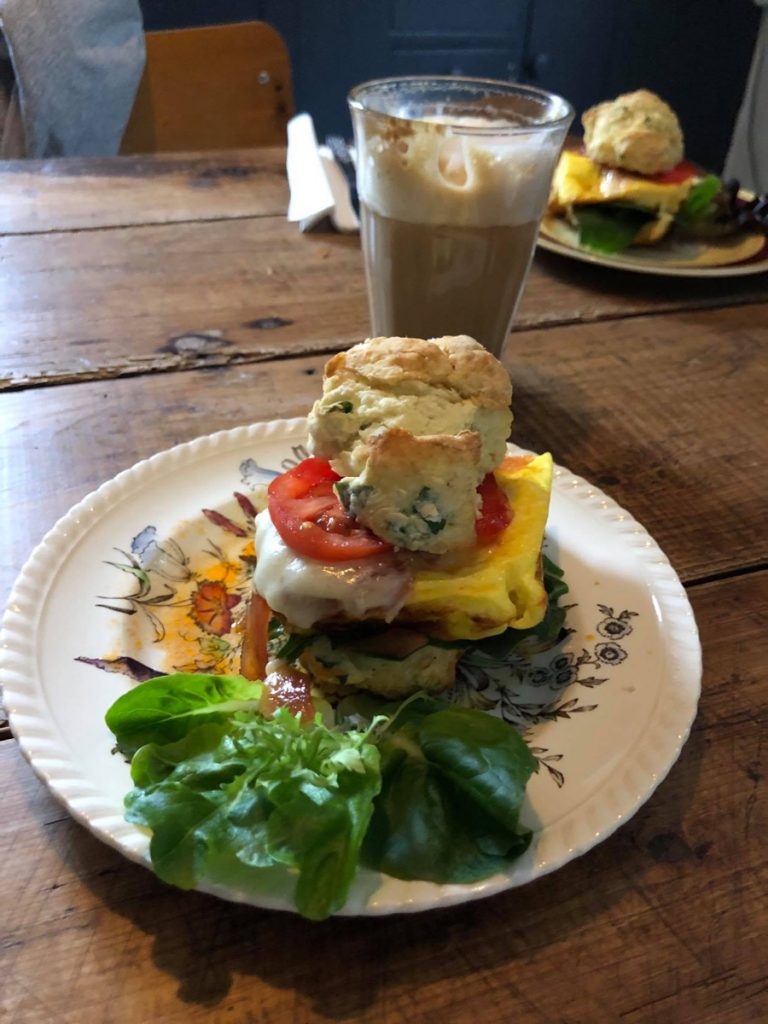 No 9 Coffee Bar
The No 9 Coffee Bar is a popular spot in Lunenburg to grab a coffee and pastry to go or to sit down and enjoy a quick breakfast sandwich. Open year round with a small break in the winter months they have a rotating menu of healthy breakfast foods, pastries and also pop up dinners throughout the year. If you aren't a coffee fan they also offer London Fogs, hot chocolate, teas, kombucha and more.
Another great place to grab local coffee in Lunenburg is the Laughing Whale Coffee Roasters. They are certified organic and are the first eco-roasters in Canada.
What: Light breakfast and lunch.
Where: 135 Montague St, Lunenburg
Grand Banker Seafood Bar & Grill
The Grand Banker Seafood Bar and Grill in Lunenburg is a popular pub restaurant in the centre of Lunenburg. Overlooking the Lunenburg waterfront they are open year round serving delicious local seafood, burgers, chowder, brunch and more. Some of their most popular menu items are their lobster Eggs Benedict and their Lunenburger. The Lunenburger is a 6oz local beef patty with smoked mozzerella, bacon, and garlic aioli topped with Nova Scotian lobster in a tarragon butter sauce. Holding it all together is a screwer topped with a delicious bacon wrapped scallop.
The Grand Banker also offers lots of local craft beers on tap and with the owner being a sommelier they have a great wine list as well. There is also an extensive cocktail list and I highly recommend the caesar with a bacon wrapped scallop on top. Also if you are wanting to skip the seafood they also have great nachos, salads, chicken wings, steak, grilled cheese and more.
What: Breakfast, Lunch and Dinner
Where: 82 Montague St, Lunenburg
The Old Fish Factory Restaurant & Shipwright Brewing Company Wharfside
The Old Fish Factory Restaurant and Shipwright Brewing Co. in Lunenburg is located in the Fisheries Museum of the Atlantic and has been around for quite a while. Recently purchased by the owners of the Shipwright Brewing company and Grand Banker Bar and Grill this is the only full service restaurant and patio located right on the Lunenburg waterfront.
They offer a menu full of fresh and local seafood from lobster rolls to chips and clam dip, soft shell crab Po' Boys, oysters, fish and chips and more. However they also have a bunch of land lover food and vegetarian options as well. Their restaurant is probably the biggest in town so is great for large groups and they have quite the large patio area. Be sure to stop into the Old Fish Factory for a bite to eat or drink of local craft beer or even a beer slushy and fancy cocktail.
What: Lunch and Dinner
Where: 68 Bluenose Dr, Lunenburg, in the top of the Fisheries Museum of the Atlantic.
Lincoln Street Food
Lincoln Street Food is the hipster restaurant in Lunenburg in the best way. Serving up market inspired fresh modern food they are not to be missed. They offer a small nightly menu that changes seasonally on Fridays and Saturdays only starting at 5pm. When I visited I was there for brunch and hopefully as things get better they will increase their opening times and offerings. Definitely make a reservation in advance.
What: Dinner Friday and Saturday
Where: 200 Lincoln St, Lunenburg
The Knot Pub
The Knot Pub is a local favourite and loved by many. The most nautical of all places in town it is a great place to grab a beer with fish and chips. They have an extensive menu with lots of fresh and local seafood and everything from deep fried pepperoni to world famous caesar salad, cream of mussel soup, knotwurst and sauerkraut, burgers and more. Their menu prices are probably the most reasonable in Lunenburg and they have an extensive drinks list as well.
What: Lunch and dinner.
Where: 4 Dufferin St, Lunenburg
The Dining Room at Bluenose Lodge
The Bluenose Lodge is located in a 158 year old historic and iconic Lunenburg home. Now celebrating it's 75th year as an Inn it has new owners as of 2021. Not only are they planning to transform the lodge to make it an Inn of the highest standard but they also reopened it's dining room in July 2021 since it was last closed in 2014.
The dining room at the Bluenose Lodge serves both breakfast and dinner to guests and the public seven days a week with reservations being recommended. Now being run by Chef Konrad Haumering they offer a true fine dining experience with a menu featuring locally sourced products and fresh seafood. The menu changes seasonly and each night there are a couple specials off menu offered as well.
Start your dinner with a warm table bread with a sea salted honey butter, then enjoy a tender greens salad with charred broccoli, roasted chickpeas, fresh veggies and feta. Then for a main enjoy a steak or risotto or one of the specials like a panko crusted haddock with shrimp and scallops in a creamy dill sauce. All followed by a delightful apple crumble or chocolate cake.
What: Breakfast, dinner and an Inn.
Where: 10 Falkland St, Lunenburg
Sea Jay's Craft Eats at the Lightship Brewing Company
The Lightship Brewery is one of the newest craft beer breweries in Nova Scotia and without a doubt has one of the best patios / beer gardens in the province with stunning views overlooking the Lunenburg skyline. Located a 15minute walk or quick drive from the Lunenburg waterfront across from the museum near the golf course, the views alone are worth the trip.
They have a large outdoor seating area for you to enjoy the views as well as a small indoor area for rainy days. A sister property to Salt Box Brewing in Mahone Bay and North Brewing Company in Bridgewater their bar serves all of their own locally made craft beers and ciders. Lightship also shares the space with the Barn Coffee Shop for coffee, tea and treats and Sea Jays Craft Eats for food to go along with their beer and ciders.
Sea Jays Craft Eats offer items like lobster and artichoke dip, seafood chowder, a brie, turkey and cranberry sandwich, truffle salted popcorn, ice cream sandwiches and more.
From time to time other Chefs work out of Sea Jays as well including Googs & Son from the Old Black Forest restaurant and the gang from Dory Mates Seafood Shop for lobster dinners and other delicious seafood options in the summer months.
What: Light lunch and dinner.
Where: 93 Tannery Rd, Lunenburg
Smoke Pitt BBQ
The Smoke Pitt BBQ is the number one spot for BBQ in Lunenburg. They are a small little spot with a few seats to enjoy your food and are a great option for takeout. Their menu features Caribbean BBQ options like ribbs, brisket, jerk chicken, tacos, corn bread and more.
My favourite menu item however is the "15 hour smoked pulled pork sandwich with old cheddar, house slaw and roasted garlic mayo piled high on a Portuguese bun". The pulled pork is so juicy and delicious and this sandwich is truly the best especially with a side of mac n cheese. The BBQ can get a bit messy but thats how you know it's delicious.
What: Lunch and dinner.
Where: 152 Bluenose Dr, Lunenburg
---
Hopefully this post will help you navigate your tastebuds around the restaurants in Lunenburg, Nova Scotia. Please share any other recommendations or suggestions in the comments below.
Liked this post?!?! Pin it and save it for later!