Saint John, New Brunswick is a small harbour city of 70,000 people located at the meeting of the Bay of Fundy and the Saint John River. Not to be confused with St. John's, Newfoundland, Saint John, New Brunswick is also a historic city with lots of charm. Stroll the colourful streets as you do some shopping and visit the farmers market. Enjoy many craft beer breweries, dine on delicious food from all cuisines and take in the world's highest tides.
If you are planning a visit to Saint John it is best to give yourself at least two days to explore and really get to know the city. Here are my best tips on how to spend two days in Saint John, New Brunswick.
Day 1 in Saint John, New Brunswick
Breakfast at Java Moose
Start your day in Saint John at a local favourite, Java Moose. Grab a coffee, cappuccino, tea or try some of their artisanal creations, iced coffees or even smoothies. Then grab a muffin for a quick breakfast on the go.
Discover Uptown Saint John Walking Tour with the Museum
The best way to learn about a new city is to take a tour of it. A unique thing about Saint John, New Brunswick is that it doesn't have a downtown. Instead they call it uptown. Some say it's called Uptown because of the hills and you often went up-town to do your business. Others say it's because uptown sounded fancier. Either way it has been called uptown for hundreds of years and it won't be changing anytime soon. Being Canada's oldest incorporated city dating back to 1785 it is full of history. Take the Discover Uptown Saint John Walking Tour with the New Brunswick Museum to learn about everything from the architecture to the old iconic Three Sisters Lamp that once guided ships into the harbour, the historic King's Square and more.
Saint John Ale House Lunch
The Saint John Ale House is a popular spot for lunch, dinner or to just grab a drink on their sunny patio along market square. Featuring the largest selection of beer in the city including local craft beers and their own exclusive Cask Ale made by Moosehead. Their food menu features local food with highlights including Digby bacon maple scallops, mussels and fries, an organic cheeseburger and fries, and even rhubarb cheesecake.
Brewery Tour with Uncorked Tours
If you aren't too full after lunch then taking a craft beer brewery tour with Uncorked Tours is a must. Currently offered on Fridays and Saturdays starting at 2pm the tours last roughly 2.5hours operating with no more than 14 guests. On tour you start off with a few beer samples at their very own beer bar in the Saint John City Market. They have their own rotating set of taps that they can highlight various local craft beer on each week. Next you will hit the streets visiting two craft beer breweries before finishing off back at the beer bar in the Saint John Ale House. Their tours are highly informative, entertaining and tasty. Also there are a few food elements included in some of the tastings as well so you hopefully won't be too tipsy in the middle of the afternoon.
Scheduled Nap
A scheduled nap on a travel itinerary is always important and on a day with two different walking tours it's definitely needed. Take the time to relax back in your hotel and prepare for dinner.
Dinner at Italian By Night
Arguably the best Italian restaurant in Saint John making a reservation for Italian By Night for dinner during your trip is highly recommended. Enjoy a delicious Tuscan inspired menu with a North American twist and locally sourced ingredients. Enjoy everything from fancy antipasti to fine wines, handmade pizzas, delicious pastas like cacio e pepe and of course desserts like tiramisu.
Day 2 in Saint John, New Brunswick
Visit the Historic Saint John City Market
You can't visit Saint John, New Brunswick without going to the Historic Saint John City Market. Dating back to 1876 the Saint John City Market is considered a National Historic Site of Canada. Every stall in the market is a locally owned business serving up everything from produce to pastries, local art, international cuisine, fresh seafood and so much more. Start your day early and stroll through the market, grab some breakfast and then grab a snack to go or the perfect picnic for your next stop.
Irving Nature Park
The Irving Nature Park is a short 12min drive from Uptown Saint John. Bring your hiking shoes if you're a big hiker or something comfortable for a nice nature stroll. This 600 acre park is a favourite spot of locals and visitors. There are groomed gravel roads throughout so you can drive the loop of the park stopping at various view points. Or you can also walk, hike, trail run, and even ride bicycles through the Irving Nature Park. There are maps and trails of various lengths through the park. It is also on a peninsula so it has almost 360 degree ocean views of the Bay of Fundy coastline.
Throughout the park there are several beaches that you can enjoy as well as BBQ areas, picnic tables and rest stops including accessible washrooms. There is also an observation deck that you can climb to the top of for the best views for miles around. For visitors with families be sure to check out the the Children's Forest with a playground and mazes as well.
Reversing Falls
On your way back to the Uptown Saint John area check the local tide chart and stop to visit the iconic reversing falls. Not really a reversing waterfall but more of a series of rapids caused by a unique change in the direction of the river. The reversing falls are located in a narrow gorge along the Saint John River just before it empties into the Bay of Fundy. Twice Daily at high tide the Bay of Fundy is so high that the water pushes back up the river causing the flow of the water to change direction. Because of the shape of the gorge and rocks under the water rapids are created that are now known as the reversing falls.
Mid-tide between high and low is what is known as slack tide where the river almost seems still. Then at low tide the Saint John River furiously empties back into the Bay of Fundy before it is stopped once again. It is quite an interesting tourist attraction for sure.
Lunch at Vegolution
Vegolution is Saint John's only vegetarian / vegan restaurant and tops many peoples lists for the best place to grab a bite to eat in the city. Their menu is full of fresh and delicious food that even a meat lover would enjoy. Think delectable looking salads, brown rice and mushroom burger patties, tasty grilled vegetables, flatbreads and even poutine. Don't forget a vegan gluten free brownie or beet and carrot cake for dessert.
Bella's Traditional Ice Cream
After lunch you need a treat and the number one stop recommended by locals is Bella's Traditional Ice Cream. Located on Germaine street almost at the top of Uptown you will definitely burn some calories to get there to make it extra worth it. This small batch ice cream shop uses dairy from local Maritime farmers to make their delicious ice creams. They also provide dairy free ice cream options that are instead made with oat, almond or coconut milk and cream to fit everyones needs and tastes. Their flavours change often but you will always be able to find one you love.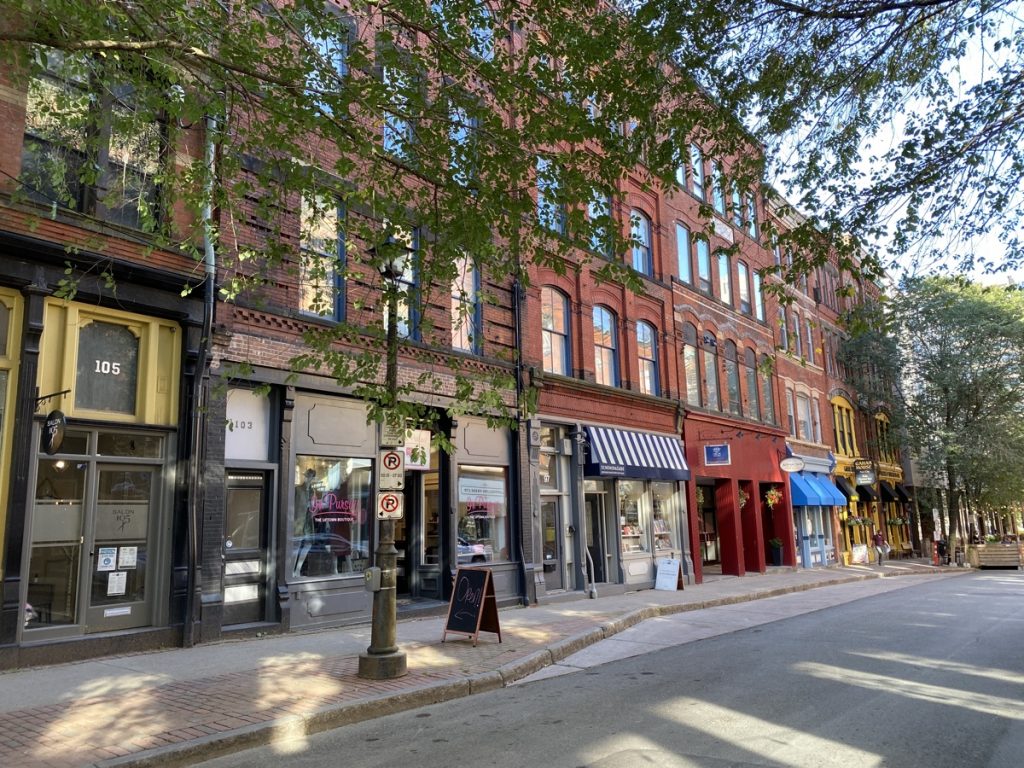 Go Shopping With Prince William
Well, go shopping ON Prince William street that is. A colourful street and National Historic Site showcasing some of historic Saint John, Prince William Street and the surrounding area is a great place for some retail therapy shopping at some great boutique shops. Visit Aries Boutique for cute tops, sweaters and dresses. Stop into Scheherazade Books & Music for all of your previously loved books and music needs. Then head up one block to King Street to In Pursuit to find the perfect romper or dress for summer as well as graphic tees, accessories, stationary, sunglasses and more. Lastly if you are in need for a good hat head over to Hats on the Square on Germaine Street, where everyone can find a hat that they look good in.
Opening Spring 2022 you also can't miss the waterfront Area 506 Container Village by the cruise ship terminal. Located along Water Street at the bottom of Duke this is a multipurpose space open all summer long. Visit the container park to do some shopping and visit with local artisans. Enjoy the beer garden, stroll the graffiti alley, take in some live entertainment and more. Learn more HERE.
Explore More of Saint John
There are many things to see and do in Saint John, New Brunswick. If you are interested in visiting another park head over to Rock Wood Park. 2,200 acres of nature right in the city with 10 lakes, 55 trails and more to explore. Visitors can go cycling, boating, bird watching, fishing, camping, rock climbing and so much more.
If you'd rather learn a bit more history then be sure to visit the New Brunswick Museum – Musée du Nouveau. Visit to explore the human history of New Brunswick and surrounding areas as well as the natural history. Highlights include the hall of whales featuring some of the most interesting sea-life from the Bay of Fundy.
For even more history visit the Carelton Martello Tower National Historic site dating back to 1812. Visit for the great views of the city and harbour and learn lots from their interactive exhibits that have won awards. Or visit the Fort Howe National Historic site which dates back to 1777 for even more interesting history from the area.
Most importantly however you should also learn about the Wolastoq who were the first to live in this area. The Wolastoq National Historic Site itself comprises of a 700km area of cultural landscapes that were important in their lives from Quebec to Northern Maine and through Saint John making up the traditional territory of the Wolastoqiyik First Nation. To learn more about a few key sites learn from the Saint John tourism board HERE.
Dinner at Port City Royal
Port City Royal is a lounge and restaurant in the Uptown area of Saint John. Stop in for one of their delicious cocktails or enjoy items from their ever changing seasonal menu. Choose your own selections or make a reservation for their four course tasting menu. Whichever you choose be sure to leave room for dessert.
Hopscotch Whiskey Bar for After Dinner Drinks
Finish your night off with a visit to the only Whiskey Bar in Saint John, the Hopscotch Whiskey Bar. The Hopscotch Whiskey Bar features over 100 Single Malt Scotch on their menu at various price points. However of course that isn't all, they also make delicious cocktails, have other fancy spirits, offer various beer, cider and wine selections and have a small list of non-alcoholic options available.
Day 3 Bonus Day – Drive to the Fundy Trail Parkway
If you have more time in Saint John there is still tons to explore in the city. Or you could do a day trip and drive along the Fundy Trail Parkway. Located about 50 minutes from Uptown Saint John, this 30km scenic drive along the Bay of Fundy is a hidden gem in New Brunswick. Grab a picnic from the city then enjoy the drive stopping at various picnic areas and viewpoints along the way. There are also places to go hiking, access to beaches to explore and there is even an epic viewing platform over the Walton Glen Gorge. To learn more about the Fundy Trail Parkway watch my video HERE.
How to get to Saint John, New Brunswick
If you are driving from the US and arriving to Canada via the Calais land border then Saint John is the closest city to you about an hour from the border. You can of course drive there from anywhere in Canada and it is about a 4hour drive from Halifax. If you prefer to fly then you can grab a quick flight with Air Canada from Toronto or Montreal to Saint John.
Another unique option for getting to Saint John, New Brunswick is by taking the Fundy Rose Ferry from Nova Scotia. Departing daily it is a great 2hr15min ferry journey across the Bay of Fundy. Taking the ferry is also the perfect way to arrive into the city relaxed and ready to explore.
Where to Stay in Saint John, New Brunswick
The best accommodation option in Saint John is to stay at the Hilton Saint John. Centrally located in Uptown Saint John with water views of the Saint John River. Located steps away from the Market Square, Prince William Street and more, you can't beat it's location.
---
To learn a little bit more about the best things to see, do and eat in Saint John, New Brunswick watch my video:
If you liked this post and are planning a trip to Saint John, New Brunswick save it and pin it for later!